Tiny Tails Home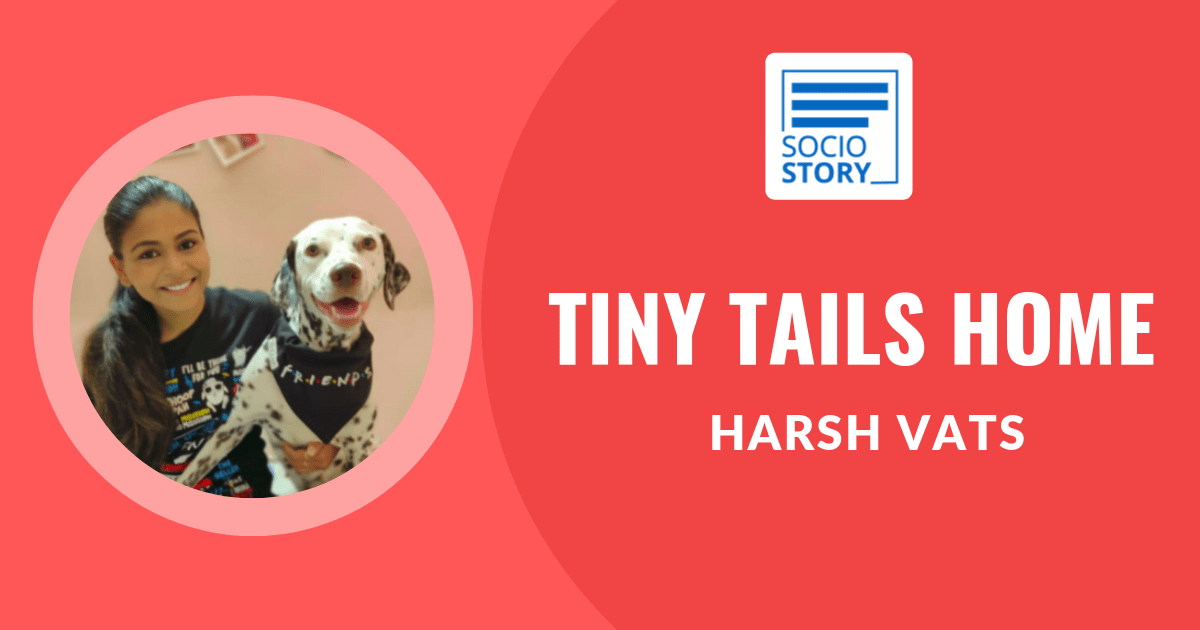 SocioStory : Dear Harsha, Please tell us about your Initiative .
Harsha : An era of early 90s when I was born in Delhi into a wonderful family where I grew up with pets (mainly dogs) as much as I did with humans. Growing up with animals from the grass root level I understood the value of people round me, it was a natural learning of love, care and loyalty. I was always taught at home that the animals are equally important as humans and not only the pets you have at home but also the once that are stray. It became my habit to feed all the dogs around the community I live in and around my school as a kid and later on around my work place. Even the dogs around came into a habit of greeting me in their own sweet way whenever they saw me around.
I am a huge social media addict which everyone close to me complains about but now they're proud of it. The reason they're proud is because 'Tiny Tails Home' came into its existence from a small realization watching videos on social media. As viewers, you come across several videos everyday of animals being mistreated, dying on the streets and so on. It kept me worried for weeks on thinking is my routine of just feeding few dogs everyday enough? And the answer I got was no! Then I linked it to the learning I got as a child 'Humans and Animals are equal' and I thought since we have NGOs for humans we can have the same for animals and there came Tiny Tails Home.
Tiny Tails Home came up by collecting funds from people who wanted to do a bit for animals. Moreover, it also gives an edge to women empowerment as it is a scratch to end women led organisation. Starting from adoptions, taking care of meals, arranging medical facilities and further reaching out to the public for better arrangement are done solely by me and my female
colleagues. Here's requesting everyone who's listening to it right now or would read it out later can easily be a part of the change. Let's do it together & let's do it better.
SocioStory : What was the reason behind starting Tiny Tails Home ?
Harsha: used to feed one litter in my office area which died because no shelter was ready to take them in and they all were on a busy road. All of them died because of road rage or sickness. So I made it my mission to save as many lives as possible and getting the dogs sterilised so that they won't end up dying on the road as they deserve a good family and environment.
STARTING DATE: The idea popped up in my head in feb 2018. It was an emotional decision but I knew what I was getting into and was ready to make a commitment towards this cause.
Finally on 1st April, 2018 we started shelter with 5 kids.
SocioStory : What is the operating model of Tiny Tails Home ?
Harsha : We are completely dependent on donations that we get from so many kind hearted people. All of us pitch in to manage expenses, rent, food, electricity bills, medical, helper's salary. We appeal for funds on various social networking platforms and somehow we are managing it all with the help of all the known and anonymous donors. We want to thank them all, without their support we could not have reached this far.

SocioStory : How big is your Team ?
Harsha : We have a team if 7 friends.
# Harsha Vats (Founder) The soul of Tiny Tails Home
# Himanshu Gautam (Co-founder): Health & well being of kids.
# Monica Gupta: Manages everything about foster cases and new cases.
# Ruchi Gupta: Manages the ration and menu for the kids so that their tummies remain full.
# Rima Sarkar: Manages the finance.
# Sugandha Khera: She is the biggest support and manages all the social media stuff. Apart from that she takes care of medical help whenever needed for any of our kids. She also takes care of day-to-day operations at the shelter. Without her we are simply helpless.
# Vikas Kumar: We can't thank him enough. He is with us since day 1 taking care of all the kids in our absence single handedly. He cooks for them, he cleans them, he takes them to the vet. Without his support we cannot function actually.
SocioStory : What is the Vision & Mission of your initiative ?
Harsha : We have a sweet moto 'Every dog deserves a home; every home should have a dog' and we strive to get this straight into your mind. We cannot cross every 't' and dot every 'i' but whatever
small contribution we're making as a team hopefully will make a difference. We are working on the idea to start an ambulance service which can provide on site treatment for homeless dogs in distress in cases that are far or when a dog cannot be brought to the shelter.
We will sterilise as many dogs as possible. We are working with DOD-spay & neuter homeless dogs to save as many lives possible.

SocioStory : How has been the progress so far ?
Harsha :
We are successfully providing Home to our 25 kids that includes facilities like food, medication with 24 by 7 caretaker
Successful adoptions (Cherry, Imli, Nancy, Elizabeth)
One of our rescued babies Liza got her wheel cart recently.
Multiple successful foster cases
We successfully managed to sterilized majority of our kids. The younger one who are below 6months are due for their neutering/spaying.
It's a commitment for life time, we cannot back out as so many lives are involved. We'll stick to our ground till the time we're alive. We will hire people and do the necessary changes whenever
required to make it a success.

SocioStory : Thanks Harsha for Sharing your Story with us, We are glad that there are people like you in our Society.
Harsha : Thank you for providing us a platform where we can share our thoughts and what little we could have done so far. We would like to wish all like minded people more power to keep up the good
work going. We would appreciate if you can support us in any way. Come together let's try to do our bit to make this world a better place where we can coexist with other species peacefully.
Important : If you are making an impact in the world, Please send us your story at : manoj@sociostory.in and we will try to cover you.