Indian CSR law in a Nutshell
by Avadhesh Dixit
April 6, 2020, 7:03 p.m.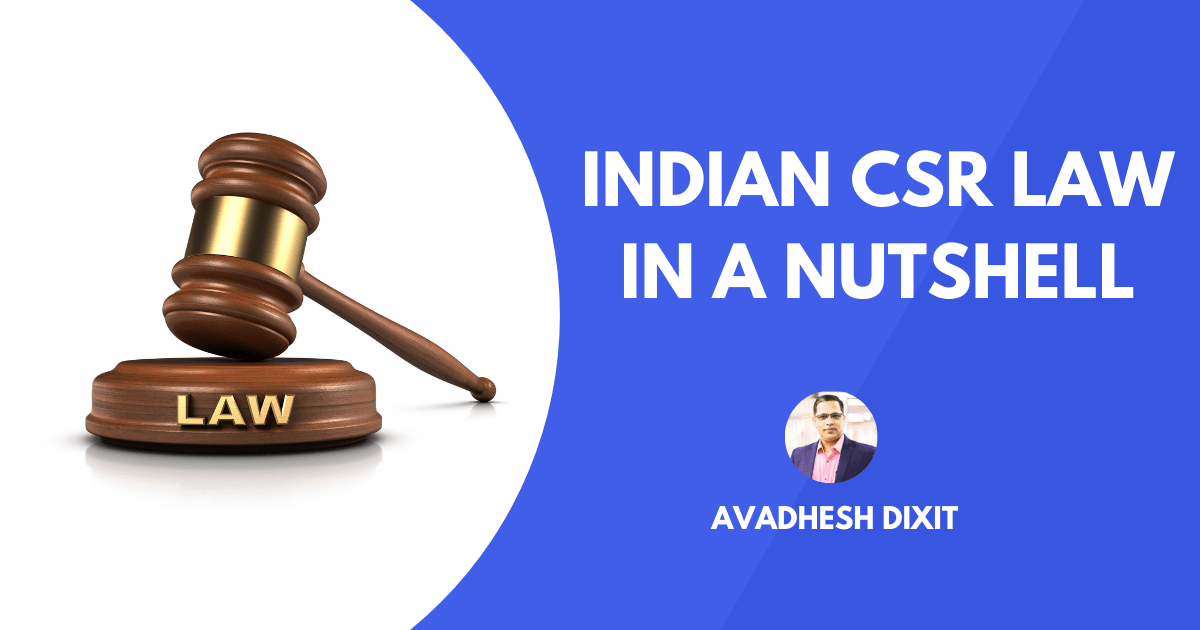 United Nations Industrial Development Organization (UNIDO) defines Corporate Social Responsibility as a management concept whereby companies integrate social and environmental concerns in their business operations and interactions with their stakeholders. CSR is normally seen as the mechanism through which a company can attempt a balance of economic, environmental and social imperatives ("Triple-Bottom-Line- Approach").
The European Commission has defined Corporate Social Responsibility (CSR) as "a concept whereby companies integrate social and environmental concerns in their business operations and in their interaction with their stakeholders on a voluntary basis"
Corporate social responsibility is the commitment of business to contribute to sustainable economic development—working with employees, their families, the local community and society at large to improve the quality of life, in ways that are both good for business and good for development- The World Bank's working definition of corporate social responsibility
Within Indian Companies Act, 2013, the term Corporate Social Responsibility or CSR has been defined as follows
Projects or programs with reference to activities that are specified in the Schedule VII or
Projects or programs related to activities undertaken by the Board in pursuance of recommendations of the CSR Committee according to the declared CSR policy subject to the condition that such policy covers subjects explained in the Schedule.
India CSR Law: Companies Act, 2013
India's CSR is regulated by companies act through Ministry of Corporate Affairs. One of the most important milestone for the CSR in India came into effect when Companies act 2013 was amended to make it mandatory provision to be followed by companies as prescribed in law. This law became operational from April 2014.

India is the first country in the world to make corporate social responsibility (CSR) mandatory, following an amendment to the Companies Act, 2013 in April 2014. Businesses can invest their profits in areas such as education, poverty, gender equality, and hunger as part of any CSR compliance.

The amendment notified in the Companies Act, 2013 requires companies with a net worth of INR 500 crore (US $70 million) or more, or an annual turnover of INR 1000 crore (US $140 million) or more, or net profit of INR 5 crore (US $699,125). These companies must spend 2% of their net profit (average of last three years) towards CSR activities. CSR law prescribes activities (under Schedule VII) that can be supported by Corporates as part of mandatory requirements under CSR law.

Schedule VII has prescribed the following activities that can be undertaken as part of CSR mandates.

Eradicating extreme hunger and poverty

Promotion of education

Promoting gender equality and empowering women

Reducing child mortality

Improving maternal health

Combating human immunodeficiency virus, acquired, immune deficiency syndrome, malaria and other diseases

Ensuring environmental sustainability,

Employment enhancing vocational skills, social business projects

Contribution to the Prime Minister's National Relief Fund or any other fund set up by the Central Government or the State Governments for socio-economic development, and

Relief and funds for the welfare of the Scheduled Castes, the Scheduled Tribes, other backward classes, minorities and women and such other matters as may be prescribed.

Research Funding to public incubators

Activities Excluded under CSR law:

The CSR projects, programs, or activities that benefit only the employees of the company and their families.

One-off events such as marathons/ awards/ charitable contribution/ advertisement/sponsorships of TV programs etc.

Expenses incurred by companies for the fulfillment of any Act/ Statute of regulations (such as Labor Laws, Land Acquisition Act etc.

Contribution of any amount directly or indirectly to any political party

Activities undertaken by the company in pursuance of its normal course of business.

Governance structure under CSR Law

The board of directors of the eligible company have overall accountability and ownership of implementing the provisions of CSR law in India

The companies are expected to form a CSR Committee of the board to oversee the CSR implementation. The board shall disclose the composition of CSR committee.

The companies are required to report the CSR activities and expenditure in their annual report as part of board report.

Every company is expected to have written CSR policy and the same should published on their website.
Share on Koo