Virtual Panel Discussion on "Positive Impact of COVID19 on Society"
by Manoj Pachauri
April 22, 2020, 10:05 p.m.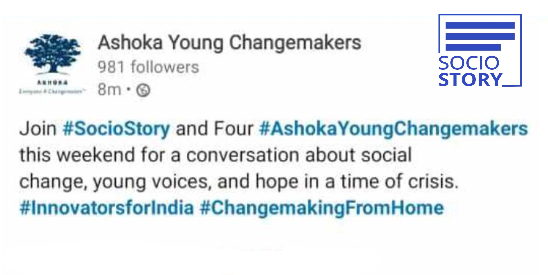 Anxious and uncertain times can be unnerving even for the most resilient people. However, hope, optimism and positivity that keeps the nature going. When the world is isolated and is fighting for its survival, the need for people who are ray of hope and positivity becomes even more important. Socio Story is a platform that empowers unsung social heroes who have been contributing immensely to spread hope and are promoting positivity. This is done through Socio Story's education & advocacy programs. This time, Socio Story has teamed up with four Ashoka Young Change makers to talk about "Positive Impacts of COVID19". The virtual panel discussion on the subject has been organised on 12th April at 12 noon. This virtual session will witness these change makers talk about their positive experiences & observations in the current situation. There are positive outcomes of this crisis for instance, air and noise pollution across the world is at record low, animals have more freedom to roam in their natural habitats etc. All this is an indication to humans to reflect upon their lives and assess how they impact larger ecosystem. Founder of Socio Story, Manoj Pachauri shared that all four-change makers come from four different parts of country and the session is going to be very interactive where the audience can also participate and engage in Q&As with our speakers who are champions of hope and positivity, the session will be chaired by Ashoka Young Changemaker Akash Chaudhary of Energinee Innovation.
Share on Koo