10 incredible songs, more than 25 artists from across the country come together for 'Bhoomi, 2021'
Oct. 7, 2021, 3:20 p.m.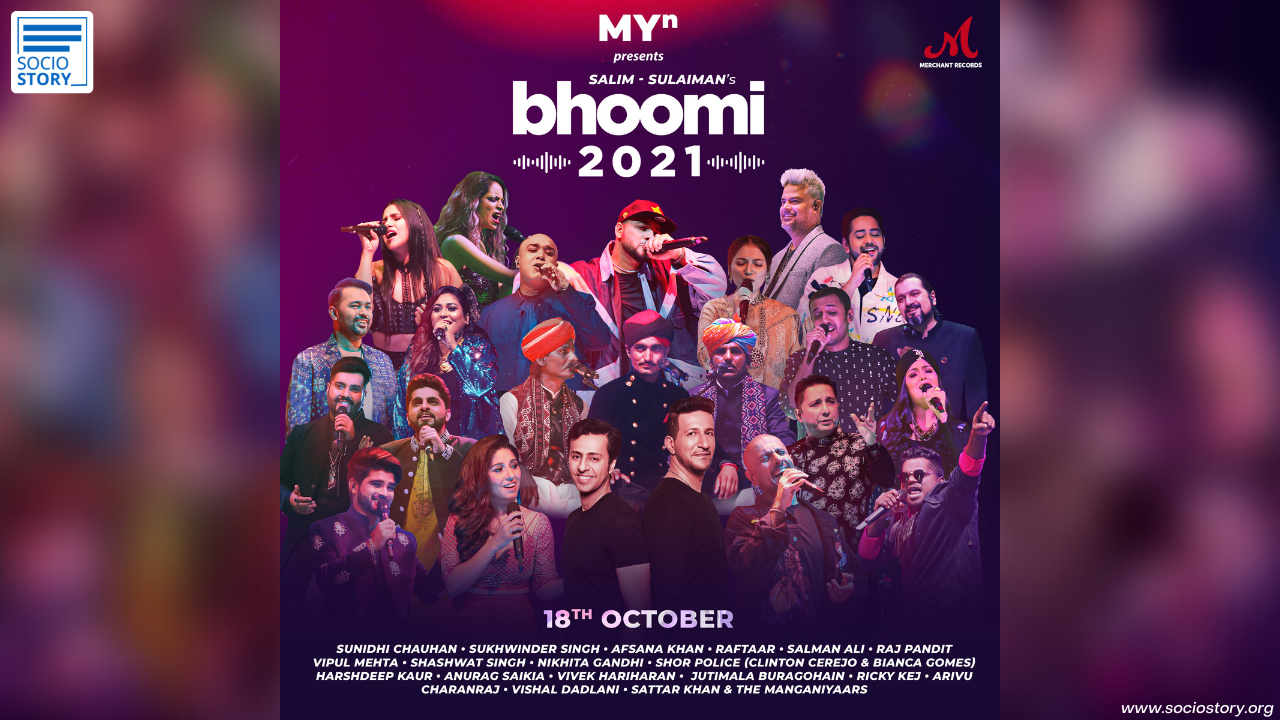 By:Reshma Jain
Musical maestros, Salim and Sulaiman Merchant have been trailblazers and creative forces for over two decades. Not only for their thunderous body of work over the years, but also for their innovative ideas and projects that have taken the nation's music industry to newer heights, collectively.
One such beautiful brainchild of theirs has been "Bhoomi", a pan-India annual musical movement that brings together some of India's finest artists across genres and regions on a common platform. A movement that began in 1999, is all set to wow global audiences with its 2021 edition, "Bhoomi, 2021", starting October 18th.
What sets "Bhoomi, 2021" apart is the depth and scale at which it promises to showcase India's spellbinding musical richness that reflects her diversity in language, culture, heritage, and influences; drawn from across the length and breadth of the country. From Punjab in the North to Tamil Nadu in the South to Rajasthan in the West and to Assam in the East, there's something for everyone. A mesmerising buffet of 10 versatile tracks for the soul and mind that covers genres from traditional folk and classical ragas to pop and hip-hop.
"Bhoomi, 2021" is also another grand chapter in the ongoing musical journey of the Merchant brothers as they continue to work and re-work on unique ideas, concepts, styles, genres, and melodies.
"Bhoomi 2021, as the name suggests, is about the convergence of unique musical influences and identities; in terms of styles, melodies, and lyrics from all across our very own 'Bhoomi'. An experience driving a movement that has grown from strength to strength and added many layers of authenticity as this cumulative musical palette of 10 different hues, painted by more than 25 amazing artists of our country.
What does "Bhoomi, 2021" have in store for audiences that wait with bated breath?
"Ja Ja Re" is a modern interpretation of one of the oldest Bandishes in Raag Bhimpalasi, originally composed by Sadarang during the Mughal era. Featuring Vishal Dadlani and folk singers from Rajasthan; this re-visualised take based on a newly married couple promises to strike a chord with the masses. "Bhoomi, 2021" then features "Ghar Aao Na" with the powerful vocals of Sunidhi Chauhan. A fusion of a classical Bandish - with influences from Uttarakhand - in a pop-rock style, the long love song features a memorable jugalbandi between the Tabla and Sitar.
The energetic Sukhwinder Singh's Punjabi vocals feature in the modern adaptation of a traditional tune, "Chidya Da Chamba", that revolves around the Indian tradition of 'Vidayi'. "Kasiyoli" by Anurag Saikia & Vivek Hariharan along with Jyoti Mala is a unique blend of progressive rock and Assamese folk; adding the flavours of the North East into the mix. The track inculcates the Ahom tradition, which is about the Kingdom of Ahom before it became Assam.
Next up is "Barbaad" featuring Raftaar and Afsana Khan. An out-and-out Punjabi hip-hop song that has overtones of RaP (Rhythm and Poetry), the track tells a dark story of a couple estranged because of infidelity. For lovers of devotional music, there's "Sai Narayana", a devotional Sai bhajan in the soothing voice of Raj Pandit. The soulful bhajan talks about the oneness of God.
There's also a Tamil song by the Grammy Award-winning Ricky Kej, Rapper Arivu, and Charan on vocals called "Kaadu", meaning 'trees'. The eco-conscious track speaks about the importance of trees to our environment and planet. "Naad E Ali" is a powerful traditional Qawwali prayer song featuring Salman Ali, Vipul Mehta, Raj Pandit, and Salim Merchant.
"Jallianwala", composed by Shor Police, takes one on a painful historical journey related to the massacre in 1919. The powerful vocals of the talented Harshdeep Kaur bring out intense emotions and scars from an event that have had an everlasting impact on the families of those affected as well as our nation at large.
And, finally, "Bhoomi, 2021" features a real-life musical couple - Nikhita Gandhi and Shashwat Singh - who take centre-stage with "Need to Know Now". A breakup track with an electro hue, its relatable lyrics make it one for the ages.
With 10 incredible songs, more than 25 artists from across the country, "Bhoomi, 2021" promises to be an audio-visual musical movement that represents a microcosm of the stunning talent that resides in every grain of India- Our 'bhoomi'.
Important : If you are making an impact in the world, Please send us your story at : manoj@sociostory.in and we will try to cover you.