3M India partners with Smile Foundation to launch mobile healthcare units for rural India
Sept. 20, 2021, 10:24 p.m.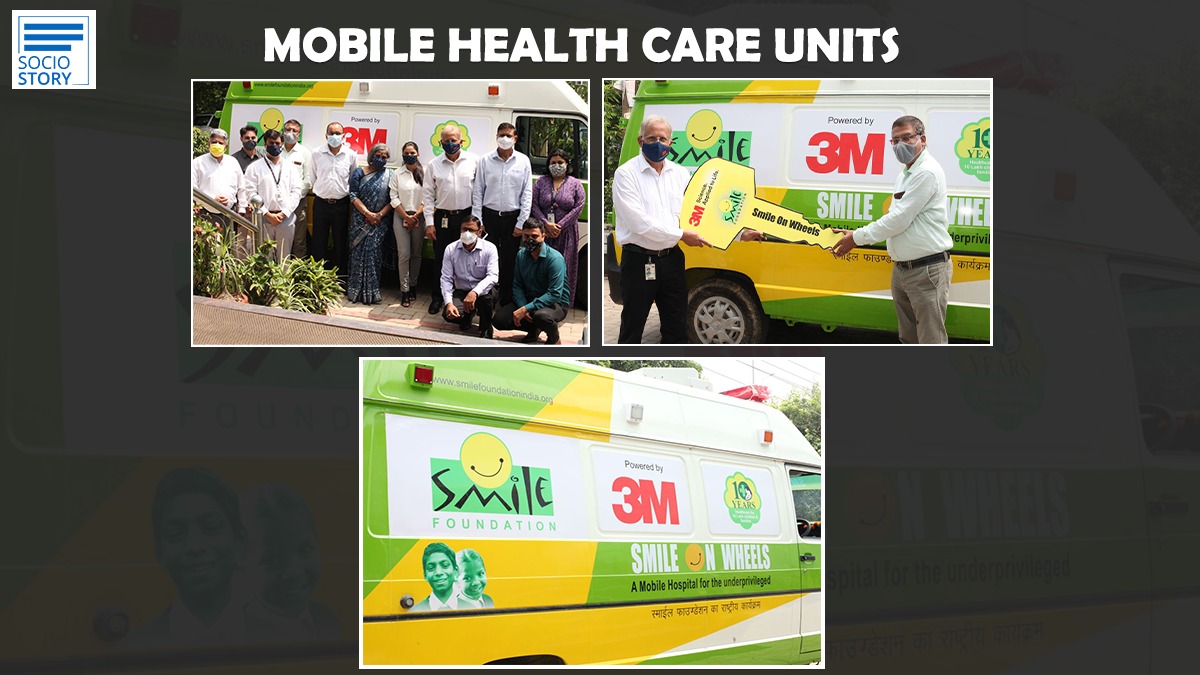 By:Reshma Jain
3M India has joined hands with Smile Foundation to support the primary healthcare needs of the underprivileged population by deploying four mobile healthcare units at different rural locations. The healthcare vans were flagged off during the first week of September from Gurugram, Haryana, and will move towards Siddharthnagar in Uttar Pradesh, Gaya in Bihar, Balangir in Odisha, and Goalpara in Assam to provide preventive, promotive, and curative healthcare facilities.
With this partnership, the focus is to reduce the burden on public health infrastructure caused by COVID-19 by providing more than 1,50,000 treatments in these four regions over a span of 39 months (13,000 treatments per year per location). This initiative will also help in understanding the current scenario of the healthcare infrastructure in these areas and create awareness among people leading to improved behaviour towards hygiene, social distancing, and overall wellness.
3M India is closely working with Smile Foundation to ensure that the underprivileged section of our society has access to medical facilities at their doorstep. Improving healthcare infrastructure is one of 3M India's key focus areas.
Speaking on the occasion, 3M India CSR lead, Smitha Gopalkrishnan said, "3M India's partnership with Smile Foundation focuses on promoting healthcare equity and will provide access to diagnostic and preventive healthcare services in remote and backward areas. As India continues to fight COVID and its variants, initiatives like this will help strengthen access to primary healthcare in our rural and remote communities."
Santanu Mishra, Co-Founder and Executive Trustee, Smile Foundation said, "We are delighted to partner with 3M India. We are optimistic that this partnership will help us deliver healthcare services to those most needy sections in the identified areas. Our country continues to battle the pandemic with exemplary courage. It is time that all stakeholders increase coordination to reach out to those in dire need."
Senior General Manager (Communications), Sandhya Ganpathy of 3M, said, "The four mobile units are specifically deployed for work in rural areas. These are Gaya (Bihar), Balangir (Odisha), Goalpara (Assam) and Siddharthnagar (UP). In a period of 36 months, we anticipate a coverage of 52 villages. The population reach is approximately 800,000 beneficiaries."
"For this project, there are 8 dedicated doctors. The Smile on Wheels vans have medicine dispensing facilities and will provide primary healthcare and promote health seeking behaviour amongst the population in the interior/rural areas of these four states," she added.
Kajal Sharma, Assistant Manager, Corporate partnerships, Smile Foundation, said, "Smile Foundation has taken a dual approach to address the healthcare needs of Indians, first by bringing quality healthcare services to the doorsteps of the needy and second by promoting health awareness and health seeking behaviour among the underprivileged."
3M in India:
3M India Limited, an Indian Subsidiary of US based 3M Company, was established in 1988 and has its headquarters in Bengaluru with branch offices at Mumbai, Gurgaon, Pune, Kolkata, and Chennai. 3M leverages its global innovation expertise to develop homegrown solutions that address unique needs of diverse customers in India. 3M has invested in Innovation centers at Bengaluru and Gurgaon to boost local product development. Its manufacturing footprint is spread across Bengaluru, Pune, and Ahmedabad. From products that improve manufacturing efficiency and impact improved healthcare delivery to safety solutions that help increase road visibility, everyday kitchen aids and car care products, today, 3M science is improving the lives of millions of Indians.