75 tonnes of plastic collected, 22.5k volunteers, 40 locations over 28 kms, Vizag creates World Record for one-day beach clean-up drive
Aug. 26, 2022, 2:03 p.m.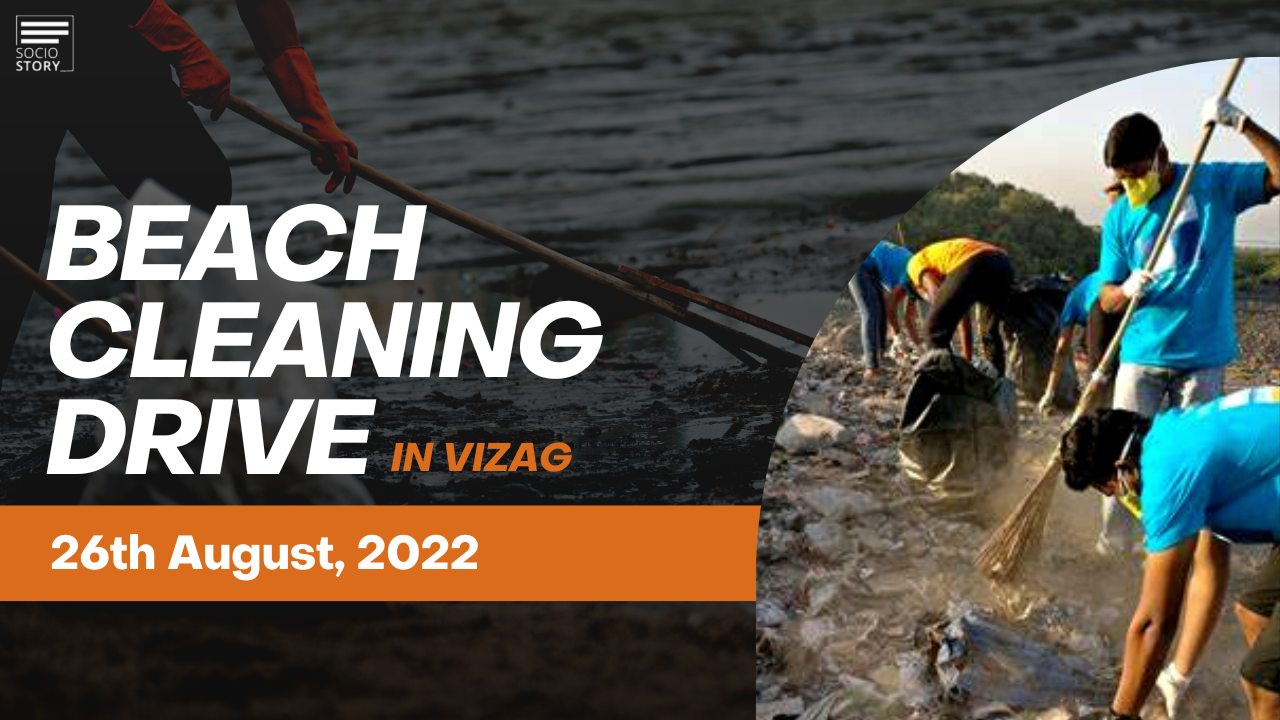 By: Reshma Jain
Thousands of people joined the Greater Visakhapatnam Municipal Corporation (GVMC's) mission and created a world record for maximum participation in one-day beach clean-up drive. Representatives from the State government, GVMC officials along with the team of an organisation called 'Parley for the Oceans' were present at the programme organised on the RK beach road, in the early hours of Friday (August 26). Students in large numbers, NGO's, NCC cadets, NSS volunteers, RWA's etc also took part in the campaign. The beach clean-up drive took place from the Naval Coastal Battery to Bheemili (the coastal stretch) with 40 locations over 28 kms, here in the city. Around 75 tonnes (largely comprising dry waste) were collected and segregated.
Chief Minister YS Jagan Mohan Reddy who arrived in the city on Friday morning congratulated the volunteers and headed to the AU Convention Hall to visit the stalls on beach conservation programs set up by Parley for the Oceans, an international non-profit environmental organisation and stalls set up by the GVMC on measures to control plastic waste. In his address, the CM emphasised on the impact of marine pollution and his mission to make 'Plastic-free AP' by 2024.
A Memorandum of Understanding (MoU) was signed between the AP Govt and Parley for the Oceans, here on Friday, to set up a plastic recycling plant which will convert waste into useful products. Parley for the Oceans addresses major threats towards our oceans, the most important ecosystem of our planet. "Climate change is a global issue and we need to look at mitigating the effects of global warming on the planet. Marine pollution is one of them and we aim to expand our global clean-up network to protect the oceans", said Cyrill Gutsch, Founder of Parley for the Oceans.
"The aim is to spread awareness on cleanliness", said GVMC Chief Medical Officer of Health, Dr KSLG Sastry, adding, "The waste collected will be segregated into plastic, glass, fabric, metal, threads/ropes. The waste will be collected zone-wise at the nearest municipal transfer stations and then will be transported to the main dumping yard at Kapuluppada for reuse and recycling."
The mega beach clean-up drive was attended by Minister MA&UD, Audimulapu Suresh, Minister for Industries and IT, G Amarnath, Chief Secretary MAUD, Y Srilakshmi, CDMA Commissioner, Pravin Kumar along with District Collector A Mallikarjuna, Visakhapatnam Mayor G Hari Venkata Kumari, GVMC Commissioner Dr G Lakshmisha and other officials.
The Visakhapatnam district administration and the GVMC are conducting weekly beach clean-up drives called 'Sagar Teera Swachhta' where on every Sunday, litter mostly comprising plastic is collected. GVMC commissioner Dr G Lakshmisha has been reiterating and appealing to people on the need to switch to alternatives of plastic and initiavites are being taken accordingly. "This is one such big move to encourage people to be conscious in their actions," said the commissioner adding that awareness campaigns will be held in the city in the coming months.
With a lot of efforts, thousands of people joined the Government's campaign to clean the coastal stretch of Visakhapatnam. The amount of waste collected shows our callous behaviour and reckless attitude. Let's all pledge to be conscious while throwing away or disposing trash of any kind. Either throw it in the dustbin provided by the GVMC or carry a trash bag with you. The beach stretch of 28kms looks neat and tidy today, and we hope it's the same everyday. Let's do our bit in making our city clean and green and contribute towards a sustainable planet.