75 years of Independence and a team of 75 people contributing towards a vibrant patriotic song 'Mataram'
Aug. 13, 2021, 7:01 p.m.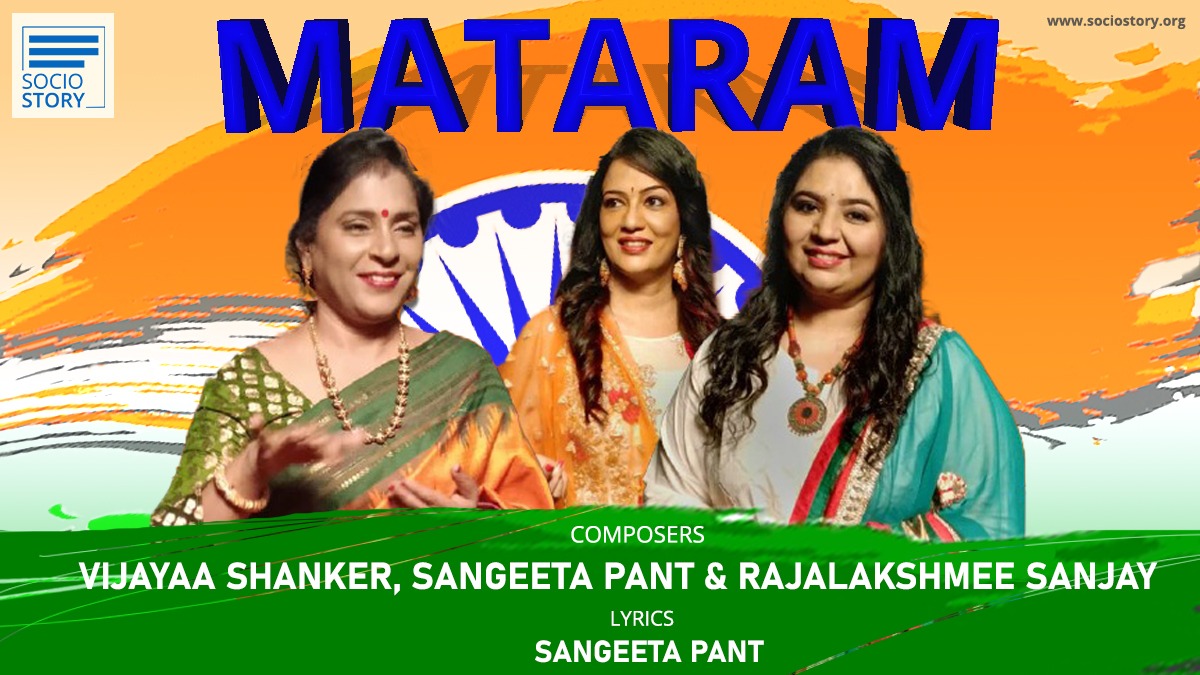 By:Reshma Jain
This year on August 15, India will celebrate its 75th Independence Day. While the celebrations include Flag hoisting, Parade, Speech by the Prime Minister, singing patriotic songs and National anthem, this year will be special as it will witness some exciting stuff. For the first time in the history of Indian Music Industry, three women composers have come together to create a vibrant patriotic song called 'Mataram'.
To commemorate 75th year of India's Independence, a team comprising 75 people have worked together to create an epic masterpiece. An initiative by the Music Composers Association of India (MCAI), the three composers of the Hindi song called 'Mataram' include Sangeeta Pant, Rajalakshmee Sanjay and Vijayaa Shanker. The three are among the leading female music composers in India, with many film and non film songs to their credit. While the lyrics have been penned down by Sangeeta Pant, it has been arranged and produced by Sanjay Chandrasekhar.
The song which lasts for 4 minutes and 20 seconds has an ensemble cast of renowned singers like Shankar Mahadevan, Ram Sampath, Anuradha Paudwal, Shaan, Madhushree, Nandini Srikar, Hamsika Iyer, Flautist Naveen Kumar, Guitarist Sanjoy Das, Raju Singh, Chandana Bala Kalyan, Raju Singh, Tapas Relia, YouTube sensation Aksh Baghla, promising vocalist from Odisha Anurag Mohapatra, and Justin Uday from the Advertising fraternity among the others. Eminent personalities like Prasoon Joshi and very popular younger breed of singers like Maithili Thakur, along with other upcoming women composers have also lent their their voices to mark Independence day.
The song which is an ode to the motherland speaks volumes on India. The lyrics convey the qualities of our motherland and the progress it has made over the years. A few lines of the song are:
"Tu shakti hai, Tu Bhakti hai,
Tu Buddhi ki misal hai,
Tujhe salam karta hai,
Yeh Vishwa Tu kamal hai."
"Tu Kranti hai Tu shanti hai,
Tu pragati ki misaal hai
Tujhe salam karta hai
Yeh Vishwa Tu kamal hai."
Musical artiste Sangeeta Pant, said, "This song celebrates womanhood and India being 'Bharat Mata', we could attribute all the qualities to her. India is known for its intellectual ability, spirituality, strength, peace, culture and many more qualities. We wanted to celebrate the progress of our nation, hence put our heart and soul in composing it."
Stating that the trio received tremendous response from celebrities, Sangeeta added, "This song was also composed to motivate the other women composers in the country. If we take an initiative, things will definitely fall in place. Unfortunately, there are a very few women who take an initiative forward. Through this work, we hope to give a new direction to the talented women composers in the country. We have also worked with budding musical artistes to give them a platform and encourage them"
Stating that the song is set to be released on August 13, Music director Vijayaa Shanker, said, "It all started when we wanted to do something for Women's Day this year. Heading the panel of the Women's Cell of the Music Composers' Association of India, we wanted to acknowledge the efforts of women composers across the country. Due to Covid and other reasons, plans did not materialize then. Hence, we decided to put in more efforts and do something out of the box. We are glad to receive immense support from people across the world for our song 'Mataram'."
In her concluding remarks, Musical artiste Rajalakshmee Sanjay, said, "The terms 'Shakthi', 'Bhakthi' and 'Mukthi' define women and India. We are proud to have made this into a patriotic song and dedicating it to the progress of the nation. India is a nation which will grow in leaps and bounds if women support each other. Every moment is special and we need to be the best version of ourselves."
Important : If you are making an impact in the world, Please send us your story at : manoj@sociostory.in and we will try to cover you.