A dedicated team of young minds formed the UCI to uplift the society
Oct. 5, 2020, 4:04 p.m.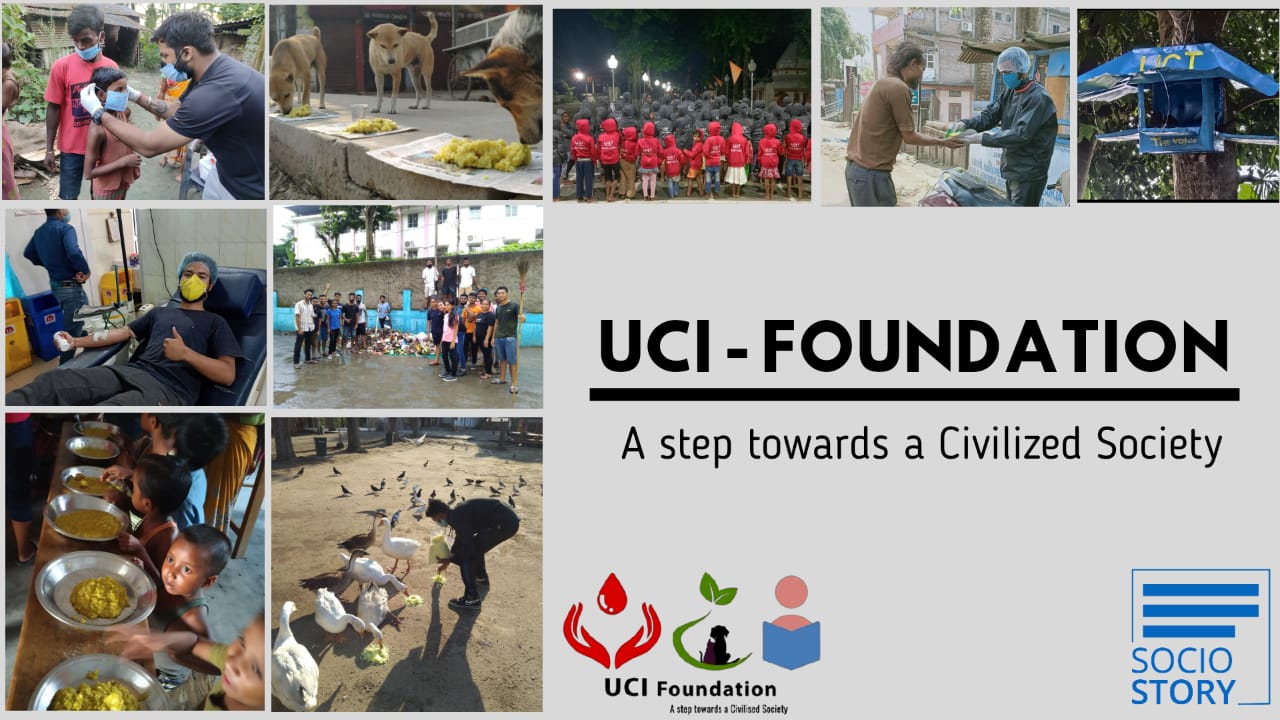 By:Reshma Jain
A zestful and exuberant group of young minds from Tezpur, Assam, came together to form the '(Un)Civilised Indian (UCI)' foundation. The UCI foundation is a self-funded NGO working on several untouched aspects of the society that needs to be attended. The UCI Foundation which is driven by independent and young volunteers was founded in 2017 by a group of friends who had a passion and zeal to work for the society. The organization works for community development and animal welfare.
The 'Uncivilised Indian' came into existence initially as a YouTube channel that developed videos on social experiments. With a steady approach, the Uncivilised Indian took small steps towards building a civilized society. Every video project that they came up with, unveiled a picture of a society chained in myriad problems. In due course of time a major realization dawned in, that as youngsters, they should redirect their power to good ends and better tomorrows. It was then that the seeds of a non-profit organisation were sown and it was named as "The UCI Foundation".
The UCI Foundation has a dedicated team of young minds coming from different walks of life, who are willing to devote their time, efforts and skills to uplift the society in any aspect they can. The team comprises Rahul Pandey, a student of Law; Rohan Pandey and Arijit Ghosh who are hoteliers by profession; Rohit Rajput, pursuing his BA; Keshav Mahto, an engineer by profession and Shekhar Agarwal, a CA by profession.
Opening out their wings to newer geographical horizons has been a constant effort in order to serve the society at large. Presently with members working in Tezpur and in and around Assam, Team UCI has spread its wings to cities like Ranchi, Kolkata and Agra.
Out of the many activities, be it the food drives for the street animals during the lockdown or the daily rescues and adoptions, a noteworthy initiative of the organization was the installation of environment friendly shelter for birds. To combat the crisis of homes for the feathered friends, 'The Voice – Animal Welfare' under the UCI Foundation launched the 'Pakshi Bachao' initiative to recreate homes for the fellow avian friends.
The team sought to make it a renewable process by giving shape to the shelters using discarded tins. The team collected a few discarded tins, painted it with colours of love and hope. Food and water facilities were attached to the shelters and the team made sure to refill it as per requirement. Fortunately, this experiment turned out to be a successful one as birds could be witnessed taking shelters in the same.
"We installed these shelters on trees for the birds to rest, feed and drink. It was an experiment with nature and its intrinsic birds. The initiative of giving shape and structure to the shelters was unique as it was environment and pocket friendly. After a month, a lot of birds including Doves, Pigeons and Sparrows adorned the shelter houses made for them. Out of the 25 shelter homes installed, 12 have already become regular homes for the birds," stated Rohan Pandey, one of the founders of UCI.
The UCI Foundation entails various other initiatives under it; Swachh Aahar - Food for the underprivileged, Anant Vidya - Free Education for underprivileged children, Khoon - Blood donation, Sunday for Rivers and Hope for Homeless. UCI Foundation also stands as a shield of faith in times of disaster such as the annual Assam floods by organising flood relief campaigns, carrying out drives educating people about the need of safeguarding the environment and the severity of climate change.
Speaking on the impact created, Rohan, said, "We have been able to impact the lives of 80 children through Anant Vidya; around 230 units of blood have been donated through Project Khoon, and have served 2,000 families during Covid Crisis through daily feeding and distribution of essential kits. The Voice has helped us work for the strays by regular feeding of around 300 dogs, rescue operations (10-15 per month) and around 250 adoptions till date. Through our other projects, we are working together for the upliftment of the community and are working for environment protection."
The future plans of UCI include setting up a pre-school for the kids of Anant Vidya where education shall know no barriers and to set up a shelter home for animals and birds.
Important : If you are making an impact in the world, Please send us your story at : manoj@sociostory.in and we will try to cover you.