A good Samaritan and a selfless Human, meet Dr Shama who has been serving people during the pandemic
June 29, 2021, 7:18 p.m.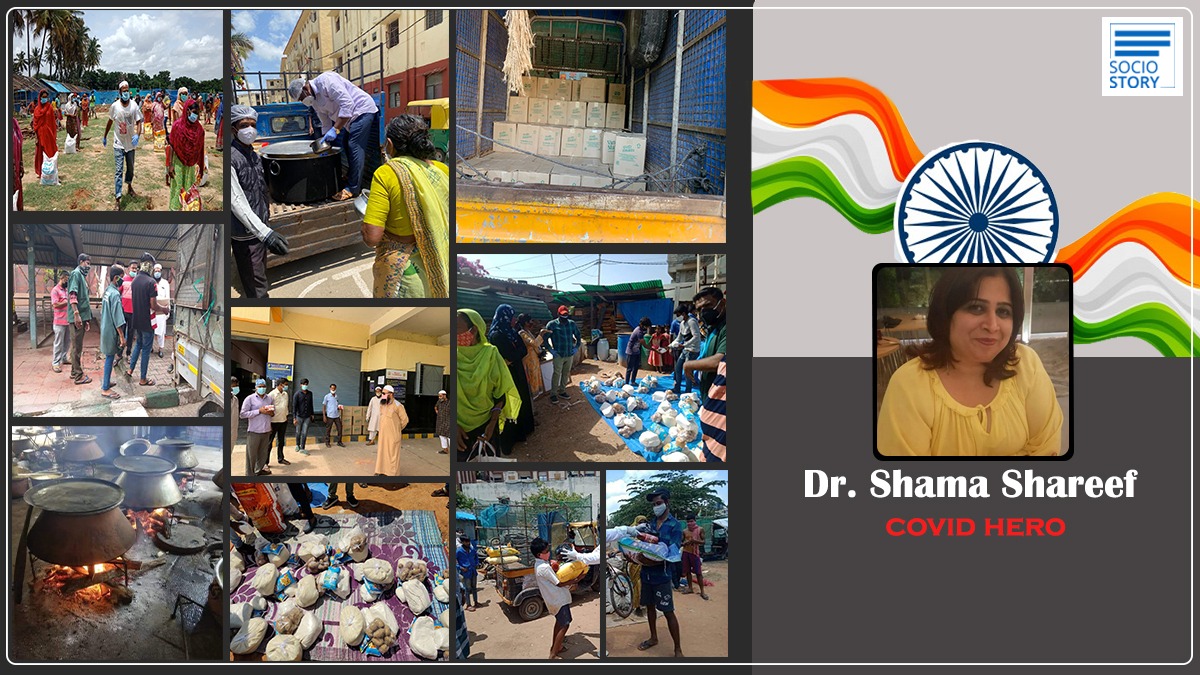 By:Reshma Jain
It's been more than one year and the relentless service of Dr Shama Shareef during the pandemic has been worthwhile. It all started with cooking a few meals per day and distributing it to the needy. Although Shama always believed in giving it back to mankind, it was a challenge to serve people at a time when all of us were locked at home.
Dr Shama noticed the plight of migrants and she was disheartened to see them while they returned to their hometown with little children. Neither did they have food to eat nor water to drink. Yes, they had to walk with their luggage for miles together to reach their destination. So, Shama started to prepare meals in her kitchen and went out to distribute all by herself. Because, arranging for manpower was a herculean task, given the restrictions that were imposed to contain the spread of virus.
After a few weeks, there was more demand for meals as the situation worsened. Dr Shama tried her best to reach out to as many people as possible. However, it was not easy to deliver meals. When she came across a delivery boy from Swiggy, she asked him if he could deliver meals on a paid basis. The delivery boy agreed and Dr Shama's meals were able to reach the needy. Slowly, she started to make more than 300 meals per day.
Until then, Dr Shama managed with the money that was set aside for 'Zakat'- a religious obligation in the muslim community where a certain amount is donated for charitable causes. Dr Shama's work got noticed on social media and then people started to support her. Be it raising funds or helping her in any other way, Dr Shama garnered a lot of support from like-minded people whom she never met. As she received funds, she used to take up projects in Bengaluru.
Dr Shama has also provided more than 1,000 meals and grocery kits to marginalised sections including people in refugee camps. She also extended support to cremation ground workers and ensured education of kids from poor families. From sanitary pad drives, mask drives to arranging oxygen cylinders and concentrators, this kind-hearted soul impacted the lives of hundreds of people. She also delivered free meals to the government medical fraternity for a year, helped in bearing wedding expenses of poor couples and also provided financial aid to the less fortunate souls.
The pandemic itself was scary and the situation around led to panic attacks, depression and other mental disorders. "Most of us were in need of help in some form or the other. I wanted to be a ray of hope, hence did my best. All my initiatives were executed with raising funds via social media platforms. Kind-hearted people who were total strangers pitched in with funds seeing my work. Without the support from donors, it would not have been possible to reach to thousands of people," shared Dr Shama who has also initiated a vaccine drive for the transgender community.
"I know what it means to not have anything because post marriage, my family suffered as we were not economically sound. However, my family members believed in giving from whatever we had, hence the thought about 'Giving' is rooted in my heart," concluded Shama who was recently contacted by journalist Faye D' Souza.
Important : If you are making an impact in the world, Please send us your story at : manoj@sociostory.in and we will try to cover you.