A mother of two, Prerna Baid proves age is no barrier to fulfil one's dreams in life
Aug. 21, 2021, 7:22 p.m.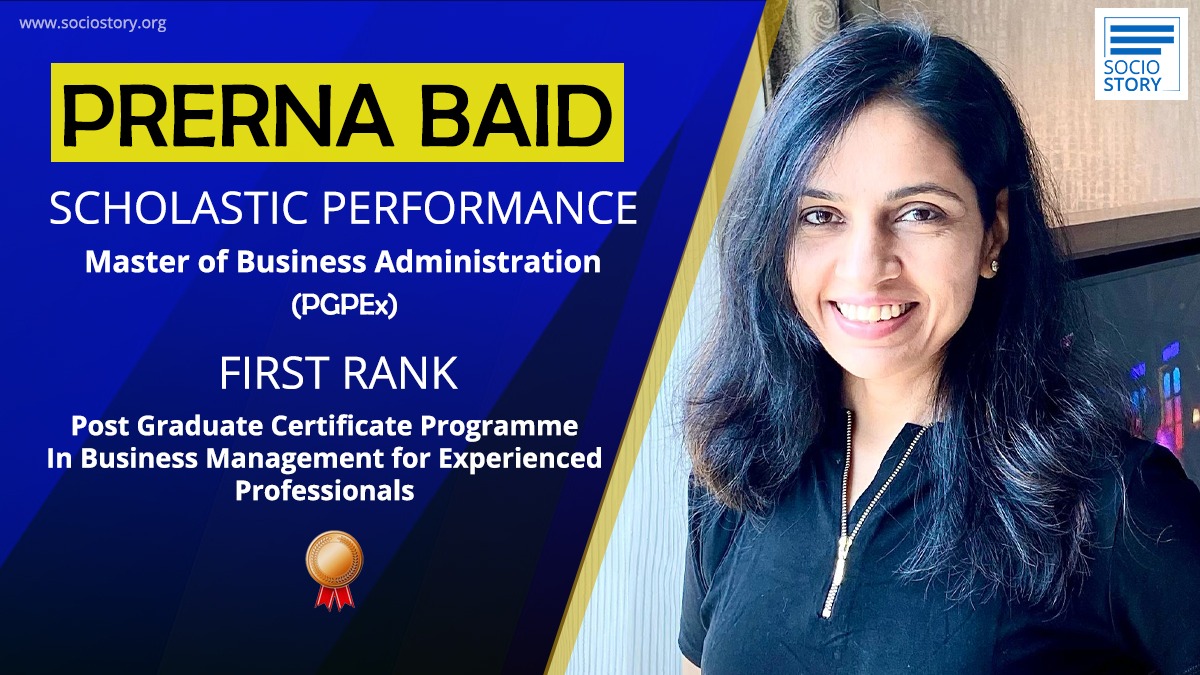 By:Reshma Jain
When 44-year-old Prerna Baid was preparing for the entrance examination for a management programme of the Indian Institute of Management- Visakhapatnam (IIM-V), little did she know that she would graduate in flying colours. A mother of two, Prerna believed that age is just a number and age does not dictate what you can and cannot do. All that she believed in is energy and dedication towards realising one's dream.
Recently, Prerna bagged two gold medals from the IIM-V for scoring the top rank in MBA and for the scholastic performance in PG programme for experienced professionals. It was no mean task for Prerna to achieve these medals because it was after a gap of two decades that she pursued her further studies. Speaking to Socio Story, Prerna shares her journey from being a daughter, student to a wife, mother and back as a student.
Prerna belongs to a Jain family, the middle of 3 daughters. Her father is a chartered accountant and has spent most of his working years in Indonesia. That is where Prerna had finished her primary education till the fourth grade. Since there was a dearth of good international schools in Indonesia, Prerna's parents put her in a boarding school in Jaipur called the Maharani Gayatri Devi Girls' school. This school is the first Girls' public school in India and Prerna finished her middle as well as high school there. This brilliant woman was always good in academics and was a topper almost every year.
As a young girl, studying in an IIT was a dream and Prerna had started to prepare for JEE Mains since her tenth grade. However due to a personal issue, she was unable to attempt her JEE Mains. She switched to Commerce post that and graduated with a BBA from Rajasthan University.
Whilst studying in college, Prerna was quite disheartened that she had not been able to realise her IIT dream. Although she was a topper, she got married just out of college. She wanted to study further but being from a conservative Marwari joint family, things did not materialize. However, Prerna's husband Chaman Baid knew this well as they knew each other since Prerna was 16 years old.
"When we heard about the certificate program being floated by IIM-V, I was sure that I would not be able to crack the entrance exam. The reason being that more than two decades had passed since I had graduated. But my husband encouraged me to give it a try and the rest is history," shared Prerna, who is an avid reader.
Coming to managing her studies, Prerna said, "I admit that I had to stretch myself a tad extra than my peers- I was perhaps the most underqualified in my class in terms of degrees. Plus managing a house, office work and being a student all over again was tough. I was up every day at 5 am and studied when everyone else was sleeping. Then there were days that I could barely manage 4 hours of sleep. Since I loved studying and learning new things, the whole journey was one of pleasure."
Sharing that she loved teaching her sons, Prerna said that she was completely involved in the academics of both her sons. "My elder son Arnav is pursuing Computer Science in Brown University, US and my younger one Arav is in his twelfth grade. While I am coaching my younger son to prepare for SAP, I also enjoy solving math sums together," said Prerna, who is also a fitness enthusiast.
It is extremely important for anyone to have their family's support and encouragement to move ahead in their life, but for a woman doubly so. Prerna feels that if it was not for her family's support, she wouldn't have come out with flying colours. "There were people in my community who felt that I was wasting my time in a useless endeavour but I always had my husband's support," reminisced Prerna.
Coming to the Jain community, she feels that the mindset has evolved and broadened over the years. She was denied further education during the early years of her marriage but as time passed, the society has become broad minded and intelligent- due to the exposure of travel and education I feel. Now Prerna thinks that women are no longer denied the freedom to pursue their dreams or lead their lives the way they desire.
Prerna also opines that education broadens the horizons for anyone-be it any sex. Man or woman, an educated person has a more sensible approach, a more pragmatic view of life. Thus, each one of us should be given equal opportunity to develop, to grow and to live life on our own terms.
"For me, it was a journey of 3 years which gave me immense happiness, inner joy and satisfaction. I cherish every moment I spent at IIM-V. It's really very overwhelming to receive so much love and accolades. The most cherished moment was when our ex-CM, Chandrababu Naidu acknowledged me in his tweet," shared this woman of grit and determination.
"I feel that my second innings have just begun. No resting on laurels but moving further ahead. I plan to work someplace else for a while, then maybe start up something on my own. A PhD is also something which is on my bucket list," concluded Prerna.
Important : If you are making an impact in the world, Please send us your story at : manoj@sociostory.in and we will try to cover you.