A saga of sheer grit, guts and dogged determination of a valiant Indian Army Officer
Aug. 15, 2022, 1:17 p.m.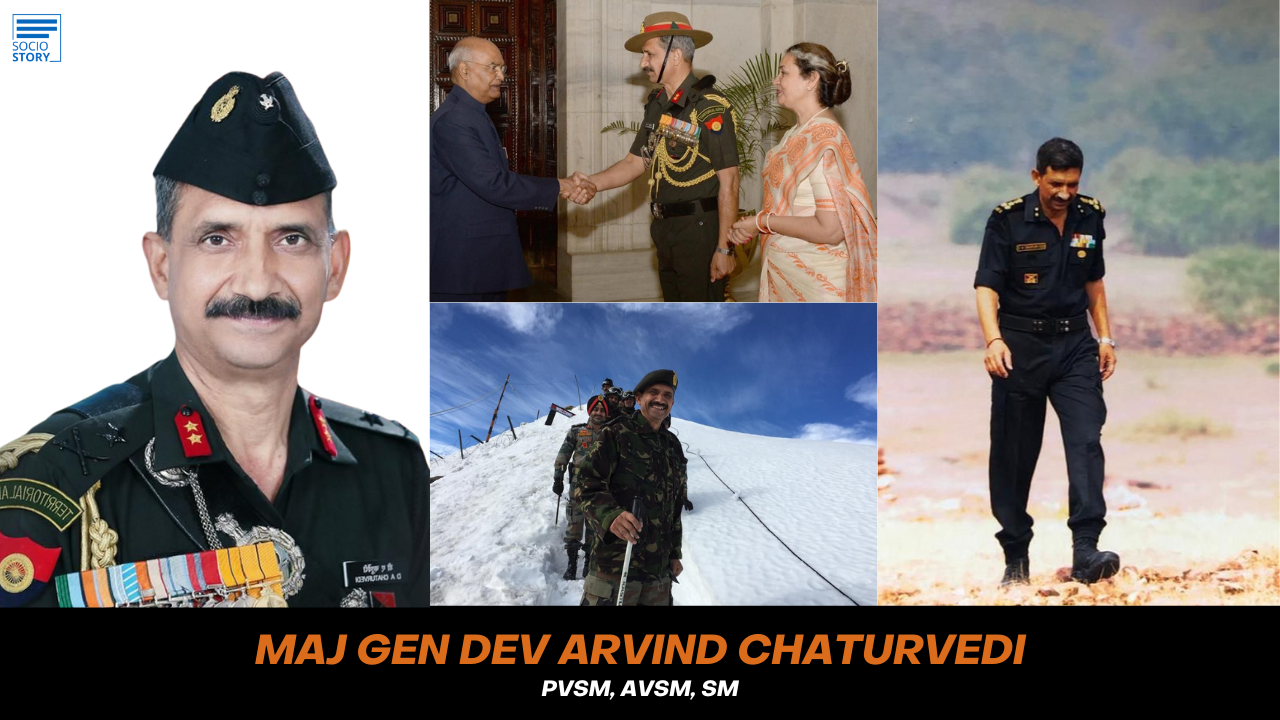 By: Reshma Jain
The Lolab valley in North Kashmir was a hot bed of terrorists in 1998. In a mix of broken Hindi and Urdu language, one of the Kashmiri villagers said, "you ask about terrorists, I tell you, if I don't you beat me. Terrorists ask me about you, I tell, if I don't, he will kill me." This was one of the incidents recalled by an Indian army officer (retd) who operated as Maj Rashid Malik from a village called Devar (hottest of the hotspots). With the change in identity, the policy was to befriend the villagers inspite of they helping the terrorists. They had an encounter every time they moved out of their company operating base. However, they managed to kill the terrorists without losing their own lives.
The then Maj Rashid Malik is none other than Major General Dev Arvind Chaturvedi, PVSM, AVSM, SM. Hailing from Uttar Pradesh, Maj Gen Chaturvedi is an alumnus of Rashtriya Indian Military College, Dehradun, National Defence Academy (61st Course), Indian Military Academy (71st Course) and was commissioned into 1/3 Gorkha Rifles on 24 December 1982. Most of his career has been spent in J & K combating terrorism as also Pak Army at Drass (OP VIJAY).
This year, as we celebrate 'Azaadi Ka Amrit Mahotsav- 75 years of Independence', Socio Story brings to the fore the chronicle of this brave, valiant and courageous retd. army officer Maj Gen Chaturvedi. Another interesting part of this story is that the successful conduct of the Surgical Strike against the Terrorist Launching Pads inside the Pakistani territory was under the Dynamic Command of the General Officer commanding the largest Infantry Division of the Indian Army. The General Officer has also been a Force Commander in the National Security Guard.
Speaking to Socio Story, Maj Gen Chaturvedi discussed how India avenged the Uri attack in 2016. So what was unique about this surgical strike? Led by brave soldiers and young officers, three strikes were carried out across a frontage of approximately 300 kms of Line of Control in a co-ordinated and simultaneous action over varying terrains. It was an overnight operation wherein a number of strikes went in which were carried out primarily by the special forces and the infantry sub-units (Ghatak platoons). The characteristics of this successful operation, Maj Gen Chaturvedi said; were deliberate and immaculate planning, close coordination and maintaining complete secrecy (except the planning chain).
"The best thing was that we caused casualties to the enemy and all of us returned without a single loss of life or limb: a singular achievement in such an operation. The biggest achievement and sense of satisfaction is when an operation is carried out without any casualties to our own people. These soldiers are the unsung heroes of the Indian Army and we collectively must salute them," opined Maj Gen Chaturvedi, a Kargil warrior adding that the enemy had regrouped to attack our men, but they were too late.
While the conversation went on, I was curious to know about Maj Gen Chaturvedi's childhood. Reminiscing about his childhood days, the army officer said, "It was always my dream to serve the Indian Army. I remember saluting the army convoys when they passed by my home or school and there was a deep sense of patriotism ingrained from school days. One fine day, my father brought me the army uniform on my birthday as a gift and happiness knew no bounds. The rest is history."
On being asked about the qualities that shaped him, the army officer said that Honesty, Sincerity and Determination are the fine qualities that he stands on. During his years of service, he also realised and nurtured other qualities like being compassionate towards all beings, standing up for the right and to achieve goals against odds. "To inculcate the value of patriotism from childhood, children need to be exposed to stories and acts of bravery in their curriculum and films can play an important role in positively influencing the minds of the younger generation," said Maj Gen Chaturvedi who has pursued Master of Management Studies and Post-Graduate diploma in Business Management, Business Management and Alternative Dispute Resolution Law.
Stating that the daunting challenges got the adrenaline flowing, Maj Gen Chaturvedi who is a professional soldier, trainer, torch bearer, keen sportsman, fond of reading, ornithology and also a keen explorer recalled his days as the Additional Director General of Territorial Army (TA). He said that it was a fulfilling experience as it exposed him to a lot of new challenges to his learning curve.
He also recalled the award ceremony of Major Pradeep Shoury Arya, India's first IRS officer who was awarded with Shaurya Chakra (India's third highest peacetime gallantry award) in 2018 for his efforts in thwarting an infiltration bid in Kashmir.
Major Arya is the first civil servant in the history of Independent India to receive the Gallantry Award for Valour in Action/ Neutralising Terrorists. As part of the Indian Army, Major Arya worked extensively with the Elite Parachute Regiment (Special Forces). As part of Special Forces, he led the Counter Insurgency and Counter Terrorism (CICT) Operations in the hostile environment of Jammu & Kashmir.
Major Pradeep Shoury Arya, now the Commissioner of Income-Tax, Bengaluru, belongs to the 2004 Batch of the Indian Revenue Service (I.R.S). He worked in various capacities and was responsible for carrying out Enforcement Actions against Tax Evasion.
Major Arya joined the Territorial Army and was commissioned into the 106 Infantry Battalion where he was attached with Special Forces. He was the mission leader tasked to form an intelligence network along the LoC in Baramulla district of J&K and as a part of it, he led an ambush party to eliminate terrorists around the Line of Control.
The General Officer is married to Mrs Sujata Chaturvedi, who is a MBA (Finance) and presently pursuing her Ph.D from Chaudhary Charan Singh University, Meerut and an avid educationist. They have two children. The elder one, Maj Sandhya Chaturvedi is a serving officer and presently posted in Army War College (Mhow) and younger, Mr Sarthak Chaturvedi has completed his Bachelors in Political Science from Delhi College of Arts & Commerce.

Socio Story wishes you all a happy Independence Day. Jai Hind, Jai Bharat!