A SILVER LINING AMID A DARK CLOUD
May 4, 2020, 6:25 p.m.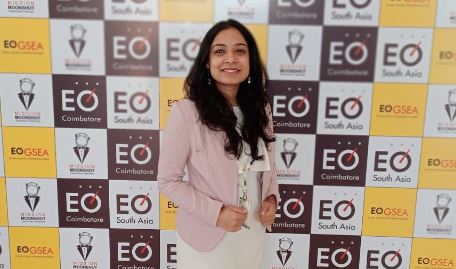 Akriti Gupta's father was diagnosed with cancer! The family was shattered. But Akriti soon realised that the dreaded disease cannot overpower her unless she allowed it to. She was determined not to succumb to the negative impact that cancer could cause to her mental health. This personal setback actually became the vision of her organisation, Canfem, and she decided to dedicate her life to it.
From her first-hand experience, and after talking to hundreds of other cancer patients, she realised that very few people, in India especially, work towards providing them a dignified and improved quality of life.
While talking to women, she realised that removal of the breast is a traumatic experience for breast cancer survivors. It disbalances their physical, mental and emotional well-being. By providing various innovative products and services, Canfem is dedicated towards bringing back this balance in a cancer survivor's life.
Their flagship products include affordable external breast prosthesis and mastectomy brassieres.
Breast prosthesis available in the market have various drawbacks.Canfem breast prosthesis takes care of it. It is made using multiple layers of cotton fabric, hence is non-allergic and comfortable to wear. It has the correct weight and comes in 8 size, which is further customizable. Various shape and design options are also available, satisfying the dignity of the woman.
Their mastectomy brassier is also made out of cotton-based fabric, is comfortable to wear and seamless, providing a perfect fit and silhouette and is biodegradable. It is available in seven sizes of various colours. Its technology is approved by top cancer institutes of India. These products are being used by 3000+ women all over India, which have shown 93% satisfaction rate. All this, at only 20% of the cost of its substitutes!
To produce these products, Canfem trains and employs women from rural India at fair wages. This financial independence overcomes their economic, social and gender inequalities.
Canfem also empowers breast cancer survivors by bringing them as a community. Breast cancer survivors are brought on board, trained as peer counsellors and made ambassadors. Canfem helps them to help those who are fighting a similar journey as theirs.
Canfem runs online and offline campaigns regularly to increase awareness about the disease and to encourage women to perform breast self- examination, which is the first step towards early breast cancer detection. They have innovated a dummy breast, approved by top oncologists of India, which hassymptoms of breast cancer in-built in it. This helps in teaching women practically how to perform a breast self-exam. Their efforts have lead to 400% more women now performing breast self exam.
Canfem has been recognised by various institutions like IIM-Bangalore, been awarded with Young Entrepreneur Award and will soon represent India globally, among 50+ other countries, at Global Student Entrepreneur Awards; but their biggest achievement has been their constant contribution towards UN SDG – 3, 5, 10 and 12. Canfem is actively looking for partnerships from other NGOs, hospitals, distributors, CSR foundations and lingerie portals for prospective collaborations, to reach out to a maximum number of people, and to amplify the impact together.

Important : If you are making an impact in the world, Please send us your story at : manoj@sociostory.in and we will try to cover you.