A specialist in Levitation illusions, Dr B S Reddy shares his journey in becoming a renowned illusionist
Aug. 30, 2020, 5:23 p.m.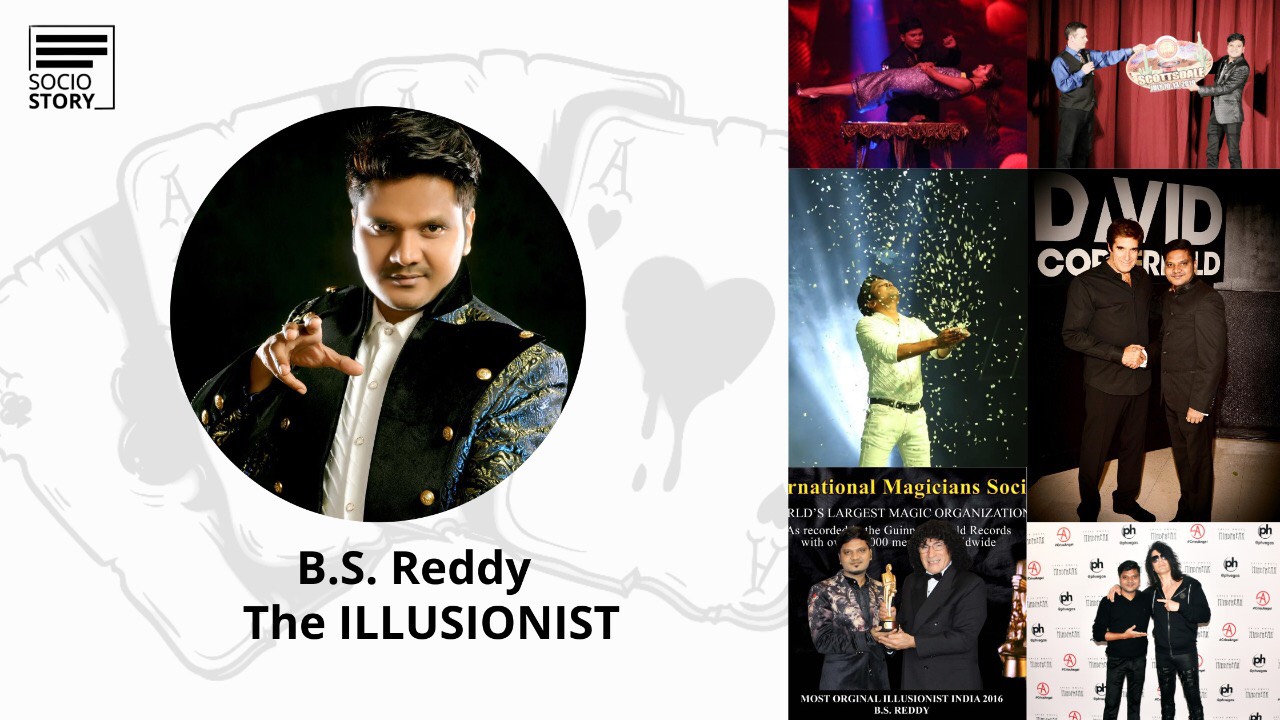 By:Reshma Jain
A child prodigy who stepped into the world of magic at a young age of 10 is an inherent artist himself. Performing magic has always been his passion and dream. It was 30 years ago when this spellcaster bought himself a magic tricks book with his pocket money. When he started to learn and experiment a few tricks with the regular objects, little did he know that he would be turning his passion into profession and become a well-renowned magician in the world. Socio Story brings to you a story which will drive you into a world of magic.
A self-taught magician from Visakhapatnam, Andhra Pradesh, Dr B S Reddy was brought up in a family of non-magicians. Reddy was in class ten when he gave his first magic performance in school. Since then, there has been no looking back. Gradually, Reddy developed a penchant for magic and started performing in small shows with a few regular objects. Little by little, this talented enchanter started to save whatever little amount he received from his magic shows. He later used this money to buy magic props and tried experimenting with them. People enjoyed his shows and the process of trying new tricks continued.
Sharing a little insight on his background, Dr B S Reddy is an MBA graduate and has also done MA (Psychology) from Andhra University. Having successfully completed 30 years in the field of magic, he is considered to be one of the finest magicians of India. His world class presentation along with his magical performance with a touch of elegance is what makes him unique. He is known for his versatile and dynamic collection of visually exciting magical effects and appearances for some of the most prestigious television shows like Penn & Teller: Fool US (America), India's Got Talent (semi-finalist), MTV, ZEE Network and Telugu movie premiers, etc. Reddy is the first Indian illusionist to perform in the reality show 'Penn & Teller'. He has also been a part of many TV and radio shows.
This international magician is a recipient of the 'Oscar of Magic' also called the 'International Merlin Award' as the 'Most Original Illusionist – 2016'. This prestigious award is the highest in itself and is most honoured in the field of magic. An 'Oscar' for movies is 'Merlin' for magicians. The award was presented by Tony Hassini, President of the International Magicians Society (USA) along with a life-time membership of the society.
This Superstar of Indian Magic has also made a place in 'The Guinness World Records' in July 2016 and he has been awarded with the title "Crowned Prince of Magic" by All India Magic Federation in 2020. Indeed, he has made the country proud.
Reddy is the Founder and President of Indian Magic Academy (IMA) which is the first registered Magic academy in both the Telugu states. "The academy is a non-profitable and non-commercial organization which is one-of-its-kind in the city. A free summer magic camp is held for 100 children in Visakhapatnam every year. Apart from this, magic workshops for professional magicians are organised and the younger magicians are trained for magic competitions. Every year the academy celebrates 'IMA Awards Night' in a grand way in which it felicitates the senior magicians from all over India. Through his shows, he entertains as well as creates awareness regarding magic and educates people about the greatness of magic art," stated the illusionist who has off late developed acts to suit any occasion or situation.
The Self-taught magician added, "I have created awareness in rural areas and educated them about superstitions and their outcomes. I have also been a part of social awareness programmes and activities in the country. I want to bring happiness and joy in everyone's life through magic."
Using techniques of modern magic has led him to bring accolades to the country. He has carved out a niche for himself at the national and international platforms through his stage performances in America, Australia, Singapore, Malaysia and Thailand. "My favourite illusion is Levitating humans in mid-air. The most memorable experience was when I levitated Indian actress Malaika Arora in India's Got talent show," stated Reddy who specialises in Levitation illusions.
"To help people in developing their skills and for those who wish to make Magic as their profession, I want to help them by conducting special training programmes at free of cost. I am planning to start a new batch for boys and girls to train them in magic and take it up as a profession," stated Reddy who has received two times appreciation from the President of India.
Important : If you are making an impact in the world, Please send us your story at : manoj@sociostory.in and we will try to cover you.