A tool to teach lessons of Non-violence and Self-reliance- 'Ahimsa Toys'
Jan. 7, 2021, 4:56 p.m.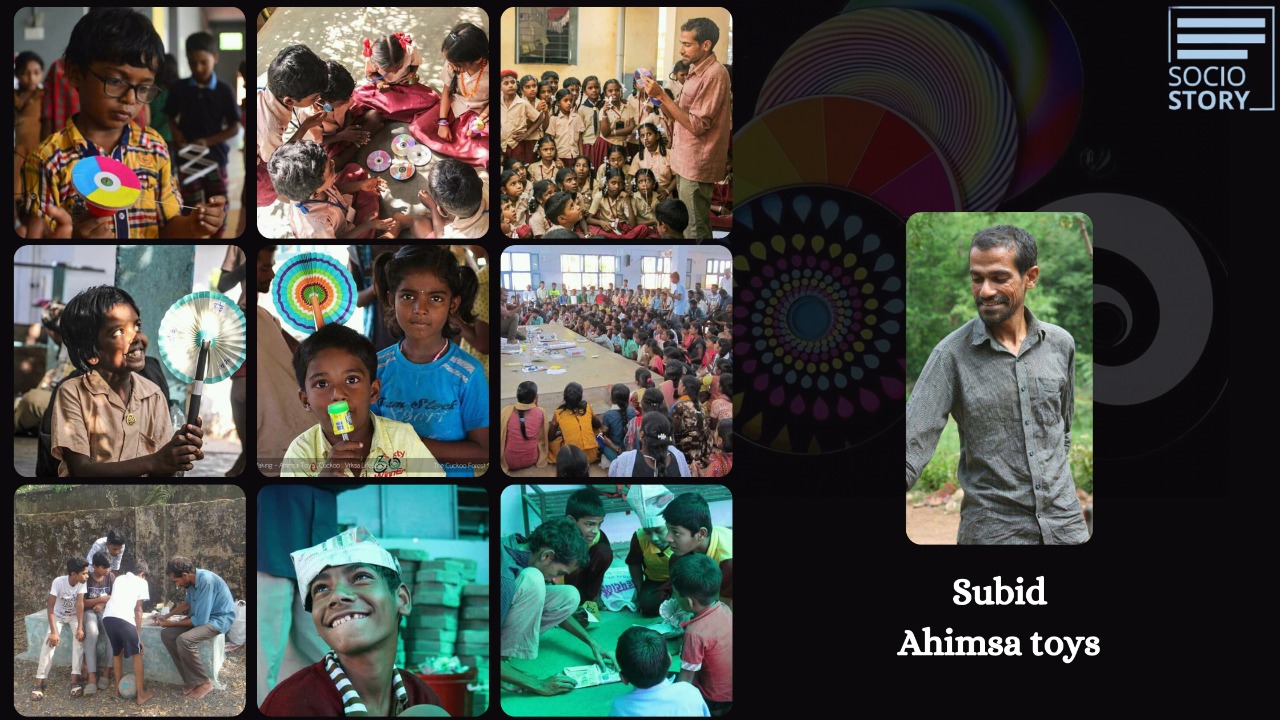 By:Reshma Jain
'Toys'- the moment we hear this word, it reminds us of our childhood days. However, toys never last long as they are soon destroyed and thrown in the trash. But still toys do not lose their value of importance as these colourful and creative toys provide an opportunity to learn.
It is believed that toys are the tools that society uses to teach and enculturate children into the adult world. Toys are the reflection of society and what best way to spread a message through these toys? Socio Story brings the story of Subid K S from Kerala who teaches children the art of making 'Ahimsa toys' from trash. What a brilliant idea, isn't it?
Popularly known as Subid Ahimsa, this 42-year-old travels across the country to spread the message on non-violence (Ahimsa) through toys. Sharing his story, Subid said that he was inspired by Padma Shri Arvind Gupta, an Indian toy inventor. A pioneer in teaching toy-making out of 'trash' materials, Subid knew Gupta since childhood. "I had a chance to meet Gupta in person during my post-graduation days at IIT Delhi. However, in the year 2011, I was invited to his office at Pune (through a friend) to dub some of his toy-making films from English to Malayalam, (my mother tongue)," reminisced Subid.
That was the time when Subid was tired of activism and other experiments in life. So, he went to Pune, stayed there for ten days, dubbed around 50 films and returned. The toys came along with him to help him to start a new life altogether.
Subid started sharing his knowledge on toy-making to children around his locality and soon was invited by schools to deliver talks. On being asked why he gave the name 'Ahimsa' to the toys and workshops, Subid stated, "The purpose was to convert trash into toys (waste to wealth) but the art was converting hearts from violence to non-violence. To be precise, the attitude of people towards 'waste' is violent. First, they fear it and then they try to get rid of it. So, they throw it away or burn it, both resulting in damaging the health of people and the environment."
By encouraging children to bring their creativity to the fore, waste can be converted to wealth too. "In fact, I then realised the importance of good education. Each child is born creative but our education system kills it. So, as I moved on, my 'Ahimsa Toys Creativity Workshops' became a tool to understand what good education is," further said Subid adding that a few toys designed to spread his message include paper fans, puppets, flutes made of straw, magic paper wands, spinning toys using old CDs and flying toys.
Subid's product design skills helped him to beautifully design toys. Gradually, he started training children and having been divided into teams, they were asked to bring some trash materials for the workshop and while going back, their bags would be filled with toys made by themselves. Subid has organised more than 700 workshops in Kerala, Tamil Nadu, Delhi, Rajasthan and Haryana. "Sessions with Bhopal gas tragedy survivor's children at Bhopal, Narmada Bachao Andolan kids in Madhya Pradesh and children of Koodankulam anti-nuclear struggle are some of the most memorable moments. I have influenced a lot of teachers and parents towards better education," said Subid who started Ahimsa toys and toy-making creativity workshops in 2011.
Having left his full-time career, a permanent shelter and his family, Subid expressed that he resides in the hearts of kids. He wishes to share his experiences and experiments of life with people. "Apart from the message that 'Nothing is waste', my workshops help in inculcating the values of caring, sharing, and teamwork. I also teach lessons of patience and confidence. Toys made are repairable, giving valuable lessons of self-reliance and sustainability," shared Subid by adding that toys have a potential, it goes beyond languages, caste and religion. It brings smiles on each face.
Important : If you are making an impact in the world, Please send us your story at : manoj@sociostory.in and we will try to cover you.