A young crusader, Sherly Devarapalli is on a mission to empower young girls and women
Dec. 18, 2020, 6:19 p.m.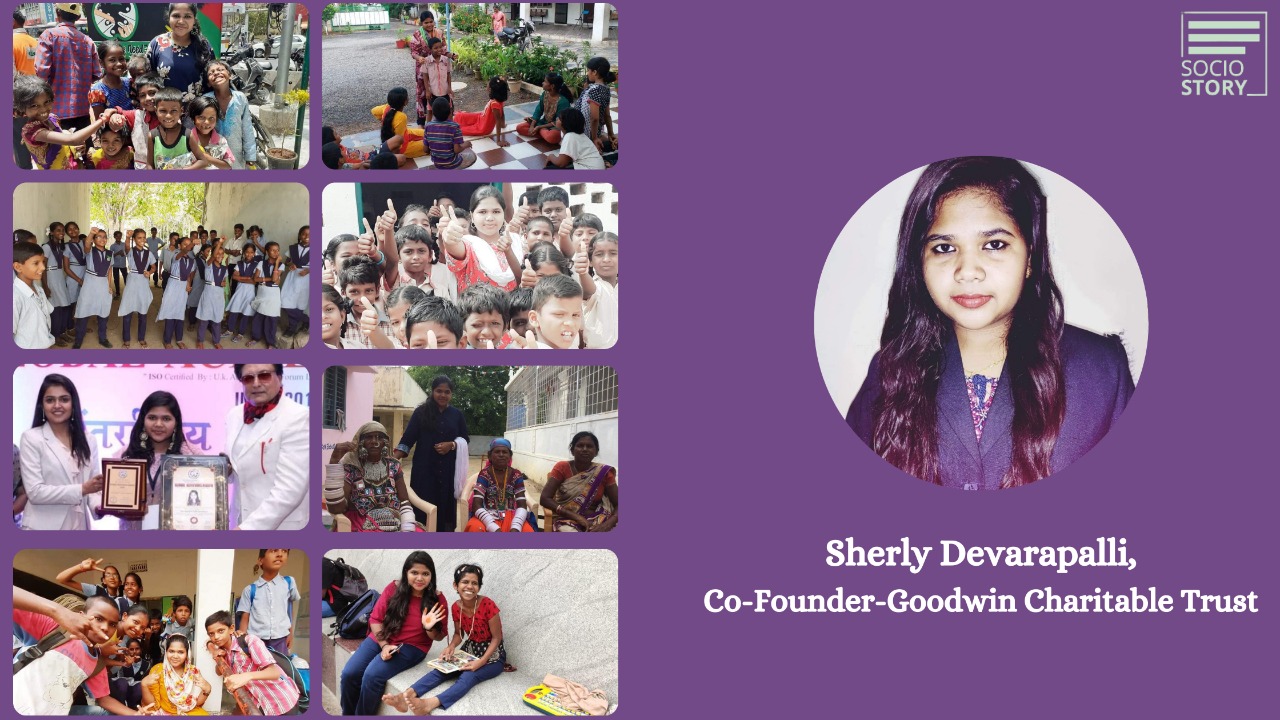 Reshma Jain:
When Sherly Devarapalli was 17-years-old, she often felt disturbed when she read newspaper articles on rape and sexual abuse. A lot of thoughts triggered her mind and one fine day she made up her mind to do something to reach out and help people to not become victims of atrocities. Sherly being a black belt holder in karate left no stone unturned when it came to using her skills to benefit the society as a whole.
So, what did she do? Sherly started taking self-defence sessions in government schools and for women in rural villages. The techniques that Sherly taught were not only a safety measure but also developed self confidence among them. In this way, she reached out to more than 4,000 girls in three states – Tamil Nadu, Andhra Pradesh and Telangana.
The young and confident girl, while speaking to Socio Story said, "I wanted to share my knowledge with others, so that it might help them in overcoming a tough situation. I conducted my first camp on self-defence and menstrual hygiene with 250 students in Kadapa in 2017. The response I received was overwhelming, hence I decided to organise more camps. I explored a few rural areas and started to reach out to the underprivileged children."
Although Sherly faced a lot of hardships, she did not let it deter her dream of educating girls to build a prosperous nation. Sharing one of the reasons on what keeps her motivated to work hard and make a difference, Sherly who is now 20, said, "I was returning after completing a self-defence session in a school when a 12-year-old girl approached and asked me to teach her some more self-defence techniques. Although I was confused, I knew there was a reason. On being asked the reason, the little girl said that her mother is a victim of domestic violence and she wanted to teach these techniques to her mother. That point of time, I realised the importance of sensitising girls and women to not fall victims of atrocities."
All these experiences paved the way to form an organisation to work for the welfare of children and women. Sherly, along with her Mother D Devamani, founded an NGO called 'Goodwin Charitable Trust' based in Hyderabad with a mission to uplift the underprivileged children and women by conducting awareness sessions in rural villages and orphan homes.
A few of the projects done by Goodwin trust:
I am Aware- Spreading awareness about good touch, bad touch and self-defence techniques.
Digital Dream- Goodwin has installed smart class technology in government-aided schools in remote areas of Tamil Nadu and Andhra Pradesh.
Joy of Giving- Old clothes are collected, sustainably washed, packed and given to orphan homes and disabled people in slums.
Helping Hands- Fundraising activities in record time to help patients awaiting help for life saving operations.
Talent Hunt- Goodwin regularly conducts talent hunt programmes to encourage skills among children.
Lets help Hyderabad- During Hyderabad floods, funds were collected by selling hand sketches made by artists. The funds were spent on relief activities and in three days, the volunteers could feed around 400 people.
Sharing that the impact that has been made through various initiatives has been strong, Sherly who is pursuing her Master of Arts in Social Work from Tata Institute of Social Sciences (TISS), Mumbai, said, "Apart from creating awareness on personal hygiene, good-touch bad-touch, mental health and women empowerment via various camps, I celebrate festivals with orphan kids and conduct competitions like drawing, singing and sports to promote their skills."
A speaker at Impact foundation, Sherly is a talented artist and sells her paintings to fund her social activities. Being a young crusader, her goal is to bring a change in the society with the knowledge and experience she has. "When I was pursuing my BA, I directed a short film on atrocities against women. The life of women as victims of heinous crimes are depicted in the film and this short film is screened while conducting awareness camps," shared Sherly who bagged the Global Achievers Award from National Anti-Harassment Board, Bhopal.
Sherly who is a 'Ashoka Youth Venturer' and received the 'Sevaratna Puraskaram' from Oyster Organization, Osmania University, concluded by saying, "Women and girls are more powerful than what they think."
Important : If you are making an impact in the world, Please send us your story at : manoj@sociostory.in and we will try to cover you.