After having donated her hair, classical exponent Sravya Manasa stands as a pillar of strength and hope for the cancer survivors
March 6, 2021, 8:53 p.m.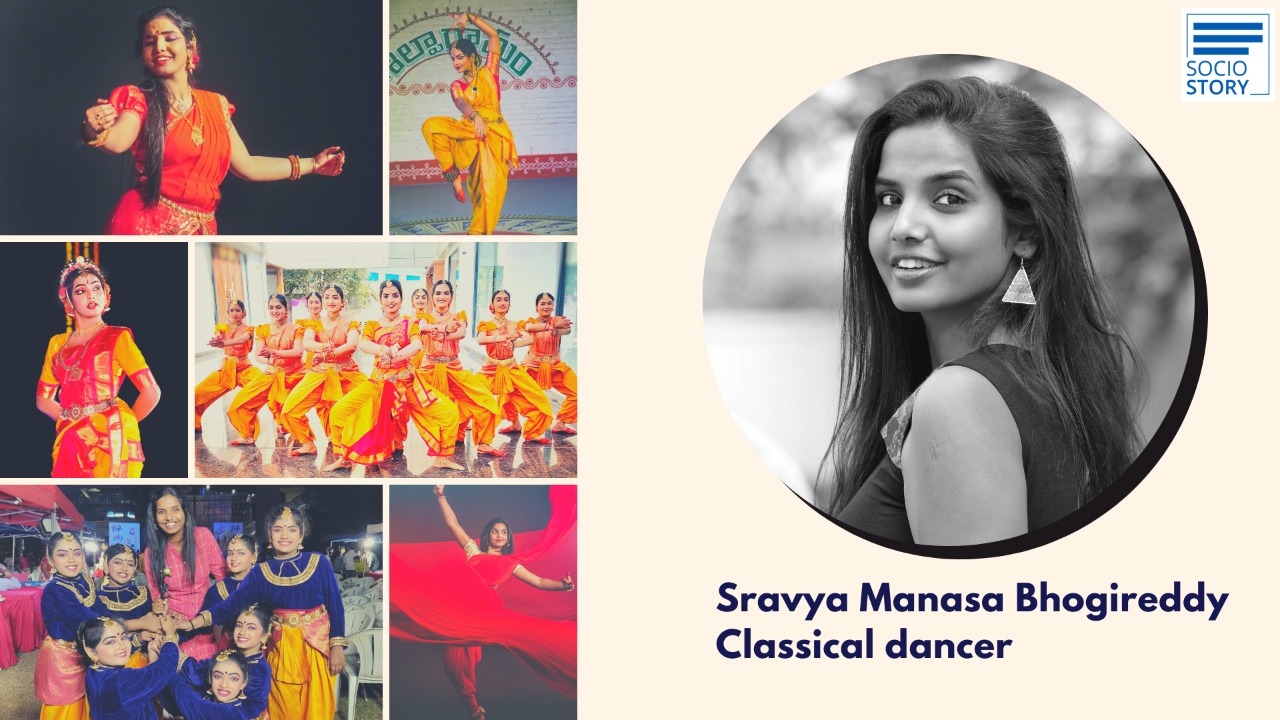 By:Reshma Jain
Ask any woman about her hair and she would say that it is a defining characteristic of beauty and reflects herself. It is also said that your hair is your crown and your best accessory. However, when a person suffers from a deadly disease like cancer, hair loss due to chemotherapy and radiations has a traumatising effect on the survivor. This Women's day, the theme being 'Choose to Challenge' Socio Story brings to a story of a bold girl from Hyderabad who has challenged the society by leaving a message of 'Acceptance'.
In order to give these cancer survivors a ray of rope and instill confidence among them, there are a few kind hearts who come forward to stand by them and to prove that it is normal to undergo hair loss due to medical conditions. One such brave and bold woman is Sravya Manasa Bhogireddy, one among the finest exponents of the Classical Kuchipudi dance. Known as the 'Pride of Telangana', Sravya has always enthralled audiences with her performances.
Sravya kept hearing about hair donation for cancer patients for quite some time, but did not pay heed to it. Stating that maybe she was not ready to take any step, Sravya said, "When I continued with my dance performances with my team at different events (NGOs/charity events, etc), I came across a few cancer survivors who had undergone chemotherapy and radiation. While most of them had lost their hair, I was upset when I saw young cancer survivors. I could immediately relate to my earlier thoughts and I decided to do something for them."
Sravya further shared, "I noticed that a lot of survivors lost confidence after their chemotherapy. During interactions, a few of them also shared that it is a very stressful and a traumatising experience. Adding to the woes, hair loss makes them emotionally weak and self-esteem goes for a toss. Hence, I decided to donate my long hair as it is something which can grow back to normal. And exactly a month back, I shaved my head and donated it to a Hair Donation organisation."
All my life, I was made to feel that if your hair is good, you will be beautiful, recalls Sravya. "However, we never knew that losing hair due to some medical conditions is natural. If people are sensitised that hair loss is natural/common, cancer survivors will have a strong support system. Even after having shaved my hair, I never tried covering up my head with a cap or scarf. Because I want to spread the message 'Whoever said beauty lies in the hair was so wrong'."
Sravya shared that there were times when people mocked her, stared at her and passed comments. However, she realised her purpose and did not let these things bother her. "It's more like exploring self-love and accepting yourself the way you are. After having donated my hair, four more girls from my academy followed suit. This makes me realise the ultimate purpose of life. On the funnier side, I do not take much time dressing up now," shared a happy and confident Sravya who is pursuing her PhD in Dance from University of Hyderabad.
Right from the age of 18, Sravya has been training, guiding and mentoring budding talents under the umbrella of Sumadhura Arts Academy. So far, she has mentored well over 1,200 students and she and her dance troupe have performed in more than 800 shows in India and abroad.
A recipient of many state and regional awards, Sravya's dance productions are more towards the reality, like the social issues. Sharing a little more on her social dance productions, Sravya said, "A few of my works include 'Breathe' which focuses on the life of a girl child, 'The Survivor' which talks about women and how they empower themselves, etc."
Stating that Dance is a powerful medium to convey a message or spread awareness, Sravya concluded, "We are presently working on a concept on women stereotypes. I also plan to train girls from the marginalised communities by giving them a platform and an opportunity to bring out their latent talent."
Important : If you are making an impact in the world, Please send us your story at : manoj@sociostory.in and we will try to cover you.