After having witnessed a few tragic scenes, Jojo K Josph decided to serve people in rural and urban areas
June 2, 2021, 7:42 p.m.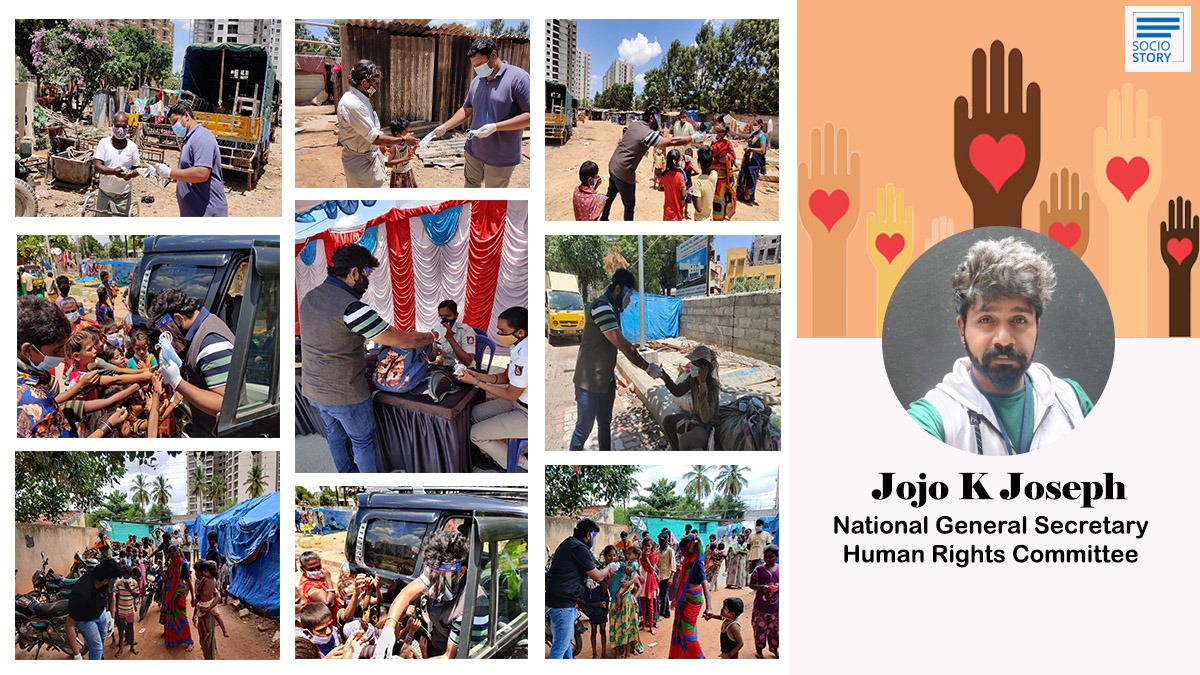 By:Reshma Jain
The wheels of a Samaritan's car set out where the heart says. Today, it is a slum and tomorrow it would be a village. On some days, there are public servants who are served and, on other days, the stranded people. Yes, the second wave of the Covid pandemic is a test to humanity. While a few have gone beyond their call of duty, there are some others who felt it as a responsibility to serve people during this unprecedented crisis. One among them is Bengaluru-based Jojo K Joseph, National General Secretary of Human Rights Committee.
Joseph witnessed a lot of volunteers and organisations distributing food and other essentials during the first wave of the pandemic. But the scene was a little different during the second wave when Covid seemed to be very dangerous. While people lost lives, there were others reaching out in dire need of help. It was a nightmare to venture out and heart-wrenching scenes were witnessed in hospitals.
Joseph thought to himself that there were three burning issues that need to be immediately addressed to. 'Hunger' – since people especially daily wagers starve to death, 'Poverty'- that never allowed people to even buy the right surgical mask and 'Untouchability'- a vertical of mankind to the ones positive with Covid.
There were hardly a few who thought about the plight of people in the slums. The service by public servants 24*7 has been commendable but their well-being was a matter of concern. At the same time, family and relatives of Covid infected patients were finding it difficult to provide them with basic necessities. After having witnessed all this, Joseph decided to move out of his comfort zone to address these issues which could further lead to loss of lives.
"Although it was challenging, I wanted to take a step forward as I was disheartened to see the plight of people. Apart from providing food, it was important to spread awareness on the importance of wearing a mask, especially in the slums. There was also a need to sensitise people to cope with stress and fear. At times, a sentence or two of consolation can save a life," shared Joseph who started a few initiatives last week.
The campaign started with preparing 100 packs of food a day, stacking water bottles and buying masks. All these were then loaded into Joseph's car, ready for distribution. From stranded people, slum dwellers to public servants and frontline warriors, the campaign garnered a lot of support and appreciation.
"Every contribution since day one has been close to my heart. Every little smile, the reflection of gratitude on every face is what motivates me to move ahead in my mission to serve and help people," said the young certified life coach by adding that Tharish Cuisines had come forward to cook simple rice dishes on request.
Covid has not just affected the physical health of people but also their mental health. The mental trauma and the stress created is very disturbing and difficult to deal with.
Joseph, a 33-year-old entrepreneur, said, "My vision is to multiply such kind-hearted souls and activate more such campaigns for the needy. This would inspire the youth to start the habit of giving it back to humanity/nature and not just being materialistic in life. We have plans to reach out to orphanages, old age homes, rehabilitation centres as well," added joseph by concluding, 'Just listen to your heart when alive and get going. Be happy and spread only love.'
Important : If you are making an impact in the world, Please send us your story at : manoj@sociostory.in and we will try to cover you.