Aligning with initiatives like 'Vocal for Local', 'Skill India' and 'Effective waste management', Lakshmi Menon has set an example through her work
April 12, 2021, 6:35 p.m.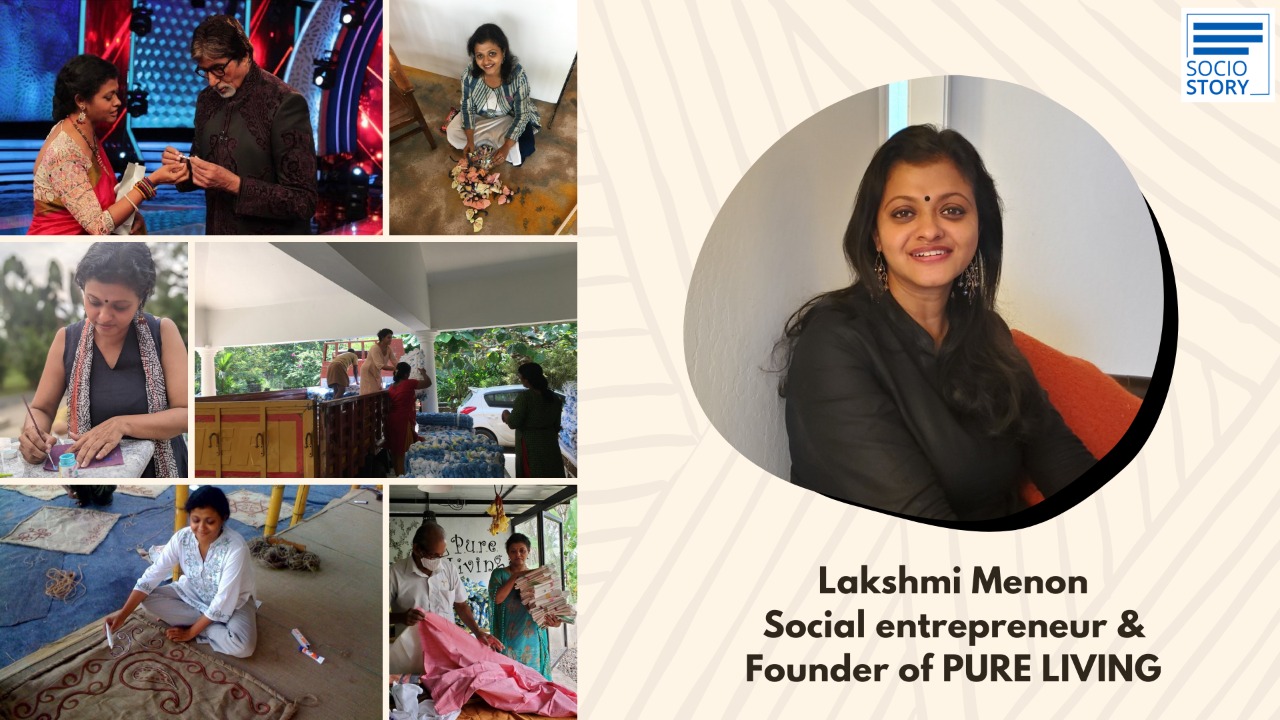 By:Reshma Jain
The global pandemic has triggered an array of emotional, physical and economic issues but in the midst of the crisis, a few kind-hearted souls came together to uplift and help their fellow beings. One such example is Lakshmi Menon, a social entrepreneur who hails from Kanjiramattom, near Kottayam district, Kerala. Her creativity skills are a boon not only in terms of providing employment and making families self-reliant but also unleashing the potential and creativity of individuals.
A designer by passion, Menon is an alumnus of CMS College, Kottayam and then went to the US to explore opportunities to utilise her creativity. During her 10-year stint in San Francisco, she was featured in New York Fashion week as Jewellery designer while working as a featured artist in the Artizmo local artisan's gallery. During her visits to Kerala, Menon used to spend some time teaching orphans creative skills. During one such visit, she taught children to make pen by rolling paper and the idea of making seed-paper pens struck her. This initiative called 'Rolapena' of hers included a plantable paper pen with seed as an alternative to plastic disposable pens. This went a long way and impacted the lives of many while she owns its global patent.
Menon, in the year 2012 decided to start an initiative to encourage eco-friendly living among people. She founded PURE Living (Products Up-cycled Recycled and Economised); a Kerala based social-enterprise. Pure stands for the eco-friendly approach, while living is all about being responsible towards enhancing quality of life. Pure living activities range from waste paper consumption, best out of waste products to handicraft productions and many more.
Menon is known across India for 'Ammoommathiri', Chekutty dolls and other innovations. Among all, the most appreciated is the WICKSDOM, also known as 'Ammoommathiri' ('Grandmother's wicks'), where a group of elderly women make lamp wicks and earn an income of their own. Ammoommathiri has been highlighted in the 'Change makers' series by BBC in Star plus and felicitated by actor Amitabh Bachchan. "The wicks are sold to individuals and organisations, and the entire money goes to their makers. Through this initiative, we have had the opportunity to not only provide livelihood to many women and senior citizens, but also restore in them a sense of accomplishment and dignity," said Menon.
Chekutty dolls, conceptualised during the mega floods of 2018, has become an icon of resilient Kerala, which was made by crowdsourcing in 9 countries by 50,000 volunteers that helped in reviving the handloom industry of Kerala.
Her pandemic related project Coveed (miniature paper houses) has been shortlisted for display by National museum Scotland and selected as souvenir for Dakshinachitra craft village in Chennai. Each Coveed (a symbol of gratitude and compassion) is a gift box that can hold up to half a cup of daily provisions, chocolates or masks, or whatever you feel is right to gift to anyone.
Shayya bedrolls, her recent initiative made of tailoring scrap of PPE, has attracted world attention with World Economic Forum Davos Agenda, and for display at National Museum Scotland. Cheap, hygienic, and sustainable, these mattresses were made in large numbers and were distributed to the needy. Shayya' is a bedroll for anyone who needs a mattress including First-Line Treatment Centres (FLTC), shelter homes, or homeless to use as beds. These bedrolls are created from the scrap that accumulates while making Personal Protective Equipment (PPE) that would otherwise be thrown out as garbage. And unlike regular mattresses used in FLTC, Shayya is very easy to disinfect. The PPE Shayya is lightweight at only 2.5-5kg.
Quilt India Samman, one of the verticals of Quilt India Movement 2020 started last December to uplift the artisan community whose livelihood severely hit during the pandemic, is converting unsold fabric of weavers, to mommy kits for the new-borns in war hit zones. "Quilt India Samman- Mommy kits for poor babies made of unsold stock of weavers is close to my heart. 'Abundant distribution, but unequal distribution' is the issue that we address through this initiative," expressed Menon.
"Regardless of whichever part of the world, a mother anywhere will dream of only the cleanest clothing for her new-born. Unfortunately for many it remains just a dream. Especially for new mothers in war hit countries where they depend solely on external/foreign support unlike in slums or other financially backward segments. Why shouldn't this basic dream and right of every mother not come true? The kit includes essentials like frocks, nappies, burp cloth and baby wrap made of the best quality handloom. The goodness of these kits doesn't stop there. At the other end, these kits support weavers whose stock sales have been terribly hampered by the pandemic," said Menon adding that the kits are stitched through crowdsourcing, giving an opportunity for people across society to be part of the noble initiative which is one of the focus areas of Quilt India Movement 2020.
Menon, a governing council member of National Innovation Council India, concluded, "Waste Management, Job creation, skill development and Vocal for Local- these are the four major focus areas of my innovation."