Amidst the chaos around, Sahla Parveen is making efforts in spreading Happiness
June 6, 2021, 8:47 p.m.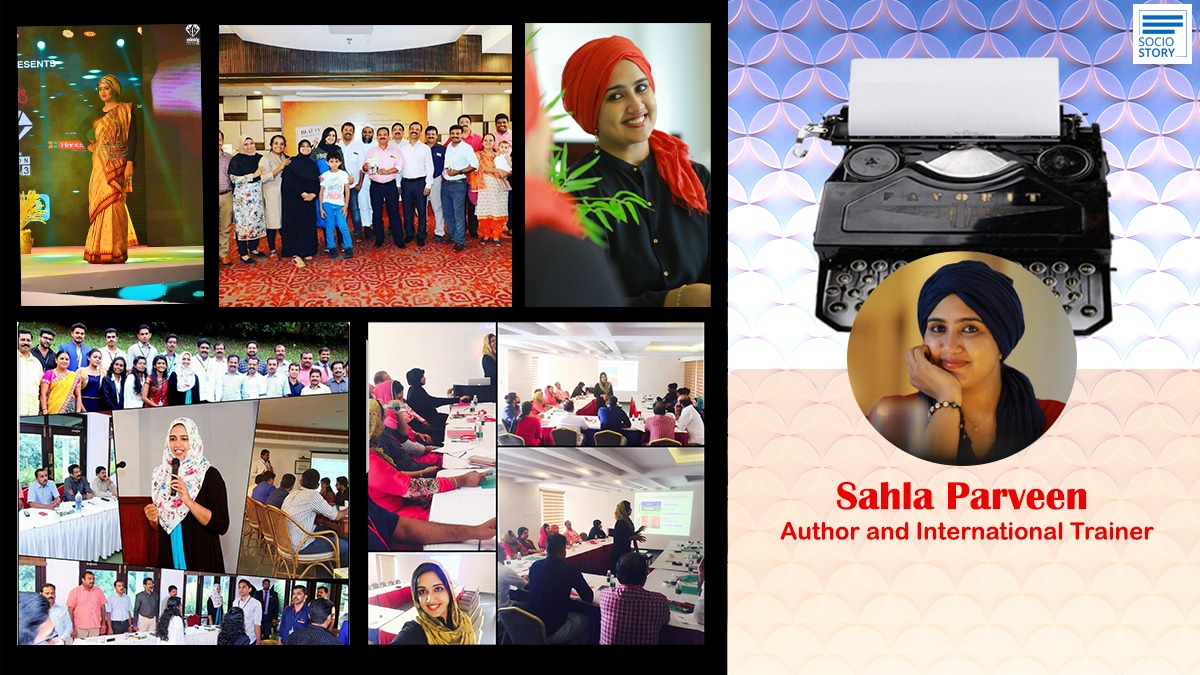 By:Reshma Jain
Sahla Parveen changed her fear of words into her biggest strength. Today, she is an author, entrepreneur and coach. Hailing from Kerala, Sahla has fought her way up the ladder with sheer grit and determination to become one of the leading international trainers. She has turned all odds into her opportunities and has become successful in the field of entrepreneurial and professional trainer. Holding an MBA in marketing, Sahla authored a book "The beauty of purpose in life" and founded an organisation 'Spreading Richness'.
Recalling her childhood days, Sahla in a conversation with Socio Story, shared that she was suffering from dyslexia- a learning disorder that involves difficulty in reading. "I was a person with low self-esteem and self-confidence as I was not good in my studies. I used to compare myself to others and always had an inferiority complex," said Sahla.
Sahla's life in school was quite challenging as it was difficult to cope with her peers. However, she managed to continue her studies and it was during her college, when the stage of self-realisation changed her life. Sahla was pursuing her MBA when her career as a trainer started to take shape. "I realized my weakness and accepted it. Instead of lamenting over it, I changed my thought process. I started to realise my potential and channelised it for a larger good. Gradually, my life started changing too. That is when I decided to share my experiences to the world as there are many people who suffer like me but are unable to find solutions. Most of them continue to suffer as they compare themselves with others and feel that they are inferior," said Sahla, a social media influencer.
It was then that she realized that if she was poor at reading, she was a master at speaking, and it indeed was her new path, which she used to transform her fellow beings. Deeply inspired by Nick Vujicic and Oprah Winfrey, Les Brown, Sahla believes that the only thing that draws a person back is himself, and if he believes in himself, then nothing can stand in his way. Through her training sessions, she unravels various methods through which one can unlock the full potential of one's mind and be a successful person in life and profession.
So, Sahla started her career as a freelance trainer and in two years, Sahla was seen taking sessions nationally and internationally. While her sessions were well appreciated, she also authored her first book "The beauty of purpose in life" (one of the best sellers in Amazon) when she was only 23-years-old. And then, Sahla also started her own organisation 'Spreading Richness'. Sahla has won many prizes and accolades in her college days. Her innovative thinking and speaking ability have helped her win five times in Best Manager Competition in nation management fests.
"I never thought I would become an inspirational speaker one day. I remember the days when I used to get nervous during my initial sessions. But the reviews from people who had attended my session gave me strength and courage to become a successful trainer at a young age. I love to work around the topics- mind power and personality development," said Sahla who is now focusing on writing more books.
Born with a talent for colours, Sahla takes along with her the hobby of painting. Her deep intellect, positive thinking and warm personality is reflected on her warm and vibrant hued paintings. She believes that a beautiful canvas can be a personality and mood changer. Art has the power to heal someone and at this point of time, Sahla recommends people to express their feelings to cope with the negativity around.
In her message to people suffering from various issues, Sahla said, "Live life in the present moment. Focus on reading, learn new things and chase your passion. Be the best version of yourself. Take proper care of mental and physical health. Always be grateful for what you have."
Important : If you are making an impact in the world, Please send us your story at : manoj@sociostory.in and we will try to cover you.