An amalgamation of innocence and intelligence is what defines Vishnu Prakash
Dec. 9, 2020, 8:05 p.m.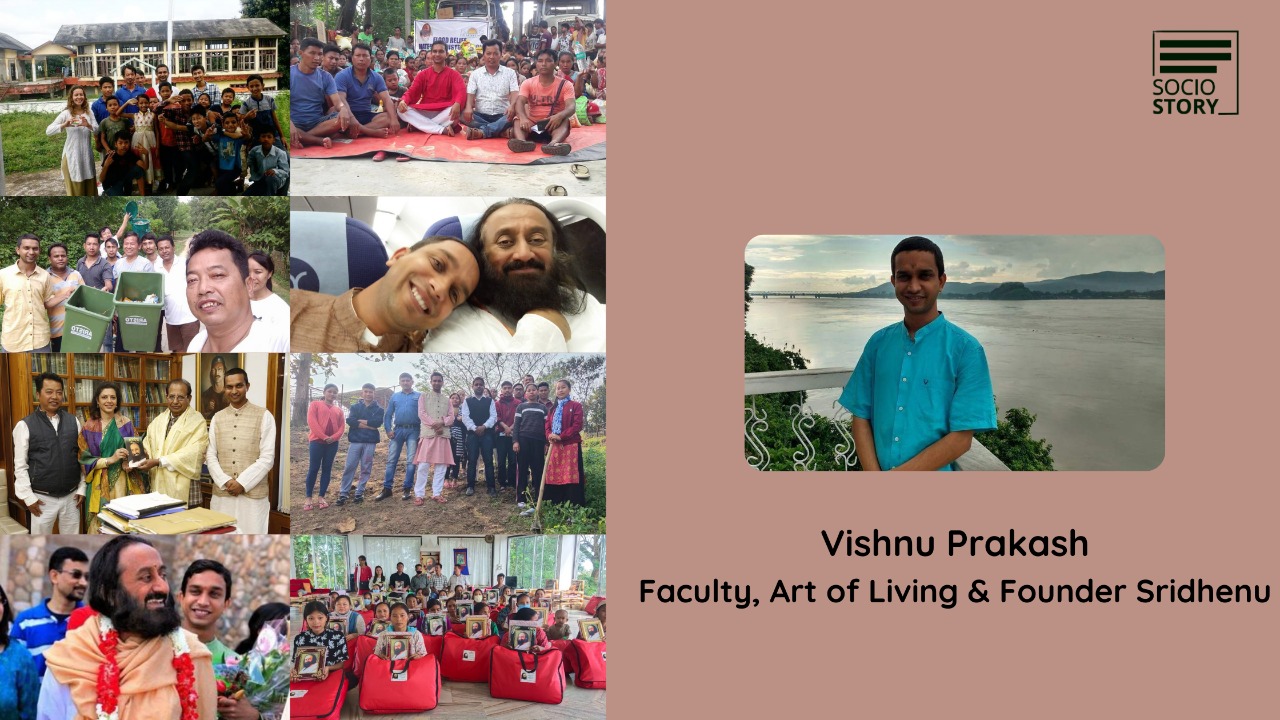 By:Reshma Jain
'The most beautiful things in life are not materialistic things. They're people and places, memories and pictures. They're feelings and moments, smiles and laughter'. When Vishnu Prakash was working as a senior software engineer, he realized that life was beyond materialism. Vishnu was only 29 years old when he transitioned to unfold a bigger purpose out of his life.
"The difference between Motivation and Inspiration- Motivation is external and short lived. Inspiration is internal and lifelong," goes a saying by Sri Sri Ravi Shankar, founder of the Art of Living Foundation. These lines reminded me of the life story of Prakash who derives inspiration from Sri Sri and is currently on a lifelong sabbatical to serve his Guru .
Prakash is the founding director at SriDhenu, an NGO for social upliftment. Before devoting his life full time to the Art of living organization, he served as a veteran software developer and designer at Microsoft in Hyderabad and Seattle. Passionate about Indian startups, he later worked as Program Manager at Martjack and a technical architect at 42gears having a solid 8 years of experience in the IT industry.
Inspired by Gurudev Sri Sri Ravi Shankar, he knew teaching was his calling and for almost a decade he had been conducting the Art of Living workshops at IITs, ISB, NITs, Banking Corporates, Central Prisons and remote villages.
Currently, Prakash is based in North-East India and has been conducting numerous Art of Living programs and projects. A brand-new ashram popularly known as The Art of Living International Center, Karbi Anglong in North East was opened three years back. The centre is located in Diphu town, on a small mountain, spread in 27 acres. Karbi Anglong is located in Assam and shares its borders with Nagaland and Meghalaya. It is an autonomous council and is under the sixth schedule of Indian constitution. It used to be one of the most backward areas in terms of education and infrastructure and now is on the path of growth.
The centre has been opened to have a positive trajectory of growth and eradicate many locals' problems bringing more peace and harmony in the region.
Reminiscing his corporate days, Prakash said, "When I used to receive a SMS that my bank account has been credited with this much of money and the total balance is that much, that moment made me wonder what I would do with this money?"
"I had 17 happy managers in my career and I wanted to work for my Guru. I sought an appointment with Guru, gave a pitch presentation, and requested Guru to help me share his wisdom. Guru patted my back, blessed and said, 'People are waiting for you'. That day on, a beautiful transition took over and I have never looked back," shared Prakash while sharing his beautiful transition from a software engineer to a social emissary.
Vishnu who hails from a royal family in Bihar said that as a child, he always wanted to become a postman. Out of curiosity, I asked why? He said, "The happiness on people's faces after receiving a letter was something I could not define. I thought that the job of a postman is spreading happiness."
Having donated his stuff, he left from Bangalore to North East with two little bags and Vishnu's story reminded me of the fable 'The Monk who sold his Ferrari'. "The transformation has been beautiful as now I am a postman who delivers mental and spiritual happiness. It was my dream to make and see people happy and it is coming true every day," said Vishnu who loves to compose poems and conduct meditation and breath workshops of the Art of Living.
Sharing insights, Vishnu said, "Inspired by Gurudev Sri Sri, we wanted to contribute towards preservation of indigenous culture and traditions." "We also constructed a model called Sri Sri Gaushala where people can visit, stay, dine with the villagers and feel a connection with their roots. Our Diphu ashram is a home away from home," added Vishnu who was instrumental in helping United People's Liberation Army (UPLA), a militant outfit in North East to bring it to mainstream and choose the path of non-violence.
Stating that around 4500+ families were benefited by his initiation of 'Support Daily wage earners' during lockdown, Prakash shared that he wishes to be happy, spread happiness and be a beautiful channel of his Guru to create a violence-free and stress-free society.
Vishnu, who is also implementing a drinking water project to remove Fluoride impacting 50,000 tribals, shared about his recent project called 'Blanket of Grace' where they distributed high-quality blankets to 1008+ families just before the onset of winters.
Service Activities Supported by a strong team.
In the last three years, around 423 local youths, 310 prisoners, 128 ladies have been transformed with the Art of Living initiatives. Diphu Ashram has now become a tourist destination and many people across the globe have been visiting here to find inner peace.
In July 2019, scientists from Western Michigan University came to learn the Art of Living Program. In the past, people from Italy, Netherlands, Argentina and Spain also have visited and served here.
They also started Sri Sri Gyan Mandir, a free school which serves 140+ kids at Barlangfer village adjacent to the ashram.
A beautiful Gaushala with preservation of 11 indigenous cows brings a unique charm, their team has been responsible to renovate an ancient Shiva temple, the entire village is also electrified and roads have been repaired.
To preserve the environment, 2500+ sapling plantations had been executed.
A grass root project to provide pure drinking water has been executed with ashram as our base. They have already reached 1,680 families and 10 communities with filters.
They also have distributed 95 solar lights in the most remote places of Karbi Anglong.
Important : If you are making an impact in the world, Please send us your story at : manoj@sociostory.in and we will try to cover you.