An app called 'Xainik' to help veterans of Indian Armed Forces find a suitable job post their services
Jan. 14, 2022, 11:27 a.m.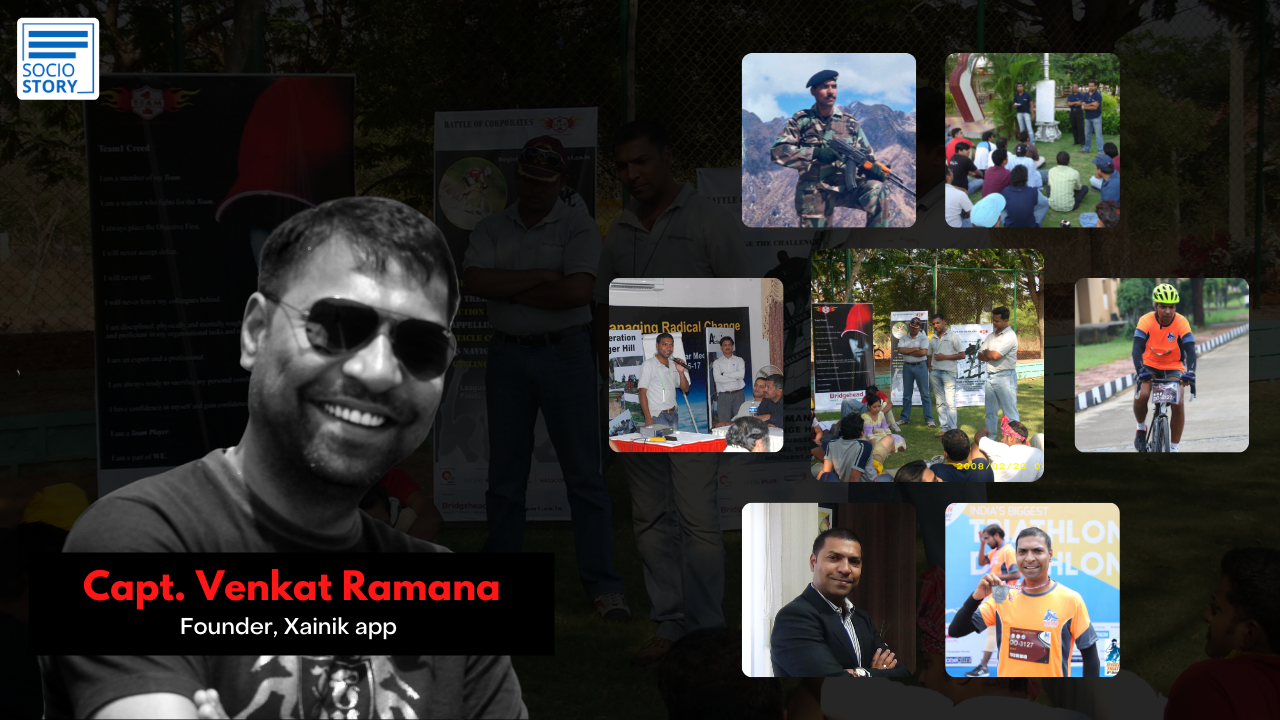 By:Reshma Jain
To acknowledge and honour the selfless devotion and sacrifice of our veterans in the service of the nation, the 'Armed Forces Veterans Day' is observed each year on January 14, since 2017 in India. This year, which marks the 6th Armed Forces Veterans Day, Socio Story takes this opportunity to commemorate this day to reflect upon and salute the heroism of the 'living legends' of our country.
Well, after having served the country, the veterans of the Indian Armed Forces (IAF) community find it very difficult to get a decent job, when they are 45 years or less. There are those who do a Short Service Commission (SSC) which lasts for 7 years while there are others who are on Permanent Commission (PC) and retire after 20 years of service. And then comes the question, What Next? What can be done for the rest of the life? While some find roles in administration and security, others find it difficult to find suitable roles. Although they are equipped with good training, skills, discipline and experience, veterans in India find it difficult for a transition into a corporate role. There is a need to bridge this gap so that our respected IAF veterans do not find it difficult in sustaining themselves and their families.
We bring to you an interesting story of ex-Indian Army Officer Capt Venkat Ramana, who shares his latest initiative called 'Xainik', a platform to help veterans succeed. 'Xainik' uses technology to make things easy for the Armed Forces community and the Industrial ecosystem to connect with each other, thus bridging the gap. It is a mobile and web app that allows users to register themselves and make use of all the features for mutual benefit.
On being asked on what led him to take this initiative, Capt Venkat, an alumnus of IIM- L and SSCBS Delhi, shared two reasons. "I was in college when my father retired from the Army. He struggled for 3 years to get a suitable job matching his experience. I could barely help him other than making his resume. Second, when I was serving in the Army, I saw my senior officers and the men I commanded struggling with their transition. On researching further, I learnt that situations were grim and there was no one to guide them. Companies were hiring them mostly for security and other shared services roles. That is when I decided to solve it by taking one small step at a time."
Capt Venkat further shared that, currently there is no central platform where our Ten million Armed Forces community can find opportunities. Similarly, the Industry including Government, Semi-government, Private Institutions do not have an easy to go place to reach out to this community. It is all scattered and broken, hence Xainik will help fix this. The app is already available on playstore and for more details, one can visit the website www.Xainik.com.
On being asked the challenges being faced while designing the app and website for the veterans, Capt Venkat said, "I have been making multiple attempts since 2005 towards this initiative. The biggest challenge is in getting the defence community onboard due to their inhibitions to embrace technology. Majority of the community members are available in private closed networks, physical spaces while they are scattered all across the country. Getting them at one place irrespective of their demographics, ranks, and needs is the biggest challenge. I am working towards it by taking structured but little steps."
"I have always been a bootstrapped entrepreneur. And this is a long-term, high-impact, high-effort initiative that stretches us with limited resources, making it difficult at times, However, making Xainik as every soldier's success partner is the goal. I would partner with every business, institute and association to work towards the benefit of the Armed Forces Community," added the veteran who is always exploring new things.
Less than 10% of the veterans are successful after their service tenures. With an aim to improve this, Capt Venkat expressed that it is important to give them the dignity they deserve. "Naam, Namak, Nishaan: That is what every soldier lives and dies for. My father did not accept the jobs for 3 years because they were below dignity. Same is the case with thousands of veterans who chose not to pick an offer because it does not offer them the dignity they deserve. Dignity should not be construed as snob. It is about a suitable role that respects the experience," concluded the former officer from the Indian Army.
Important : If you are making an impact in the world, Please send us your story at : manoj@sociostory.in and we will try to cover you.