An intrinsic architect of SDGs in South India: Stephen Anurag Prathipati AKC
July 29, 2020, 4:32 p.m.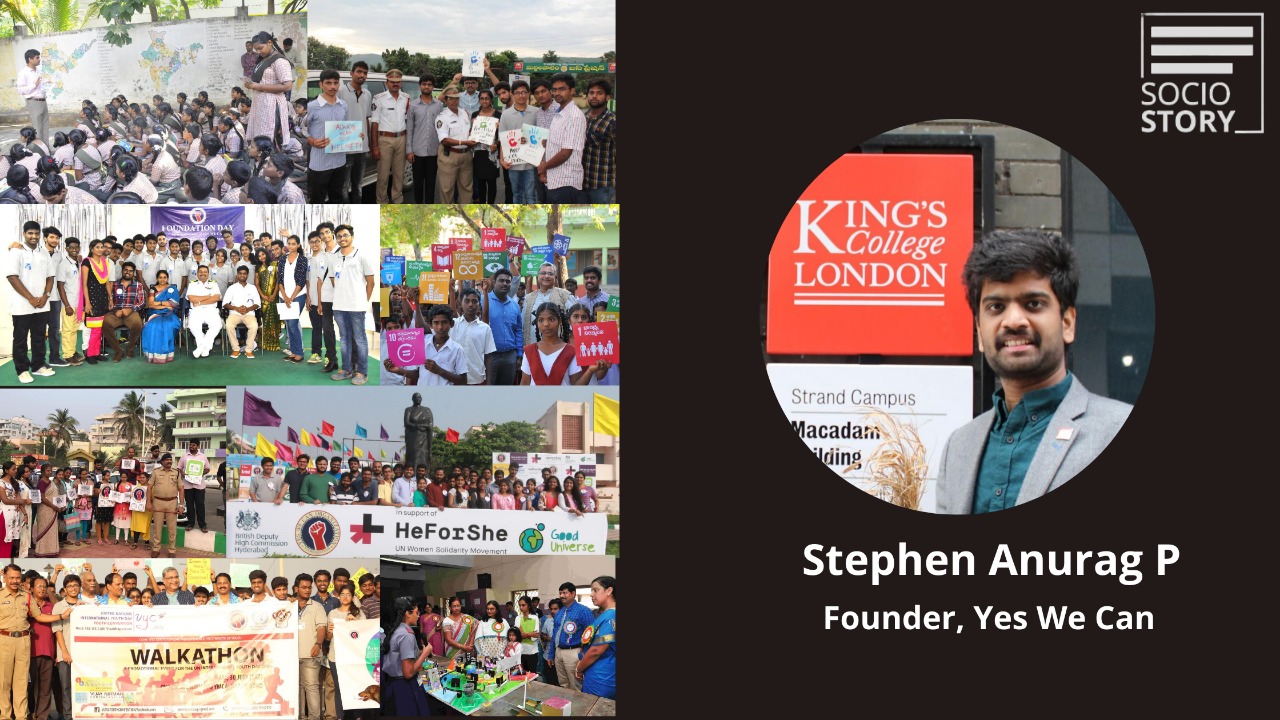 By: Reshma Jain
Born in a coastal town of Bapatla, Andhra Pradesh, Stephen Anurag Prathipati who is fondly known as Kingsman did not experience the social structures of castes in India until he started his bachelors in political science at Visakhapatnam. Unlike the average teenager, Stephen had spent most of his time watching documentaries and films of war-times, history and the philosophies of Renaissance and tried to impersonate the themes in real-life.
"God plans in mysterious ways leading to marvellous avenues" is something Stephen believes in. Dropping out from Bachelor's degree in arts from Christ University in Bangalore and joining Dr L. Bullayya College, Andhra University in Visakhapatnam has not only transformed his life but led to the unprecedented empowerment of students in the city of Vizag through his acute social work consciousness and activism.
A network of 2500+ youth and students has been created by this young lad, which started with his group of friends from his class of political science who have geared up to practically demonstrate the theories of democracy outside the classrooms by creating awareness and facilitating enrolment of nearly 900 first time voters in the district of Visakhapatnam. This has laid a foundation to this social work activism and paved the path to engineer a unique initiative called 'Yes We Can' organization, advocating the UN SDGs through youth civic engagement. Reduced inequalities, good health and well-being, quality education, decent work and growth have been the focus agenda for his youth civic engagement. This organization has pioneered international academic research conferences, youth parliaments, global road safety campaigns, Nepal earthquake relief fund and volunteering services to BRICS and CII Industrial Summits.
Stephen has strategized to empower the students from the marginalised and backward communities to explore the global policies and ideas on sustainable development by establishing SDGs labs and expos at several schools in the state. This has mapped the organization's efforts to an unparalleled height of social work.
The beauty of his initiatives lies with the articulated integration of ideas to efforts by motivating volunteers. The size of the members and volunteers of this organization has been trumping after every project and not limiting to a particular concept. Yes We Can has extended its tentacles to numerous academic and community initiatives.
Not all individuals or organizations could develop the partnership with international governmental agencies such as the UN and the British Deputy High Commission (UK Gov). It needs a great level of professional experience and networks. But Stephen made it all happen at the age of 21 during his undergraduate studies. Stretching from research assistance to parliamentarians and delivery of climate action programmes to developing paralegals in the state, a series of social empowerment services were rendered.
Stephen has recently been awarded King's International Scholarship to pursue his second masters in MSc Public Policy at King's College London and interestingly, he has carried his interest for networking and social work to the great city of London and created a distinctive mark for the people of Telugu.
He has been volunteering with the Metropolitan Police in London and the local city council during the Covid pandemic and also started an online forum to provide well-being and mental health counselling for the international students in the UK. Recognising his proposal and vision for sustainable farming and climate action in Rayalaseema region of Andhra Pradesh, he has been awarded into the prestigious Clinton Global Initiative 2020.
Stephen's vision is to empower communities through quality education for challenging inequalities and promoting mental health well-being among the youth in semi-urban and rural areas in South India. A learned society enables logical thinking and introspecting the mis-doings of the authority. Therefore, he aims at establishing a think tank and a school for sustainable learning and development in the long run.