Barrier-free India is the dream of every PWD, says Harshad Shinde, a brave paraplegic survivor
Nov. 3, 2022, 11:40 a.m.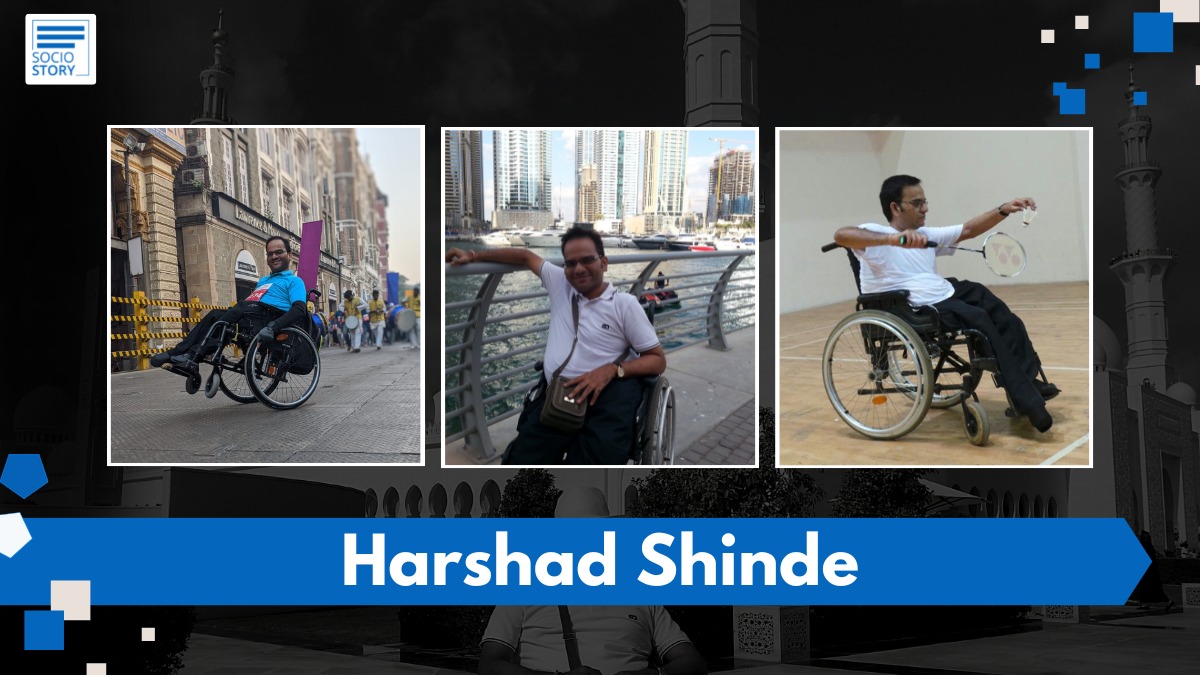 By: Reshma Jain
Like all other kids, Harshad Shashikant Shinde's childhood was also enveloped in a velvety blanket of parent's love. But destiny had different plans for him. For Shinde, life turned upside down after an accident at school. At the tender age of 5, Shinde fell from a platform in the school and landed on his back. After one and a half months, he had high fever which left him paralysed. With no sensation below chest, he was declared as spinal cord injured paraplegic person (T4/T5) level.
This was devastating for his parents but they did not give up and the new journey of his life, thus began. However, there were a lot of hurdles which they had to overcome. Lack of accessible infrastructure, no exposure to the outside world, lack of awareness about spinal cord injury, non-availability of good quality assistive devices, no proper guidance and information about wheelchair and other devices were all the challenges Harshad and his parents faced together throughout his growing age.
However, Shinde reminisced that his father taught him to 'Never Give Up' and this is the mantra that he follows every day. "With the support of family and friends, we kept on searching, exploring, and experimenting new things and devices to make life easier. And in this process, I got a hand-controlled modified car which changed my life totally," said Shinde, who loves playing Badminton and has won a bronze medal at the State level. "So, playing badminton on a wheelchair was never an easy task but facing challenges and overcoming them happily is what I love to do," expressed Shinde.
Just like every cloud has a silver lining, Shinde said that there are a lot of memorable moments in his life of struggles. Harshad said, "My lecturer then advised me to modify the wheelchair height in accordance with the board because drawing while seated in a wheelchair was the most challenging activity I had to perform while attending college. We changed it, and the most incredible event in my college career occurred—I received a gold medal in my final year."
"Another mark in life was to get the first salary cheque after struggling for nine years to find a job in an accessible office," added Shinde who is an interior designer by profession and has executed few freelance projects on interior designing and architectural 3D visualisation drawings.
At the grassroot level, Shinde says that 'Accessible India',' Sugamya Bharat' is the need of the hour. Accessibility to education institutions, working places is the most important thing to be worked and focused on. Accessible and affordable transport facilities for PWDs should be provided. Disability sensitization should be done at school and college level including corporate sector and government institutions, believes Shinde.
"In my opinion, all students (able and disabled) should get education together, which will help to boost the morale of PWD's. They should get equal opportunities at work places, so that they can deal with the problems in the world outside," shared 45-year-old Shinde based in Mumbai.
"Disability is not the problem but accessibility is- this is what I want to convey to society so that all individuals (able-bodied and disabled) will step up and work together to remove barriers in India," concluded Shinde.