Be it hilly terrains or heavy rains, nothing can deter the spirit of Dr Joshi's cycle yatra
Oct. 11, 2022, 4:08 p.m.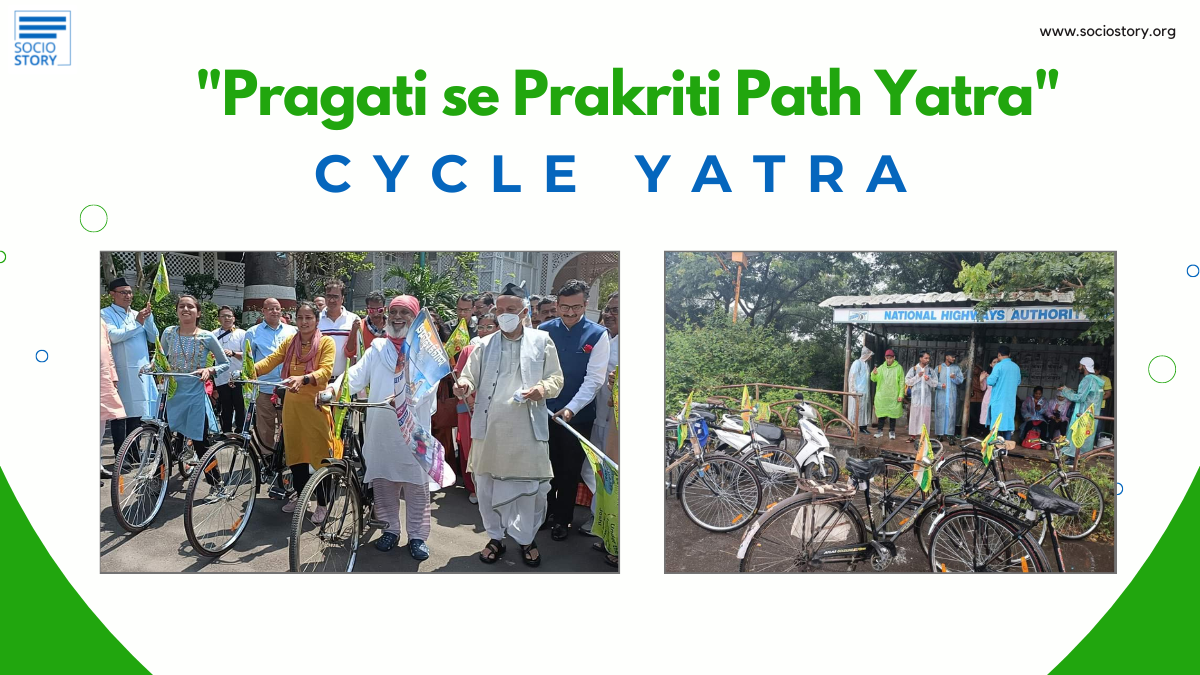 By: Reshma Jain
The Covid pandemic has brought to the fore the global repercussions due to human negligence. Today, we accept that environmental issues are interconnected with the economy and experts are of the opinion that we will not be able to develop our economy without addressing environmental issues.
Keeping this view in mind and in an effort to raise awareness, Padma Bhushan awardee Dr Anil Prakash Joshi, founder of the Himalayan Environmental Studies and Conservation Organisation (HESCO) embarked on a cycle yatra 'Pragati se Prakruthi Path Yatra' (Nature Pledge March) from Maharashtra last week. It was flagged off by Governor of Maharashtra Bhagat Singh Koshyari on October 2, 2022. The yatra which will culminate at Uttarakhand via 7 states in 38 days will cover a distance spanning across 2,000 kms.
While Dr Joshi, known as the 'Mountain Man', is all set to enter Madhya Pradesh today, he said that the response from college students and the people they met enroute was overwhelming. The purpose is to make people develop a connection with nature which will lead to many collective questions and solutions. "The journey from sea to mountains started on a positive note and as we moved forward, crossing big mountains was an adventurous task. However, nothing including rain could deter our spirit to continue the yatra along with my team. The session with students of Julal Bhilajirao Patil College, Dhule and KK Wagh Arts, Science and Commerce college was quite interactive. Many people including nature lovers and commuters interacted with us in Lanig, Omrana, Malegaon, Chandwad, Nashik to know the purpose of the cycle yatra," said Dr Joshi.
"This is an effort to raise and make the voice of lakhs of people heard from Mumbai to Dehradun in Uttarakhand. While on one hand the common man will become a part of the journey, efforts will also be made to ensure the participation of political, entertainment and industrial houses. Nature belongs to everyone, and therefore, every section has to express its gratitude towards it. This journey will be the result of such efforts. Lend your voice and come stand by it," said the Mountain Man.
Dr Joshi quit his comfortable job as a reader in the Government P.G. College, and plunged himself whole-heartedly into research and development work for rural communities. He formed a voluntary organization entitled Himalayan Environmental Studies and Conservation Organization (HESCO), and concentrated on need-based science and technology developments, and their application for the mountain regions. Dr. Joshi who has devoted himself to resource-based rural development for the last 36 years focuses on economic independence of rural India through community empowerment. Dr Joshi's emphasis has been on inclusive growth of community by economy and ecology both. His concept "Local need, meet locally" has become popular across the mountains and other regions.