'Be the change, Bring the change'- Driving people towards a Green lifestyle through Green Yatra
Aug. 19, 2022, 4:17 p.m.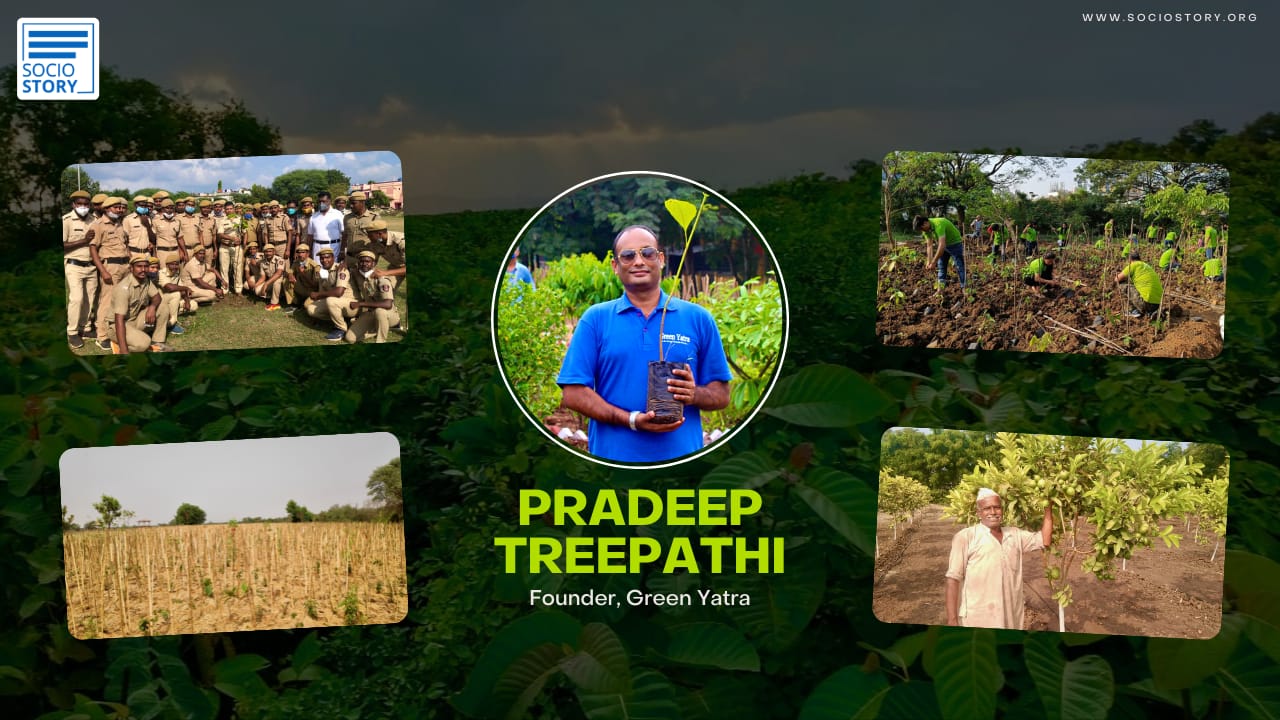 By: Reshma Jain
From green schools, green celebrations to sustainable villages and solutions, 'Green Yatra' as the name suggests have made a significant contribution in the journey of environment protection and conservation. The journey began when it was witnessed that the usage of PoP plastic in making Ganesh idols for the festival of Ganesh Chaturthi was harming not only the environment but also the health of people. Although alternatives were available, we all know that old habits die hard.
However, Pradeep Treepathi and Durgesh Gupta, the founders of Green Yatra with an aim to bring awareness towards an eco-friendly celebration and to do their bit, initiated the 'Go Green Ganesha' campaign. The campaign which got a positive response was largely spread to schools, colleges and housing communities. This gave way to another innovative initiative called 'Go Green Kids'. The kids were sensitised on simple tips in their everyday lives and were responsible towards nature. The kids, in turn, sensitised their parents to adopt an eco-friendly way of lifestyle.
And then came other environmental projects to rejuvenate the ecosystem. They include tree plantation drives, Miyawaki dense forestation, providing sustainable solutions for a greener world, among the others. The passion of the team Green Yatra to reduce pollution and support farmers through planting trees continued to drive Green Yatra towards mega projects in rural areas and mass tree plantations.
Speaking to Socio Story, Pradeep, said, "With the realisation that innovation is needed in the plantation field to respond to the need for nature in the urban cities, the Miyawaki dense forestation method was adopted. The megacities have lost 50% of their green cover due to rapid urbanisation. Over the years, open spaces have been converted into concrete jungles and have largely disturbed the ecosystem. Mega and metropolitan cities need a solution where dense patches of forests can be created. Hence, we adopted the Miyawaki method to bring a quick change in a small area."
"We are working to create urban forests through the Miyawaki method in different cities of India including Mumbai, Pune, Bengaluru, Delhi NCR, etc. Apart from this, we are also restoring the urban biodiversity and urban native green space by using innovative technologies in various parts of the country," added Pradeep who is based in Mumbai.
Sharing a few more details, Pradeep who believes in ecosystem rejuvenation shared that although we are working towards environment protection through various initiatives, reducing carbon footprint at source is important. With projects spread across India, Green Yatra is now focusing on helping corporates and industries to cut down on carbon footprints and vouch for carbon neutrality. This will not only help in reducing the negative impact on the environment but will also help in minimising costs in the long run. Green Yatra has also taken up rejuvenation of lakes and water bodies in Bengaluru and Delhi NCR.
Another initiative of Green Yatra 'Zaroorat- A need' works on the premise that one man's waste can be another man's treasure. The main objective of the project is to provide everyday necessities to millions of needy people who face hardship and health risk due to the lack of proper clothing and other basic items in far-flung areas and urban slums of the country. The project is based on the 'Realize, Reuse, Recycle' model.
"Green Yatra started with few trees and today continues to plant lakhs of trees every year. Our work aims to connect people with nature in urban spaces through tree plantations and rejuvenating the ecosystem. Our focus is to fight the climate crisis and therefore we are working to provide sustainable solutions for a greener world through our projects Ecosystem Rejuvenation (Air, Water, Soil) and Sustainable Solutions. We continue to involve communities, raise awareness, and encourage implementation on the ground, ultimately working together to create a healthy and pollution-free India," concluded Pradeep.