'Bolki Shala'- A project for educating children in the rural areas
Nov. 9, 2020, 3:51 p.m.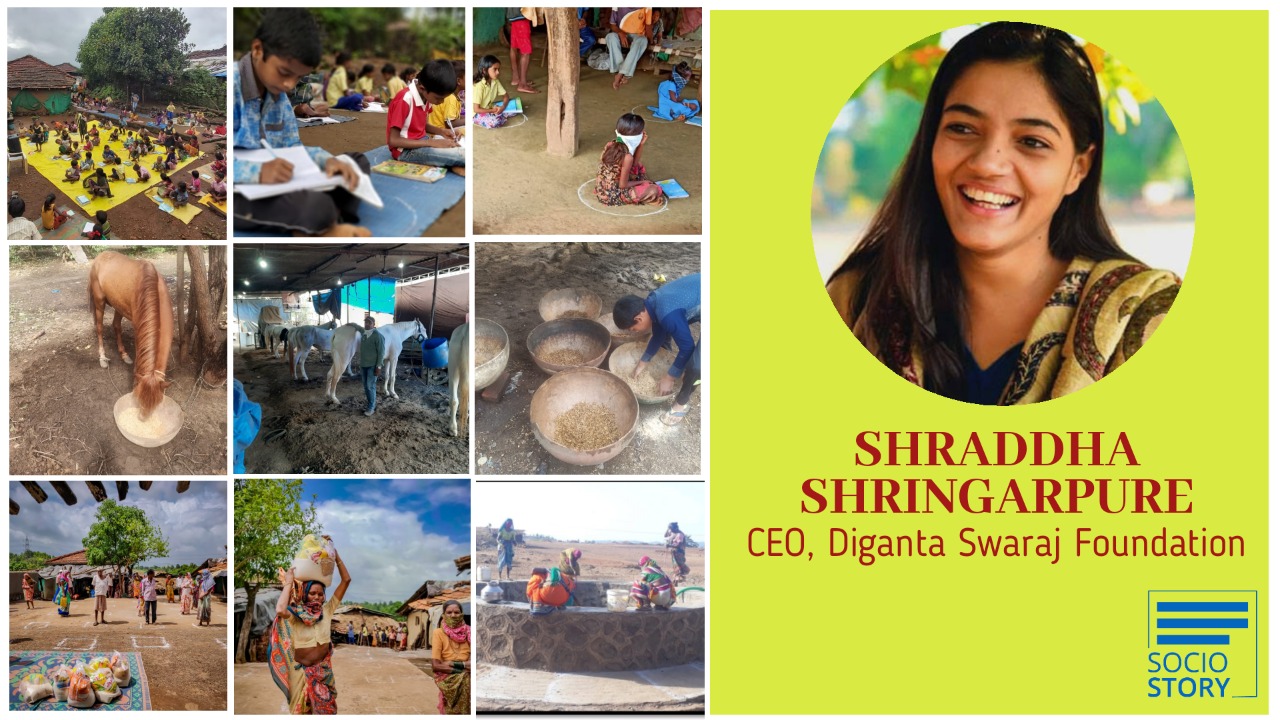 By:Reshma Jain
While children in the cities have turned their mobiles and laptops into schools and while we are talking about reducing the screen time for children, there are around 10,000 students in Mokhada, a town in Maharashtra, who have no access to online education for three reasons – No network, no electricity /regular supply of electricity and no smart phones.
But even if someone provides them with smart phones, they still cannot access the websites as their villages have no network which can support the access to websites. The pandemic, perhaps has thrown a challenge to reach out to children in the interior parts of India. However, nothing can deter the efforts of a dedicated team who wanted to reach out to these underprivileged children.
Diganta Swaraj Foundation (DSF) based in Maharashtra, came out with a solution and it sounded interesting. Interacting over the phone, I could understand that DSF has made the village into a school for the children and teaches them through pre-recorded lessons. Out of curiosity, I asked them to explain in detail. I was told that the entire village listens to the programme/classes through battery-operated loudspeakers. The students sit outside their houses and listen to the programme (most houses in villages share a veranda or an open space on which they can sit and listen).
DSF initiated a special programme called 'Bolki Shala' (Speaking School) in wake of the pandemic. This was designed for offline students and was later critically acclaimed by the World Economic Forum.
The team at DSF designed a program for the students so as to help them remain connected to the education syllabus as well as life skills. DSF has also developed content for the students which is delivered to them through loudspeakers. The medium of instruction is local language/local dialect to explain the lessons. The content is delivered through audio and the programme runs for an hour every day. They also dedicate a few hours in orientating the students to life skills, general knowledge and English speaking.
"This programme started in July 2020 and it was a huge success. Apart from Mokhada, we scaled up the project to other districts like Jawhar, Nashik, Safale, Satara and Dahanu. We have also been requested by more than 40 schools to organise Bolki Shala," said Shraddha while speaking to Socio Story.
This was just one of their initiatives. DSF has been implementing a lot of projects for the underprivileged. Before we look at the initiatives, let's read about Diganta Swaraj Foundation. DSF is a grassroots development organization working in local communities across several villages in rural Maharashtra. DSF is working towards their vision of creating self -sustainable villages through holistic development. They believe in people's planning and need based interventions with the strategy to partner with local communities in identifying and mobilizing their resources and blending it with appropriate technology.
DSF was founded in 2017 by a team of committed professionals (lawyer, social workers, MBA) from Mumbai and Mokhada, a small tribal block in Palghar District, after working on integrated community development projects in rural Maharashtra for the past 10 years under a college project.
The director of DSF Rahul Tiwrekar has been appointed as a water expert for Konkan Division. It is a pro- bono consultancy to the State Government for resolving water scarcity issues for villages. Shraddha Shringarpure, a professional social worker has been leading the team since the last 12 years, by residing in these areas. In all, DSF has a staff base of 32 members who hail from local tribal communities and this makes it their strength of having a solid community connection.
"We believe in a holistic approach to development and work in the areas of education, healthcare, livelihood creation, watershed development and governance in the Konkan and Nashik Divisions of Maharashtra," stated Shraddha, CEO of DSF.
The young social worker further added, "Because each community, challenges and aspirations are different, the framework acts as a guide that can be tailored to fit the goals of each community. We partner with communities and leaders to address real concerns and improve the lives of the people who live in the neighbourhood. With local people leading development efforts, DSF's implementing solutions are unique to the community we serve – a rainwater harvesting dam in one village, vegetable farming in other, maternal health campaigns, school supplies distribution in yet another."
Water Tanker project:
DSF could support a population of 10,000 people with water tanker projects. Mokhada, the smallest tribal block of Palghar District, experiences extreme water scarcity every year. "We have shortlisted 14 out of 226 hamlets in Mokhada, that experience extreme water scarcity. While some of them receive tankers from the government on alternate days or once in a week, the population density needs further water supply. Some of the villages have not been receiving tankers and DSF was in the forefront in providing water to the villagers," added Shraddha.
Highlights of the impact created by DSF:
20 cr. litres of water stored through construction of rain-water harvesting structures
2 lakh fruit bearing trees have been planted benefiting farmer groups
60,000+ lives impacted in Palghar district in Maharashtra
40,000 underprivileged students were provided with school supplies through donation and volunteer driven campaigns
500 acres of land brought under cultivation through allied activities such as floriculture and
Important : If you are making an impact in the world, Please send us your story at : manoj@sociostory.in and we will try to cover you.