Born to be different, meet Pranav who paints with his feet and rides a bicycle with his chest
Aug. 28, 2021, 7:36 p.m.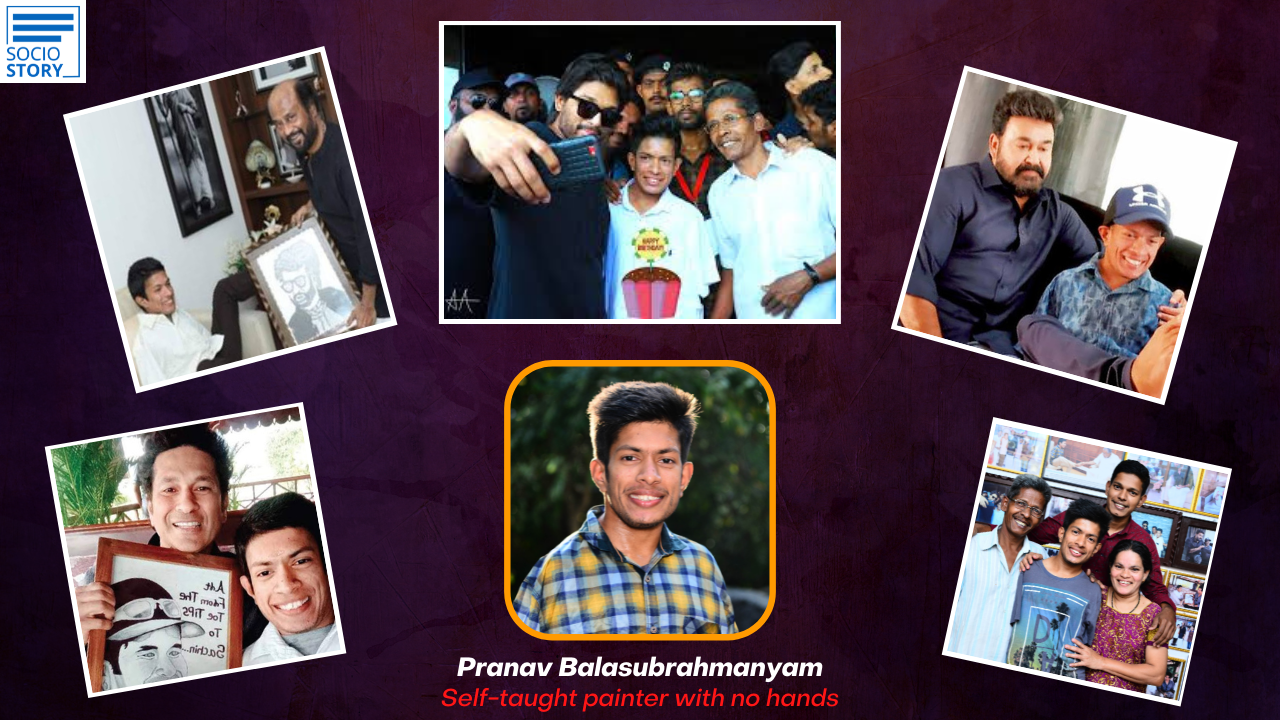 By:Reshma Jain
When I first texted Pranav Balasubrahmanyam over Whatsapp, his reply to my message were two emoticons. One was a happy face emoji and the other was a leg emoji with the text 'Namaste' as a response to my greetings. While I shared the purpose of the conversation, Pranav asked me if I knew his background so as to make it easier for the conversation to proceed. To which my response to him was, "Yes, I know a lot about you." He later asked me, "What did you learn from Pranav's life?" While I wondered about his ability to text with feet, I just felt like putting everything down on paper as thoughts kept flowing in my mind.
To put it down shortly, I replied back to Pranav stating that there are many things to be learnt from your life's journey. If I were to learn life lessons from Pranav, then it would be to count my blessings and be thankful for all that I have in this beautiful life. Second, to be so passionate and determined towards one's goal that 'impossible' becomes 'I'm possible'. Third, hard work and determination are the keys to success and no disability can deter a person's dreams. And Pranav replied back with a smiling face emoji followed by the text 'Thanks a lot'.
However, the flow of my thoughts continued. There was so much more I wanted to hear from him and put it down for everyone who would like to know more about this iron-willed, ardent and a humble young soul named Pranav who hails from Palakkad district of Kerala.
A painter, dancer, singer and cyclist, Pranav was born without hands (he was orthopaedically handicapped- 75% by birth). Hailing from a family where his father M Balasubrahmanyam is a carpenter and mother P Swarnakumari, a homemaker, Pranav feels that he is gifted with a supportive family. "They did not raise me as a child with a disability. I was treated like a normal child and my parents took care of every single task. My parents taught me to do every activity with my feet. For example, to hold a notebook, to hold a pencil, to catch a ball, to open and close a zip, etc. My parents always felt that education should also be made available, irrespective of disability. The teachers assured me to train me to write with my feet and this boosted my parents' confidence. Apart from that, my parents and my elder brother also taught me to ride a bicycle," reminisced 22-year-old Pranav.
There were times when I had come across people without arms who were brilliant either at dancing, painting or playing sports. However, never did I come across a strong-willed boy who is brilliant at everything he does. Today, Pranav is a painter, singer, dancer and a cyclist too. He has the ability to draw a picture with his feet by singing at the same time and he continues to hone his skills. Pranav loves art and the images drawn by him have been viral on social media. An exhibition was organised in his college days and the proceeds from the exhibition were donated to the Chief Minister's Disaster Relief Fund during the floods in Kerala.
"During the second flood, the entire proceeds from the TV reality shows were handed over directly to the Kerala Chief Minister's Legislative Office on my birthday. It was the biggest birthday celebration of my life," said Pranav, adding that actor Rajinikanth called him directly to Tamil Nadu and congratulated him for his talent.
On the occasion of World Environment Day, Pranav participated in a 25-km cycle rally for nature and planted saplings with his feet. He had also participated in the 50-km cycle rally with the message of 'Plastic Free Kerala'. When Pranav received the PK Gopalan Memorial Karma Dheera Award 2019, he donated the entire prize money towards the treatment fund of a localite.
This young samaritan is currently a member of the Alathur Cycle Riders Club and the brand ambassador of the Calicut Cycle Brigade in Kozhikode district.
On being asked about the daily routine, Pranav who is a B Com graduate, shared, "After completing all the morning activities, I fix my schedule. I spend a few hours preparing for the Public Service Commission (PSC) exams and then utilise my time to learn new things. I use social media apps to improve my skills in drawing, dancing and singing. My evenings are spent taking tuitions and spending some time with other children. Sometimes, I also deliver motivational talks."
Suffering from congenital amputation, Pranav was one of the first person in Kerala to receive the Covid vaccine on his legs. Pranav, who was born without both hands, was vaccinated against the disease with the special permission of Alathur Grama Panchayat. Pranav reached the vaccination centre on a bicycle and took the vaccine.
Sharing a few memorable moments, Pranav said, "When I met Sachin Tendulkar, the God of Cricket, my happiness knew no bounds. I also gifted Sachin a portrait picture and shared my life experiences with him. Sachin's appreciation was a life changing moment. I clicked a few selfies with him too. I was on cloud nine when I met Malayalam movie superstar Mohanlal and Kerala Chief Minister Pinarayi Vijayan."
"The biggest challenge in life is actually the disability of one's own mind and not just in the body. Riding a bicycle without arms seems impossible but I mastered a few techniques. I learnt to control the bicycle handle with my chest and I trained myself to hold the bicycle brake with my chin. The bicycle bell is attached to the bottom of the bicycle stand and I learnt to ring the bell with my feet. There were times when I suffered with wounds which were painful but with every experience, I came up with the idea of how to ride a bicycle efficiently," shared this young man.
Indeed, strength does not come from physical capacity. It comes from indomitable will. Who other than Pranav Balasubrahmanyam can prove this?
Important : If you are making an impact in the world, Please send us your story at : manoj@sociostory.in and we will try to cover you.