Braving the odds and challenging the world, Kamlesh Patel proves that he can groove on the dance floor despite his limitations
Dec. 26, 2020, 8:39 p.m.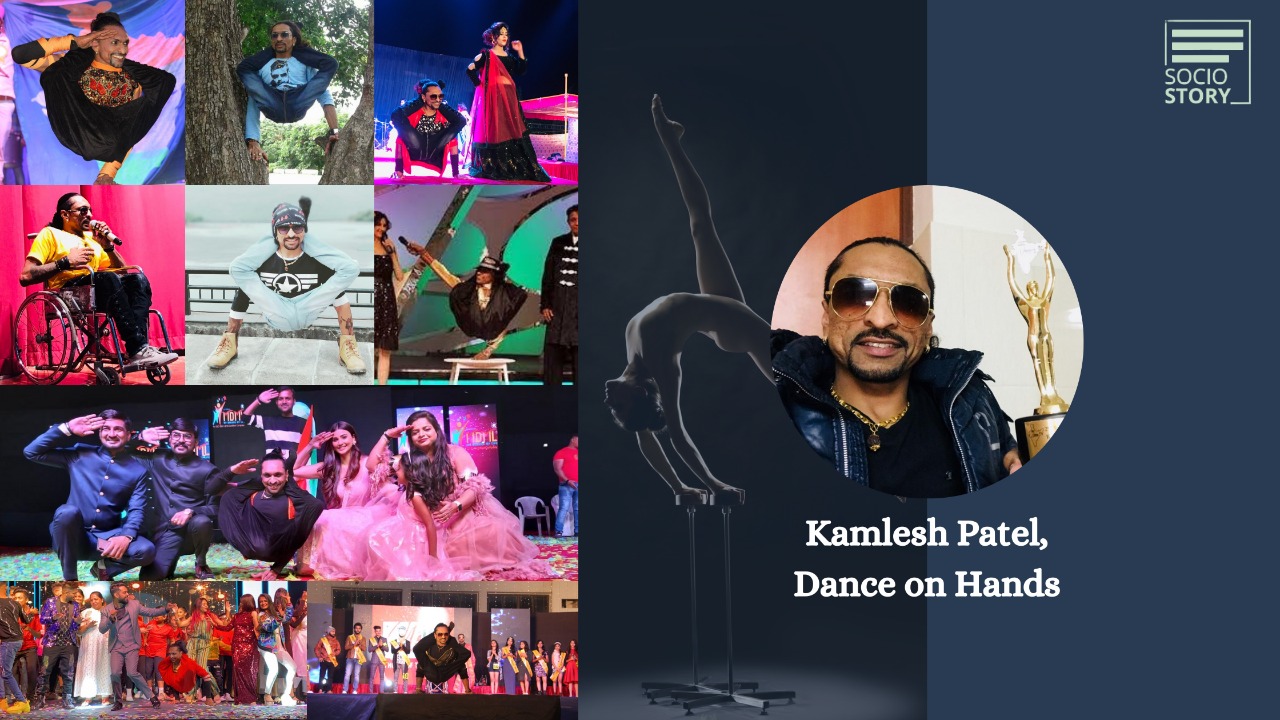 By: Reshma Jain
"Although my feet aren't dancing, my hands are," remarks India's super dancer Kamlesh Patel. A stellar performer from India, 39-year-old Patel is known for grooving on his hands and wooing the audience. Brimming with energy, Patel's mind-boggling dance moves will leave you awestruck. Socio Story brings to you the inspiring journey of Kamlesh Patel who believes in the saying, 'Creativity is a dance of the mind, the hands and the heart'.
Patel was only five-years-old when paralysis in the lower part of the body left him physically handicapped. Since Patel was suffering from fever, he was taken to a hospital where he was administered an injection. Unfortunately, doctors had administered the injection through the wrong vein and having returned from the hospital, Patel's parents soon realised that Patel was unable to move his lower body. Struck by panic, Patel's parents took him to another doctor where they were informed that a major nerve in his body was damaged.
A few years later Kamlesh was operated upon in Bangalore and Visakhapatnam, but there was no improvement. "I think it was God's wish that I remain handicapped. Maybe he wanted me to be a messenger and spread the message that a person's will, grit, passion and determination can be the driving force behind achieving their dreams and nothing can deter it, leave alone physical disability," expressed Patel who was the star of television reality show, Dance India Dance in 2009.
In school, other children made fun of him and Patel felt sad about his disability. "They looked at me as though I was a specimen. I would get nervous while I crawled because I was bullied. However, when I looked at other handicapped children, I just wished that I could do something for them and be their source of motivation and inspiration by me," shared the pride of Baroda who has given more than 3,000 performances in India and abroad.
His parents were keen that he completes his graduation and takes up a job. They remained worried about him and did not want him to be a burden on anyone when he grew up. Patel said, "They knew that dance was my passion from childhood, but felt that I couldn't make it a career since I was not a normal kid."
Though he completed his graduation in Commerce, his interest and penchant lied in dance. "To become a good dancer, I needed two legs, which I did not have. But I had faith in God. Being passionate about dance, I would longingly look at those who performed during the Ganesh festival celebrations in my area. Nobody paid a heed to my interest in dance and excluded me in their dance groups because of my disability. I was left to myself and while I watched others, I enjoyed my own company and I sway to the music," added Patel.
Patel was in his second year of B Com, when during a Ganesh Utsav, he prayed and asked the almighty- 'Why don't you show me a way to dance without my feet?' "A miracle happened at that moment," Patel recalls. "I suddenly put both my legs around my neck, balanced myself on my hands and started walking. I thought I could dance with my hands," said Patel with a beaming smile.
Perched on his hands, Patel gingerly did a few steps to everyone's surprise. And that's how his career began. After that Ganesh festival, he joined dance classes for two weeks in Baroda. His teacher Manu Thapa was hesitant about teaching him but after seeing his dance movements, he promised to teach him different forms of dance. Patel would not inform his parents; he would tell them he was going to computer classes and attend the dance classes instead. "Some kind friends would take me to the classes and drop me back home," reminisces Patel.
Patel further shared, "Manu Sir was so impressed with my dance that he organised a show for me. People loved my performances and it was a super hit. Gradually, I started getting calls from event management companies offering him shows. I started by performing in small places and then moved to towns and then to the big cities."
But it wasn't easy at all. Kamlesh — who didn't even have a wheelchair in primary school and was carried to his class by his mother — had to continue his struggle. He waited in long queues at bus stops irrespective of the season for his performances. Also, learning to dance on his hands was not a cakewalk.
His personal battle against disability and his long struggle to find a niche for himself finally bore fruit after he auditioned for Zee TV's Dance India Dance show in Ahmedabad. During the audition, the show organisers were unsure if Patel should be included in the competition because unlike others, he danced on his hands instead of his feet. "But Remo D'Souza, one of the judges on the show, said as long as I could dance it didn't matter whether I was dancing with my legs or hands," Patel recalls.
Patel was selected and he performed in Mumbai in front of actor Mithun Chakraborty, the judge of the show. Although Patel could not make it to the final list, his passion and commitment won the hearts of the audience and the judges. "The judges told me that I was already a winner and this was the biggest compliment. Receiving a standing ovation and a salute from Mithun for my performance was the happiest moment."
Patel who runs 'Mahadev dance studio' for the physically disabled people, has also appeared on television shows like Shabhash India, Boogie Woogie and as a celebrity guest on The Great Indian Laughter Challenge, but his participation on Dance India Dance opened many doors. Patel also does charity shows and donates 50 percent of his fee to an organisation which works for the welfare of the handicapped.
Patel who now makes a reasonable living by performing in dance shows and choreographing songs for movies opines that the government should take more steps in helping the disabled by providing them with counselling, help them identify their strengths to find jobs and live a respectable life in a society.
Patel's enthusiasm and determination is infectious and his attitude towards life is an inspiration. Patel concluded by saying that strong determination and positive attitude makes one soar to greater heights.
Important : If you are making an impact in the world, Please send us your story at : manoj@sociostory.in and we will try to cover you.