Breaking barriers and gender stereotypes, avid biker Vaishali Kulkarni More scorches a path
Sept. 9, 2020, 10:17 a.m.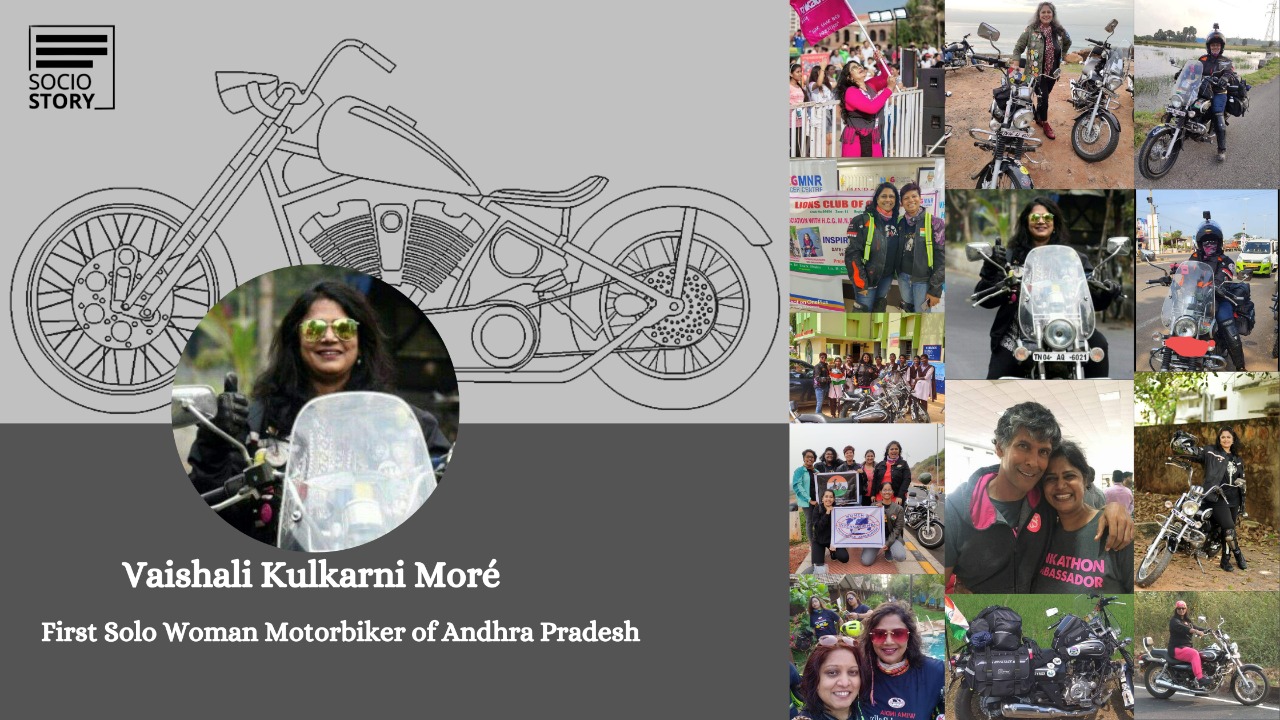 By:Reshma Jain
Sporting on a 220 CC Bajaj Avenger Cruise bike that she named it as 'Ellie', (short form of the French word Esprit Libre meaning 'free spirit'), the first woman solo motor biker of Andhra Pradesh, Vaishali Kulkarni More rides her way to glory. Known as the 'biker mom' from Visakhapatnam, Vaishali is an avid trekker and an educationist who has embarked on rides to spread awareness on cancer and other causes. Socio Story presents the biking journey of this veteran female solo biker.
Vaishali had started motorbiking in the first year of her college in Pune. She found the biking group 'Night Hawks' sitting in their jackets in the college canteen more interesting than her group of girls discussing make-up and clothes. Just one thought and her dreams vroomed! She learnt dirt biking, stunt riding and did many short rides with them on borrowed bikes, boots and jackets. Being a sports person, she always liked adventure, outdoor activities and loved the challenge of venturing into the field of motorbiking which was very gender biased in the 80s. She wanted to break those stereotypes and prove that nothing can stop a girl from following her passion.
She was an active biker for five years, after which marriage, motherhood and her work as a teacher put motorbiking on hold for 25 long years. But she made a comeback at the age of 47, more energetic and zestful, by taking up biking for a cause. "I took a voluntary retirement from my admin job at an international school on persuasion of my son, Sahil. He pushed me to follow my passion and supported me throughout. I bought my first motorcycle which I named it as 'Ellie' and started my solo riding for cancer awareness. I wanted to practice what I preached at school and make a difference amongst the women community in the villages. Around 69 % of the cervical cancer cases are in the villages and that's the cause I wanted to ride for. I also wanted to bring awareness on importance of education for girls," shares 52-year-old Vaishali.
This brave solo-biker has done about 33,000 kms since December 2015. Apart from the innumerable short rides, this biker mom has covered rides from Vizag to Shirdi, Puducherry to Kolkata, Vizag to Goa via the south eastern coast till Kanyakumari and then through the west coast just before the pandemic forced the lockdown.
"The recent Coromandel to Konkan Coast ride was a cancer awareness ride and dedicated to my biker friend Supriya Goel, a cancer survivor herself. We visited cancer hospitals, addressed lot of young girls, women and the biking fraternity over 23 days of riding to bring awareness on breast cancer and importance of early detection and the need for fitness. We wanted to give a ray of hope to the survivors about life after cancer and that they too "CAN- CERvive" and be strong," added the biker who was nominated as the MotoGirlIndia of Andhra Pradesh by the largest biking app called Throttle.
Sharing about motorbiking still being considered a male dominated activity, Vaishali said, "The increasing number of women riders in India are helping change the outlook slowly now. My father never knew about my motorbiking during college as it was not acceptable for a girl from a conservative family back then, though he had accidentally found out and I was punished for it. When I started riding in my late 40s, there was a lot of resistance initially but with time, seeing my sincerity towards my passion, the cause I ride for, the safety measures I take and the respect I have earned by now in the biking community, it has changed the mindset of people too."
Sharing one of the scariest night stay at a government guest house at Karaikal during the coastal ride, Vaishali, said, "With just Supriya and me in the whole building with no proper security, it was a nightmare. We pushed the heavy furniture against the entrance door and balcony door, in case someone would break in because the guest house was in one of the goon- infested areas of Karaikal. We were not aware of it till we landed there at night. We managed to catch a few winks after a tiring 12-hour ride with pepper spray and swiss knives ready by our sides. Luckily, nothing happened and we rode out before the daybreak. But it was the scariest night on a ride so far," added the biker who is one of the core members of the Women International Motorcycle Association (WIMA), Indian Chapter and the member of Women Riders World Relay (WRWR).
Vaishali has used up all her savings and last year she sold off all her gold jewellery to invest in the best of the riding gears and accessories because she thinks that this is more precious than the yellow metal lying in the cupboard which she is not fond of wearing at all. Her future plans are to complete the west coast ride from Goa to Gujarat in the first quarter of next year and to Leh- Ladakh- the mecca of all bikers in Aug- September 2021. She also plans to embark on an All-India ride in the near future.
"Biking is like meditation for me and it has always been a symbol of empowerment," concluded Vaishali who used her individual grant for the upgradation of three municipal schools in Vizag.
Important : If you are making an impact in the world, Please send us your story at : manoj@sociostory.in and we will try to cover you.