BREAST CANCER AWARENESS TIPS - HELPS IN EARLY DETECTION AND CURE
Oct. 19, 2022, 9:04 p.m.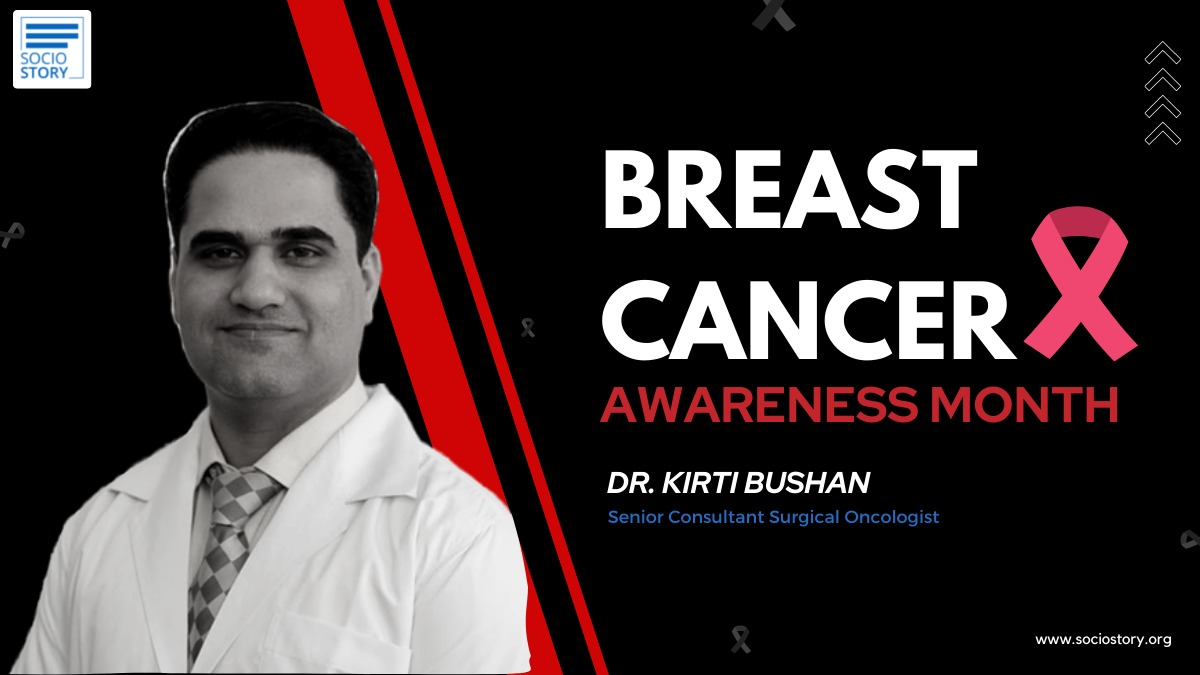 By: Reshma Jain
Breast cancer (BC) is the leading cause of global cancer and the burden of BC is expected to cross almost 2 million by the year 2030. In India, the incidence has increased significantly. As per the GLOBOCAN data 2020, in India, BC accounted for 14% (1,78,361) of all cancer cases and 10.6% (90,408) of all deaths. In every 4 minutes, an Indian woman is diagnosed with breast cancer and one woman dies of breast cancer every 13 minutes.
As a part of the Breast Cancer Awareness month, Dr Kirti Bhushan, surgical Oncologist, said, "worldwide no disease has sustained as strong of a negative stigma as breast cancer. For the vast majority it represents pain, suffering, anxiety, uncertain future and death. Its diagnosis causes immense emotional trauma and major economic burden. For most patients in India, there is no insurance cover and treatment cost is out of reach. Moreover, the survival rate of patients with breast cancer is poor in India as compared to Western countries due to earlier age at onset, late stage of disease at presentation, delayed initiation of definitive management and inadequate/fragmented treatment.
Thus, we need to understand breast cancer and educate ourselves regarding its risk factors and clinical presentation so that we can detect it early, treat it and beat it. According to the World Cancer Report 2020, the most efficient intervention for BC control is early detection and rapid treatment.
RISK FACTORS
About 10% breast cancers are caused by non-modifiable factors – age, family history, race, genetic predisposition, menstrual/reproductive factors (early menarche, late menopause), radiation exposure. The modifiable risk factors are diet and lifestyle related – high fatty diet, obesity, alcohol, smoking, lack of physical activity, nulliparity, OCPs or hormone replacement therapy (HRT). The factors which will decrease the risk of breast cancer are –avoid smoking, limit or avoid alcohol, control body weight, encourage breast feeding, be physically active, avoid exposure to radiation, limit postmenopausal hormone therapy and eat balanced diet (protein-rich, fat free, full of antioxidants and vitamins).
SIGNS AND SYMPTOMS
Any following sign or symptom if persists for more than six weeks in spite of conservative treatment needs immediate medical attention to rule out malignancy. These include – painless stationary non reducing breast lump, abnormal nipple discharge (blood), nipple retraction or inversion, breast pain, change in skin texture, any lump felt in axilla. Sudden increase in breast size with orange peel skin appearance or warm tender breast with underlying breast lump can be a sign of inflammatory breast cancer. Symptoms of metastasis to organs include – bony pain or pathological fracture (bone), jaundice (liver), difficulty in breathing (lungs) or fall, seizures (brain).
SELF BREAST EXAMINATION IS THE KEY
Self-breast examination (SBE) is the key in detecting breast lesions in earlier stages. The only thing is that BSE needs to be done and understood properly to avoid errors. One must do SBE monthly and 2 to 3 days after periods. One must use finger pads, massage oil or shower gel to palpate the breast. One must inspect the nipple or skin for any deformity in front of the mirror. One must rotate fingers up and down, in circles or in wedge form for any abnormality. One must examine the breast as well as axilla properly.
Dr. Kirti Bushan is a senior consultant surgical oncologist associated with Lilavati, S L Raheja Fortis, Global, Asian Cancer Institute, Sushrut, Surya, BSES Global hospitals since last 15 years. He is a qualified cancer surgeon with vast experience of 17 years in this field and to his credit more than 5,000 successful cancer operations. He has vast experience in doing surgeries related to cancers of head and neck, thyroid, breast, lung, gastrointestinal and gynaecological including cancers of ovary, uterus and cervix. He has expertise in doing HIPEC procedures as well. He has published a book on breast cancer in 2014 sponsored by Breast Cancer Foundation of India. He has received the best young outstanding oncosurgeon award from former President of India Dr APJ Abdul Kalam.