Bridging the gap between parents and schools, Saransh Vaswani aims to strengthen the public education system in India
Jan. 26, 2021, 9:41 p.m.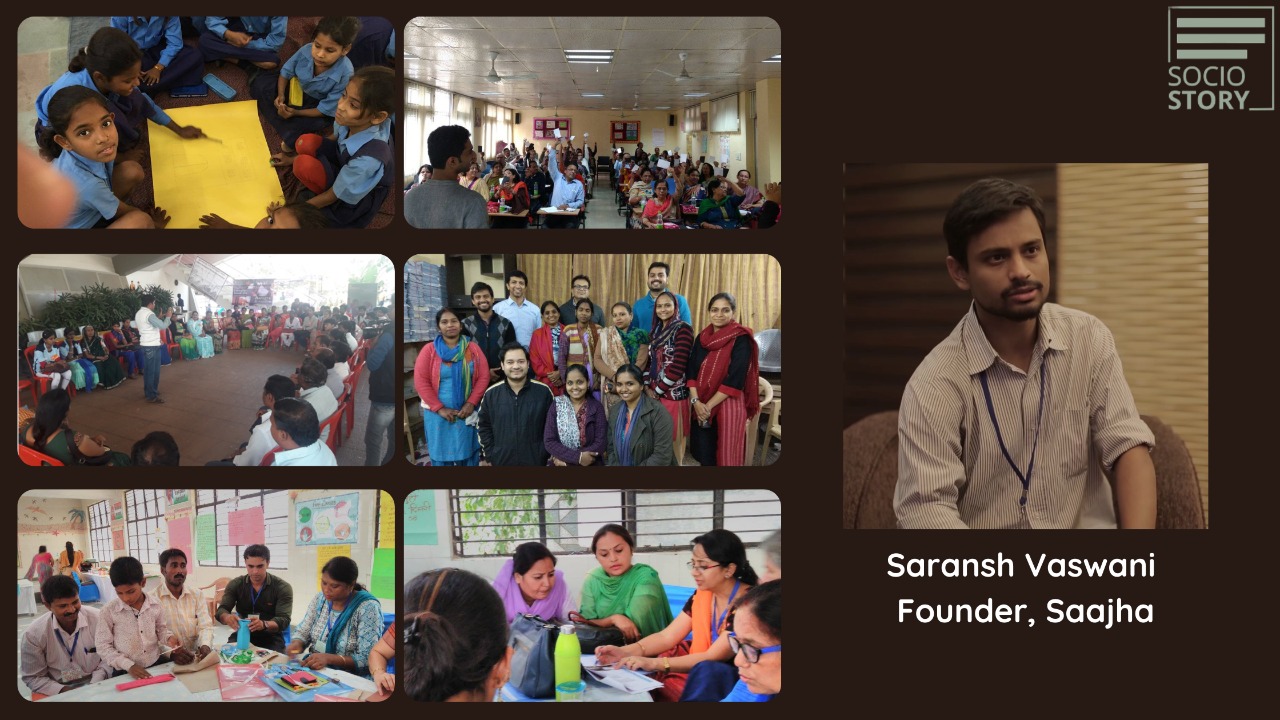 By:Reshma Jain
When Saransh Vaswani first entered a government school, he learnt the true meaning of the phrase 'It takes a village to raise a child'. One of the students from the school whom Vaswani was assisting was Vinod from grade 5. Vinod had to drop out of school as he was unable to read and write. He had gradually lost confidence and interest in studying. His parents did not have the required support to support him. Vaswani recalls and shares that he pondered over a thought, "Why didn't the parents speak to the teacher or visit the school in such a case? Was there any support for Vinod and his parents once he stepped out of the school? After all, a child learns from his/her environment and it doesn't stop at the school's gate!"
These questions lead Vaswani to explore platforms and avenues that connect parents to school and its community. He also learnt about a mandatory body called the SMC (School Management Committee). To his surprise, the committee structure and roles were fairly progressive and were designed to support children in a holistic manner. However, there were many challenges in its implementation. Inspired by some hard-working parents from the same school, Vaswani understood the potential a parent had to change how his/her child learns. This is when the need to strengthen this communication channel and prevent children like Vinod to drop out became clearer to him.
With an aim to strengthen the public education system by bringing different stakeholders closer to parents and communities and to co-create a supportive learning environment for children from disadvantaged sections of our society, Vaswani established a non-profit organisation named 'Saajha' in 2014. Saajha works towards enabling greater parental engagement in government schools to co-create a supportive learning environment for the children. Saajha believes in the dignity and potential of parents and to enable them to impact the lives of their children. They build platforms for parents in India to be heard, share skills and knowledge required to support their children's learning in government schools.
Access to information, opportunities and knowledge, when it comes to supporting their children, is the biggest challenge for parents coming from low-income households. Saajha's recent project that has helped them reach the most vulnerable families, even in times of Covid-19 has been their helpline. In 2019, they had initiated a telephonic support line and a Whatsapp Chatbot that allows parents to dial in or message their questions related to their children's education while at home.
"Our helpline resolves that and also conducts follow-up calls to ensure effective support for using resources shared in the initial calls. These calls have helped us address parent's anxieties, update them with the latest information regarding their children's schools, prepare them to support their children through learning materials and connect them to organisations/ resource people who can support them. We believe that if we support and work with parents, children will thrive," shared Vaswani who was featured in Forbes 30 Under 30 for Social Enterprises.
"Last year, COVID-19 posed unprecedented challenges across the nation; our condition was no different. It adversely impacted the team and our field operations but the most severe impact was on the communities and families we worked with. The migrant workers comprised a significant proportion of these communities, and the lockdown indirectly translated into loss of livelihoods and deep concern about the wellbeing of their children," added Vaswani.
The day lockdown was announced, the teams swung into action, for supporting the communities, both in Delhi and Maharashtra. The team at Saajha deployed their call-based technology solutions across Delhi and Maharashtra. The objective was to call parents, understand their challenges, and provide the necessary support to ensure effective development of the child.
"We partnered with organisations to facilitate distribution of 8,000+ kgs of dry ration equivalent to 1 lakh meals. We also built channels for easy access to information related to government schemes and engaging children in activities to about 5,000+ families. Post lockdown, we followed up on listening to parents and supporting them with remote learning methods and material. Together with our partners and supporters, we reached out to 65,000+ families and invested 4,500+ hours in listening and supporting parents to overcome the challenges they faced during the year," shared Delhi-based Vaswani who is now 31 years old.
Vaswani, further shared an example. Darshana, a parent sending her children to a government school, was a young mother when she was first introduced to the School Management Committee (SMC). Married off at a very young age, Darshana did not have the opportunity to find her voice and strength until she became a member of a diverse group of parents and government school teachers. It was surprising to find someone as timid as her, blossom gradually into a natural, confident leader, probably driven by her dreams and ambitions to raise her children in a happier, fear-free environment. Her children became her strength and Darshana took one step at a time to learn more about her children, their feelings and thoughts and find ways to connect with them through play and activities at home.
Sharing his view on the education system in India and what can be done to reach the grassroots level, Vaswani said that the public education system is an opportunity for every child to receive quality education. However, with every community, there are many challenges in implementing all aspects of our educational programs on ground. "I believe that we cannot thrive in isolation and collaboration is key when the context of these challenges vary based on the demographics of the community. We often think of our education system in a linear form, given the hierarchy in our government offices but it is important to expand our vision, without losing our focus, and constantly ask ourselves this question, 'what kind of environment do we need to build to support our children's learning' and address the need to bring all stakeholders who have the power to influence and nurture children to participate as caring, concerned, equals," opines Vaswani, a Gandhi Fellow, Young India Fellow and Echoing Green Fellow.
"We clearly identify a need for an easily accessible one-stop point for parents to access information and support for the learning and child development needs. We also understand that building a community of parents will be essential to support families more effectively. We have set a target and plan to reach half a million parents by 2023," concluded Vaswani.
Important : If you are making an impact in the world, Please send us your story at : manoj@sociostory.in and we will try to cover you.