Bringing a spark in the lives of others, KVL Suchitra has kindled the talent in special children
Nov. 3, 2021, 10:31 p.m.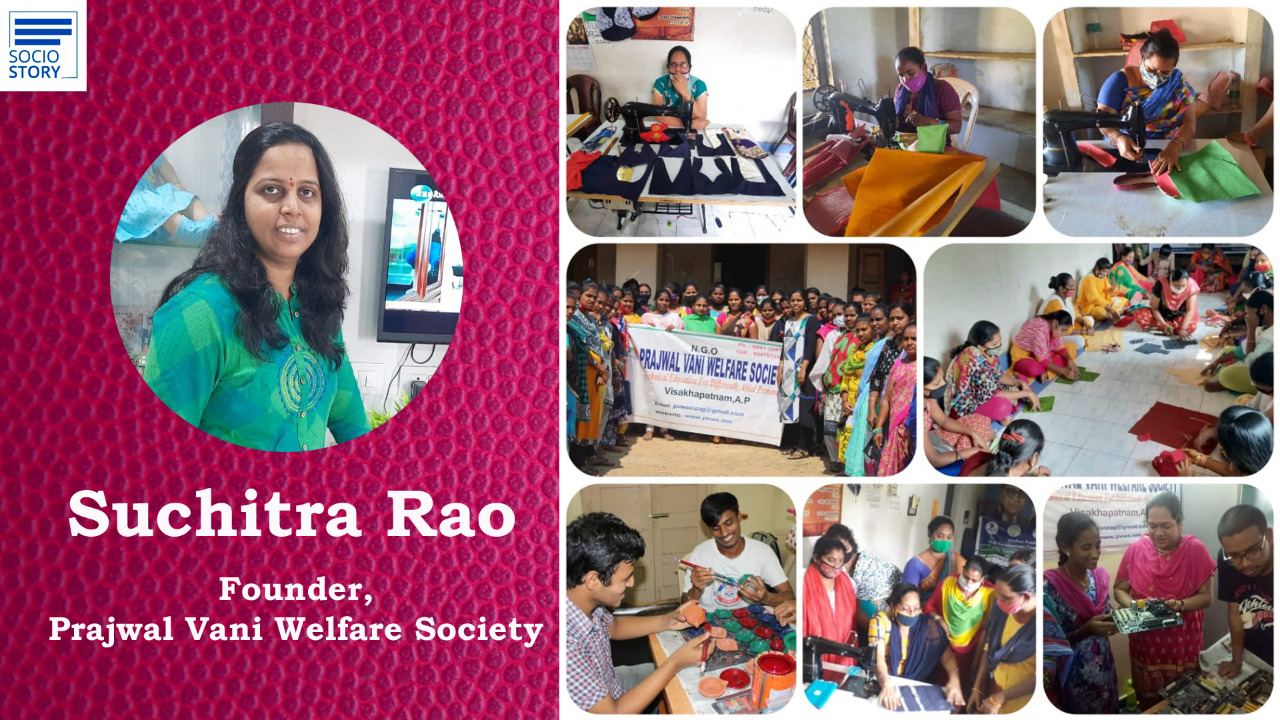 By:Reshma Jain
"Life would have been different, had there been more acceptance. As a hearing-impaired, my sister was denied admissions in every normal school. With no other option left, my father looked out for special schools and took admissions for both of us. Since I was studying in a normal school, I was quite surprised by this decision. However, to support her, I continued to study in the special school until grade 10. All the students were hard of hearing except me," shared Kantimahanti Venkata Lakshmi Suchitra Rao from Visakhapatnam.
However, Suchitra goes on to tell the positive aspects of her life. It is said that when life gives you lemons, make a lemonade. This is exactly what Suchitra did. Instead of cribbing or fighting over her admission in the special school, Suchitra tried understanding the hardships and difficulties faced by physically challenged people. This served as a turning point in the life of Suchitra. Although Suchitra continued her studies, her sister discontinued due to the challenges she had to face. But the only mission Suchitra had was to serve differently-abled people.
With Diwali-the festival of lights around the corner, what better story than of Suchitra's who has lightened the lives of hundreds of physically and mentally challenged people. Suchitra along with V Harish founded the Prajwal Vani Welfare Society (PVWS) in the year 2009 and since then she has been providing training and technical education to the differently-abled.
Going back to Suchitra's journey, she expressed that life was not smooth after her marriage. Suchitra chose her own way and started her career with Jana Shiksha Sansthan in 2009 and using her skill-set of sign language, she started training the physically challenged. She also started to provide vocational training to the specially-abled. "More than 1,500 children have benefitted from the training given at PVWS and have helped them in earning their livelihood. Through the Learning and Earning project, we were able to send students on placement drives and a few of them also got government jobs," said 39-year-old Suchitra.
"We also do other projects including health and hygiene for girls. Sanitary kits are given to Divyang young girls and awareness drives are held for the same. We also organise awareness sessions in tribal and rural areas to sensitise girls on health and hygiene. A part of our training also supports academic growth and we associate with normal schools and colleges for providing admissions to differently-abled students. A few of our students are now pursuing PG," added Suchitra, a B Com graduate.
At the same time, PVWS has associated with sports wing groups to prepare special children for National level sports. All the services to the children, including academics or sports are given at free of cost. "The most memorable and precious moment was when my special student won a National level Badminton championship," recollected Suchitra who believes Education does not only mean literacy but skill development to support their livelihood with self-confidence.
Apart from providing training to special children, mothers and other women from marginalised communities are also trained in various activities. This includes tailoring, jute and cloth bag making, eco-friendly diyas etc. This leads to empowering the entire family by making them self-sufficient. Most of the women trained by Suchitra have also got an opportunity to showcase their skills at various exhibitions and stalls. Suchitra also said that every individual has special abilities, if their potential is tapped at the right time. Every year, beautiful hand-crafted diyas called 'Khushi diyas' made by special children are exhibited in malls in the city.
In her concluding remarks, Suchitra said that she hopes to set up a retreat for the physically and mentally challenged along with skill development centres and a small industry for the 'Divyang' by 'Divyangs'. It's time to enlighten ourselves and be a little more accepting of people around us. This Diwali, let's spread happiness and positivity to every single being on this planet. Let's illuminate the lives of others and be a ray of light to those in need.
Important : If you are making an impact in the world, Please send us your story at : manoj@sociostory.in and we will try to cover you.