Bringing life to folk music and tribal culture, GlobalKulture is an organisation that believes in Education through Art
April 7, 2021, 10:25 a.m.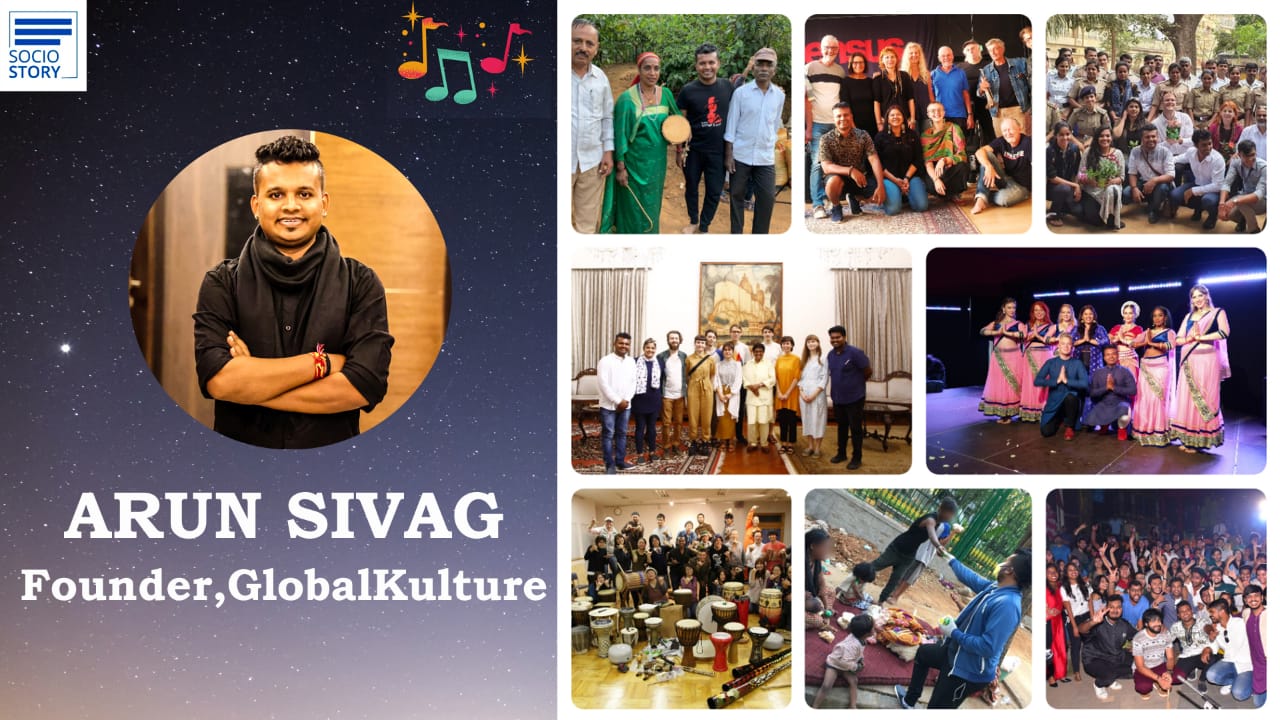 By:Reshma Jain
Art has the power to transform, to illuminate, to inspire and motivate. Apart from this, Art also has the power to educate and what better example than an organisation called 'GlobalKulture' which focuses on education through Art. Founded in 2019, this organisation plays the role of a facilitator to social entrepreneurs, musicians, peacemakers, artists, or anyone who wants to make a difference today. GlobalKulture actively collaborates with various artists and musicians who are looking for a platform to make a strong social impact and to bring in awareness on challenges like women empowerment, International peace, Human rights, environmental issues and many more.
Before we learn more about the organisation, let's have a look at the story on the man behind this wonderful initiative. Since a very young age, Arun Shiva Ganesh was actively participating in various events and projects conducted by several organisations addressing varied social and cultural discriminations. This young man was always curious and keen on understanding the approach to such issues. His love for travel helped him explore and get a wider picture as well as helped him meet people and organisations with similar purposes.
Founder and Artistic Director of Globalkulture organisation, Arun is a Bangalore-based musician and a social entrepreneur. He studied music at the University of Gothenburg, Sweden and specialized in world percussion while deepening his knowledge on South Indian folk instruments. Arun went on to organize and participate in multiple arts exchange programs between Europe and Southeast Asia. Arun is also the founder of several socially engaged music projects.
Stating that GlobalKulture is a collective and a youth organization for artist facilitation run by social entrepreneurs who are established musicians and artists, 29-year-old Arun said, "Through the power of art, we address some of the social issues by initiating projects in government and international institutions. The aim is to promote real time exchange of global art and culture."
For centuries, indigenous tribal groups within India have considered music an essential part of their day-to-day life and identity. Indigenous history and culture are documented in their musical storytelling - revisited and celebrated through the passing seasons. There is an urgent need for these timeless and unique musical traditions to be digitally documented and archived.
Throwing light on the projects that aim to bring a change at the grassroot level, Arun who is currently pursuing Masters of Social Work, said, "These forms continue to be on the verge of extinction and the few analog recordings of these genres and stories are all that remain. There are about 645 acknowledged tribal groups in India. Only a small section of their songs, folk instruments and musical traditions have been archived. While classical music and dance forms are being kept alive - there is emerging space for folk music too."
"In the far reaches of this land there exist tribal performers and groups that remain unnoticed. Our project 'Budakattu', aims at addressing this issue by creating a multimedia archiving project for Indigenous, Tribal and Folk artists - a majority of whom are women - across India showcasing their music and way of life through audio recordings, music videos, and online concerts," shared the talented musician.
GlobalKulture has hosted more than 400 artists in India including in slums, government schools and various NGOs. They have created multiple cross culture exchange programs and have curated events and concerts which bridges the gap between Indian and International art forms.
Working on the upliftment of tribal and folk artists to promote their art forms globally, Arun said, "I think more opportunities must be given to folk artists and tribal artists regardless of their social status (caste). Art should be the only criteria and Arts education must be considered as a mainstream in the Indian education system. More platforms should be created for young and independent musicians and Independent Music should be supported as equal as any other commercial genres."
Sharing one of his most memorable experiences, Arun shared, "At the age of 17 years, I had a wonderful opportunity as one of the organisers of an event called 'Peace by Cycle'. To convey the message of peace and humanity to the world, to remind people that every Human deserves the right to a peaceful existence, we cycled from Bangalore to Wagha border- an incredible journey of 2,800 kms on cycle. This was a life changing experience that I will forever cherish."
"Another experience which is very close to my heart is when I had the privilege of performing at Hiroshima, Japan for the survivors of the Hiroshima bombing," concluded the young musician.
Important : If you are making an impact in the world, Please send us your story at : manoj@sociostory.in and we will try to cover you.