ButtRush: On a mission to determine the intensity of cigarette butt environmental pollution
May 24, 2022, 6:57 p.m.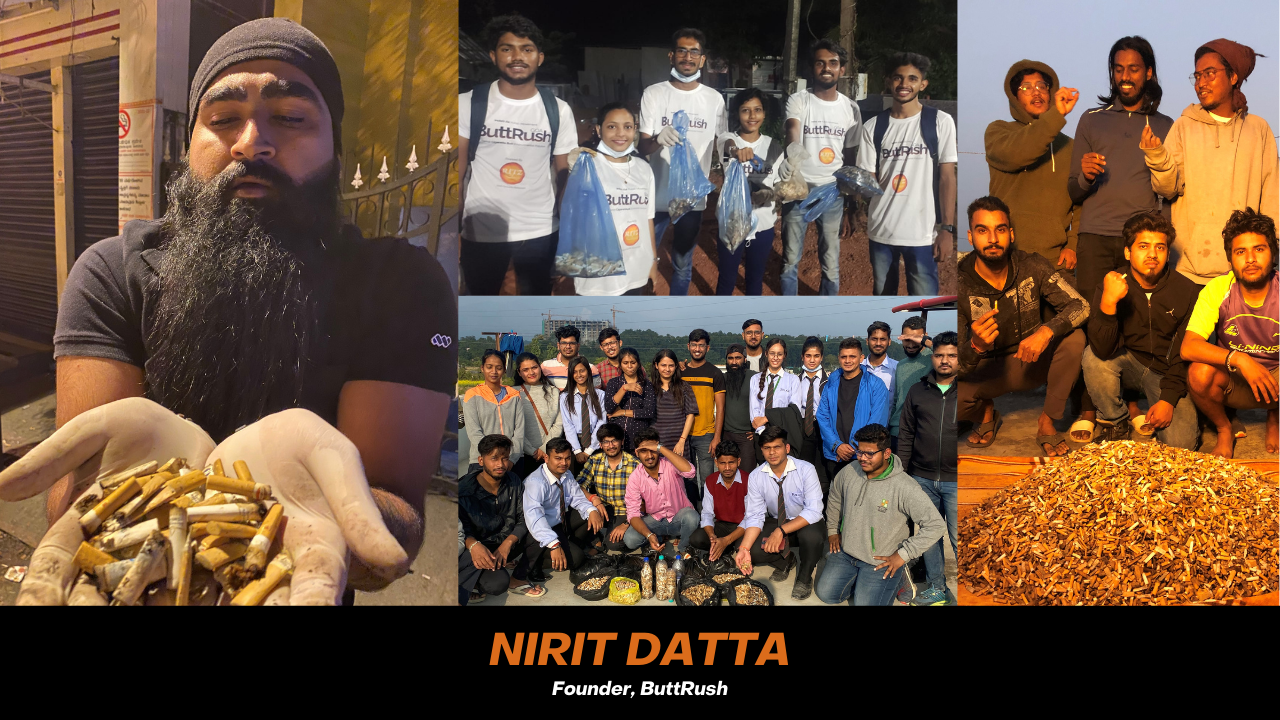 By: Reshma Jain
After three years of getting addicted to smoking, around January 2021, Nirit Datta happened to come across a research article that happened to discuss the critically negative impacts of cigarette butts on environment and biodiversity. Being an environmentalist, he felt guilty of not knowing the consequences of dumping cigarette butts into the environment. Thoughts like "How come rarely anybody knows about this fact?" "Are people conscious of the impact of pollution by throwing cigarette butts?", etc flashed his mind multiple times. Further research led him to the conclusion that the marketing & PR of tobacco companies along with greenwashing made it sure that this fact never spread across the world. This gave birth to 'ButtRush', India's 1st Environmental Movement against cigarette butt pollution, on 24th April, 2021 in Kolkata.
Datta has been working as a Conservation and Climate Change Educator for the last four years having delivered over 150+ talk shows impacting 28,000+ students across Asia. He has also been conducting wildlife rescues for the last 10 years specialising in reptile rescues having rescued over 2000+ snakes. He has been working closely with 14+ NGOs as a community building consultant and is regarded as India's 1st Conservation Tech Educator/Evangelist training engineering students across India on ways to use tech & innovation to solve biodiversity conservation & climate change issues. He has also carried out various successful environmental experimental projects across India.
Hailing from Kolkata, Datta completed his engineering from Dehradun in 2018 and went on to do a corporate job. Six months into his high paying fresher job, he quit to pursue his passion into the world of wildlife & environment. A few months later, a CEO of a Hyderabad based start-up decided to take him under his company's CSR wing and there was no looking back.
ButtRush was created to raise awareness about cigarette butt environmental pollution across India which was almost non-existent at that point of time, in spite of cigarette butt recyclers existing in the country for 7-8 years. ButtRush is a 24-hour grueling marathon, where participants walk for 24-hour straight collecting cigarette butts from the streets, collecting different types of data, doing research and analysis. "We at ButtRush plan to travel to every state and Union Territory of India in order to do a detailed study about the impact of the pollution. Once the entire country is covered, the data, research and analysis will be used to propose a sustainable model to the state and central government and the corporations on ways to tackle the pollution. So far, we have covered 9 states and 1 Union territory with 720+ volunteers, 10 Buttrush Marathons, 8000kms+ travelled, 6,00,000+ Cigarette Butts collected, 1200+ smokers surveyed, etc," shared Datta.
Cigarette butts are not made out of cotton but microplastics and these butts are the most found litter on planet Earth. They are critically harmful for the environment due to microplastic pollution and heavy metal contamination, impacting freshwater, marine water, beach and soil ecosystems. "In India, there are 7-8 cigarette butt recyclers but together they are barely recycling 0.5% of the total cigarette butts being dumped across India. Recycling is the least important solution. The most important solution is awareness amongst smokers. Without awareness, smokers won't be conscious enough to drop their butts at the proper place. The next important solution is placing specialised cigarette bins at the hotspot location of smoking. And the next important solution is recycling. At the same time most recyclers are into dubious and unethical recycling of cigarette butts by using these cigarette butts as stuffing for soft toys & bean bags and pillows and cushions, thus exposing the users of this products to accidental inhalation of microplastic particles (cigarette butt stuffing)," shared Datta.
On being asked how people can be sensitised, Datta said, "Awareness campaigns should be launched by Tobacco companies to inform their customers. Awareness campaigns by the government is something that will be a huge boost to the cause. Encouraging more waste management companies to take up cigarette butt recycling will help in the long run."
He further added, "Our future work includes two projects to be taken up In 2023; Upliftment Of Rag Pickers to fight climate change and increasing Bee population across India."