By empowering parents of children with special needs, Priyaja Madhu has been a ray of light and hope in the lives of many
Feb. 10, 2021, 8:32 p.m.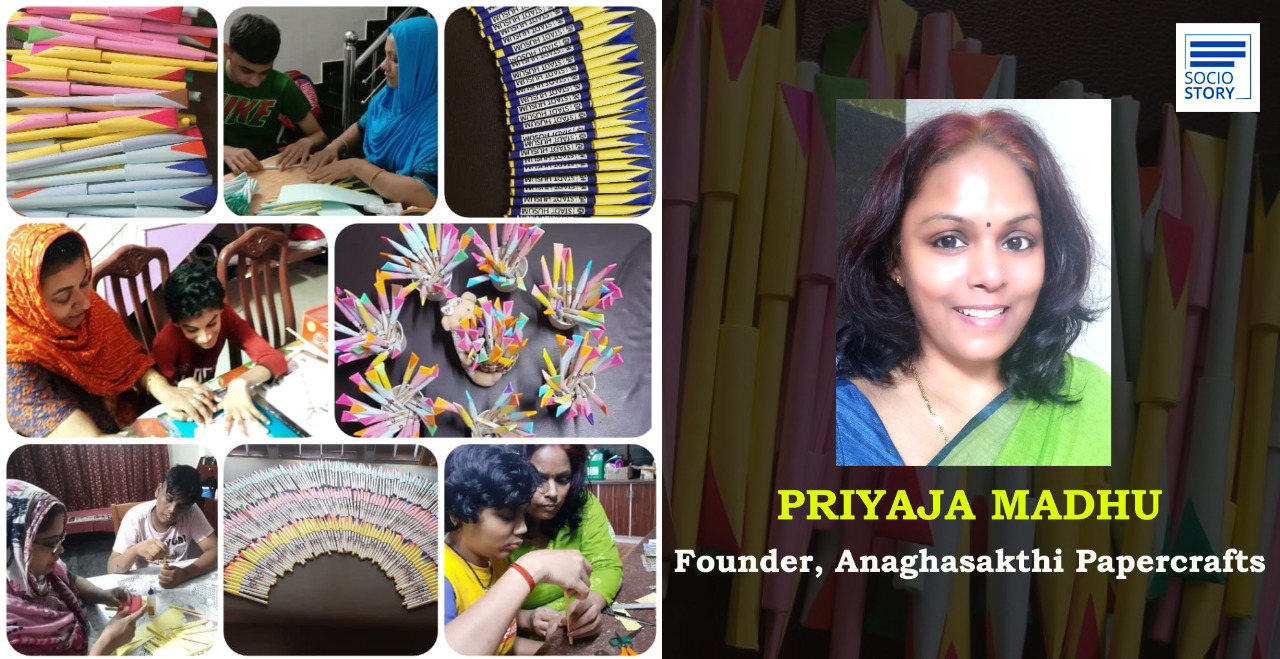 By:Reshma Jain
When I was gifted two beautifully painted diyas by two little kids, it left a lasting impression on me. Not only because these kids were special but also because their smiles have been etched in my mind. When I tried to play and communicate with these children who were suffering from Cerebral Palsy (CP), their happiness knew no bounds. That was the point of time when I understood that children suffering with such disorders were good at creativity and it was essential to keep them engaged.
Similarly, when I saw a video of such children, along with their parents making plantable seed pens, they seemed to be in a different world altogether. This prompted me to get deeper insights and to know more on the woman behind this initiative.
When Priyaja Madhu's daughter Anagha Madhu was diagnosed with CP, she was shocked, devastated and it took a mental toll over her. Born as a premature baby, she was diagnosed with CP after a few months of prajher birth. "It was tough as I was not aware about the condition, and there was not much support from anywhere. It took time for me to accept her condition, and to check available options for her rehabilitation. To teach her to sit, stand, walk, talk, everything took years of effort," shared Priyaja.
However, a strong and determined Priyaja decided to engage her daughter in some or the other way once she completed her twelfth grade. But that was not the only purpose. Priyaja wished to empower the parents of similar children who were suffering from disabilities and wondered if they all could come together and make a difference.
Disturbed by the plight of children who suffer from mental disorders like CP/Autism/psychological disorders, Priyaja decided to do something. Stating that life is challenging for parents and family of such children, Priyaja, said, "I've met many parents of children in the same plight, who otherwise were once active and now encumbered because of the child's condition. Their mental stress in turn, mirrored in their life too,"
Priyaja, in the process of looking for like minded people who run organisations came across a company which was founded by disabled people. She managed to buy a small share in the company and asked the team to conduct a training workshop for some mothers and parents of differently-abled children.
The workshop was conducted in March 2018 but Priyaja found that the following months saw no activities. She kept on looking for people who would be happy to work with her; and in December that year, some mothers from a special school nearby contacted her saying they were interested. So, practice sessions were organised and they started making seed paper pens. With a hope to empower such women, Priyaja sowed the seeds of Anaghasakthi Papercrafts.
"We took the first step- a training workshop for making paper seed pens and then getting our first order of seed paper pens delivered, a few months later. Initially we gave away the pens we made as samples to people from all walks of life including teachers, bank officials, friends, family etc. A few people shared their feedback on how the quality can be improved. Slowly, we started getting orders for customised pens. We have fulfilled orders from small and big companies, places across and all over India, and then from countries including Dubai, Germany, Australia, Canada, UK and more."
Stating that the group of differently abled-children and their mothers have been consistently making seed paper pens, Priyaja, said, "The team at Thrissur district (Kerala), at present, consists of eight families, who are actively making pens. Although it is very difficult to teach such kids to do something without mistakes, we assure their participation in pen making. Their mothers, who were otherwise depressed about the situation they are in and were inactive; now whole heartedly do the work."
Priyaja supplies them with raw materials such as refills and paper. Stating that they are presently giving training to more parents so that it keeps them engaged, Priyaja said that it is very satisfying when one sees the mental and emotional change of the parents/mothers. Once the refills are empty, the pens can be planted in the soil. Every pen contains a seed, mostly vegetable seeds. Each pen costs Rs 8 and if customised, it costs Rs 9. The team, on an average, makes around 200 pens per day. These plantable seed pens have not only served as a source of income for the differently-abled by imparting vital training but also have helped in nurturing the environment.
Speaking on the psychological disorders which are still considered a taboo subject in India, Priyaja shared that parents still consider having such kids as a burden. Social ostracization is something that is alarming even in the 21st century. The need of the hour is to spread more awareness among people and introduce such topics in the school curriculum.
As part of the future plan, we plan to make more products and we are in the process of training mothers in making paper and cloth bags. We also plan to engage children through some other activities for their well-being," concluded Priyaja.