"Change adversities into advantages," says Sujatha Burla who was left paralysed after an accident
Oct. 9, 2020, 4:40 p.m.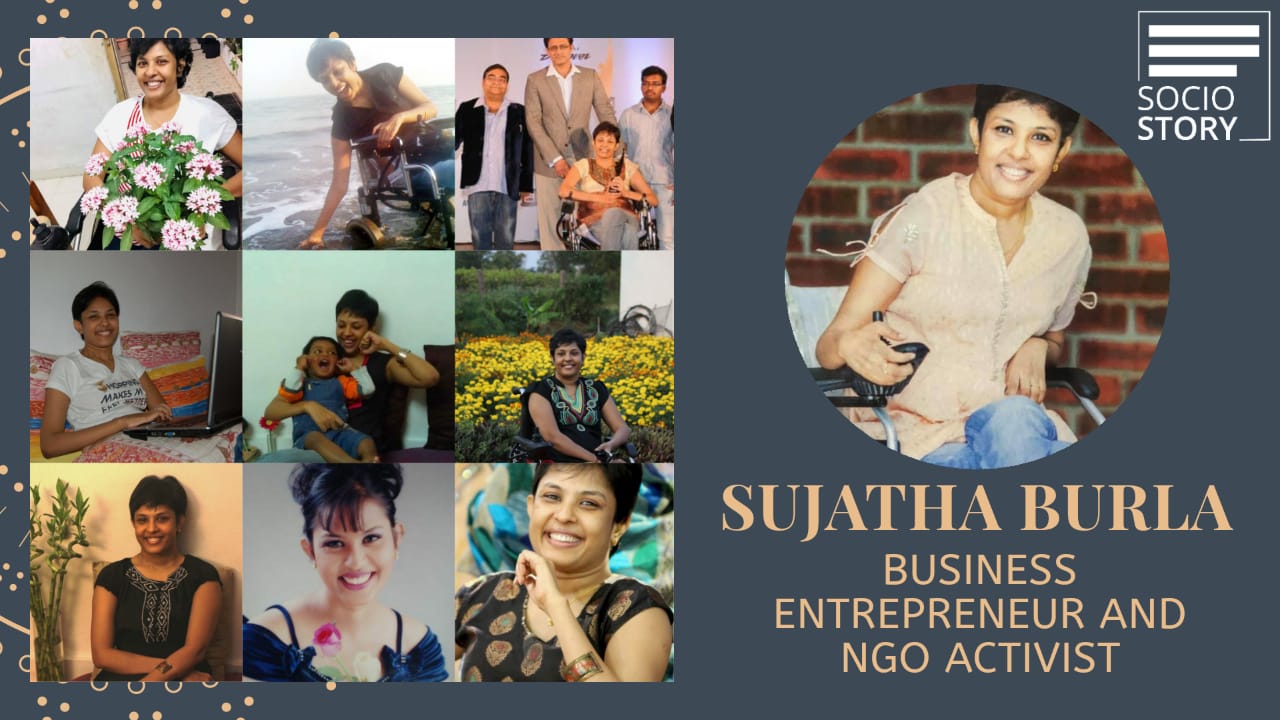 By:Reshma Jain
"Life is like a camera, face it with a smile," goes an adage. This quote reminded me of Sujatha Burla who aspired to become a photographer until destiny had different plans for her. Before I get into the story, I would like to mention that Sujatha, despite the odds, now stands as an inspirational figure across the globe. Socio Story brings to you the journey of Sujatha, from being struck by paraplegia at a young age to a TV anchor, a motivational speaker, an investment banker, a woman entrepreneur as well as the founder of an NGO named 'Shraddha'.
With a story behind her that cannot be described briefly, Sujatha can only be looked up to as a 'beauty with brains' and an example to be emulated by all of us. While I take you to the flashback of her journey, I must say that Sujatha was a dancing damsel, a girl with bubbling energy with a creative mind. After completing twelfth grade, Sujatha had started to pursue her career in photography and had set up a studio. She was planning to go to the US to learn the notches in photography when life took a turn for the worse.
It was in the year 2001 when Sujatha was left paralyzed by a spinal cord injury due to a road accident which occurred during a pilgrimage tour to Shirdi. Sujatha was only 21-years- old when this terrible blow made her paraplegic with limited mobility below the shoulders. Although Sujatha faced many difficulties, she overcame them with grit and determination. "Be it dealing with society or dealing with family, there were many difficulties that I faced after the accident. But I never looked at them as difficult situations. I just ignored them and started leading life in my own ways. I manage my daily routine just like any other normal person does," said Sujatha who is based in Hyderabad.
Despite her physical condition, she had a zeal to become financially independent. She ventured into a small-scale textile business along with two women from the marginalised section of the society. Her hard work paved the way to employ 25 such women by providing them a livelihood.
What was next? Sujatha took up stock market trading and entered the Indian Stock Market. Within a short span of time, she became successful and was called the 'Stock Market Queen'. The knowledge she gained in the stock market helped many people in acquiring a secured financial state. She has motivated thousands of people interested in learning the intricacies of stock trading through her training centre.
Sujatha, as a philanthropist, started counseling people, especially the ones with physical disability. Little did she know that this gesture of hers will lead to forming an NGO to boost up the morale of Spinal Cord injured citizens. In this process of counseling, she found two small kids whose parents were crippled and were wheelchair bound.
Without giving a second thought, she took these two kids under her care and started to train them. This ignited the light to start her NGO-Shraddha 'Life beyond imagination'. Shraddha now has more than 25 kids who are orphans and are wheelchair ridden. Sujatha takes complete care of their living expenses and education.
Sujatha was spotted by a leading news channel CEO at an award function and was offered to host a Celebrity chat show. She went on to host a chat show called 'Close Encounter with Suzy', wherein she interviewed celebrities from the Tollywood industry. On hosting this show, Sujatha became the World`s First Paraplegic Anchor.
Sujatha is a TEDX speaker and has been invited by many MNCs and educational institutions. Sujatha also addresses the NASA and ISRO scientists with motivational speeches on positive thinking and living. She has bagged several awards including Exceptional women from the World Malayalee Council and Inspiring Icon Award from Sathyabama University.
Speaking on the memorable experiences of her life, Sujatha said, "Every new thing I did was a memorable experience. Setting up an orphanage and bringing up 25 kids was one of the most memorable and satisfying experiences."
"If a person with physical limitations can do so many things, there is no question of others. Everybody can achieve a lot if he/she keeps loving what they do and by putting in every possible effort they can," expresses Sujatha adding that life, problems and situations are her inspiration.
In her message to people with disabilities, Sujatha who is an AOL devotee and practices Sudarshan kriya, concluded, "Disability is a state of mind. Every other person is disabled in some or the other way, it's just the way you look at it."
Important : If you are making an impact in the world, Please send us your story at : manoj@sociostory.in and we will try to cover you.