'Charity begins at Home' and Janardhan proves it right through his work
Oct. 12, 2021, 3:11 p.m.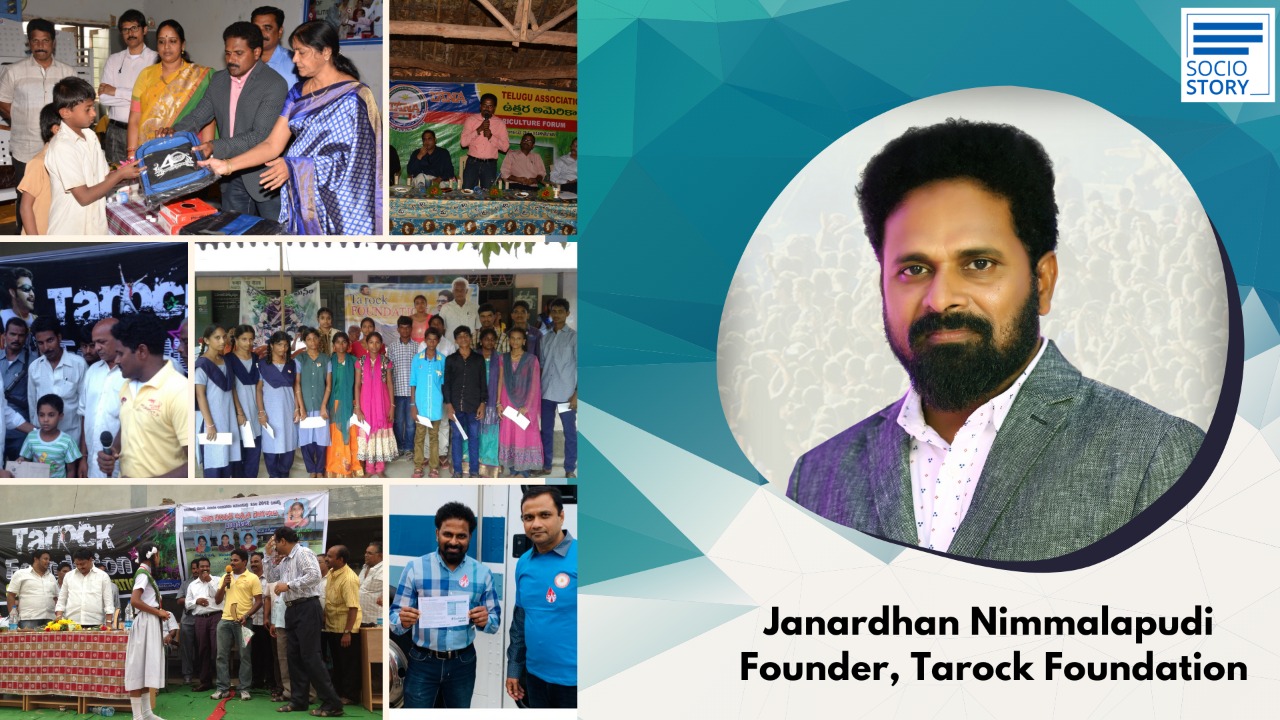 By:Reshma Jain
Hailing from a rural village called Mirthipadu near Rajahmundry of Andhra Pradesh, Janardhan Nimmalapudi a.k.a. Johnny, believed in the values inculcated by his parents and family since childhood. He always felt the urge to give back to society in whatever capacity he could. Little did he know that these values instilled in him will go a long way in serving the needy.
Currently residing in Virginia, USA, Janardhan founded the Tarock Foundation around 12 years ago. Through this foundation, he claims to have helped several people in multiple disciplines including education, health, social and cultural awareness. He has been able to promote a significant positive change in individuals and communities through advocating compassion, empowering skills and fostering awareness.
"In the last 20 years, I made it a point to spend 15% of my income to help the needy and the under-privileged. Hence, I had decided to make these donations through a charitable organization and formed this NPO with an intention to give back to the community, and people that gave so much to me. This thought of mine sowed the seeds for a formal entity called Tarock Foundation," stated Janardhan who is an IT Specialist for the DC Government.
Stating that the foundation has helped over 200 kids, Janardhan shared, "We believe Education is the primary source for children to lead a dignified life. One of the projects provided education material like stationery and textbooks to poor children up to elementary section; provided them free tuition to pursue higher education; provided them with financial help to purchase uniforms and hygiene items for girls."
Tarock Foundation, through its volunteers, had set up medical camps in small villages to provide free medical aid/ treatment to the needy. They had also adopted a school in the village Mirtipadu with an aim to transform villages across India by imparting quality education through smart classrooms and smart schools. Tarock Foundation also helped Sri Saraswathi Sisu Mandir School, which is giving education to the underprivileged kids in Tuni town in building better facilities.
Since people in rural areas do not have proper access to eye care, Tarock foundation has conducted eye camps to help the needy people. They had donated eyeglasses to the poor and needy, and had also sponsored several cataract surgeries for the underprivileged people by partnering with best hospitals and eye care specialists to conduct multiple free eye screening camps. The project reached more than 500 beneficiaries.
Coming from a family that was built on farming, Janardhan said that farmers have been facing problems due to a lot of reasons including lack of understanding of modern farming techniques. "So, I wanted to encourage youth for farming and related occupations by introducing modern technology and passing advanced equipment to small farmers which will help boost efficiency, productivity, and quality."
Tarock Foundation's role in Covid Relief efforts is commendable. It has organized several relief activities and collaborated with several NPOs in some Covid Relief projects. A few of the relief activities include; distribution of more than 1000 healthy meals to the home quarantined people, distribution of Oximeters in collaboration with Battineni Foundation, provided oxygen concentrators for the Covid patients in collaboration with TANA, extended support to Transgender community in Visakhapatnam by providing grocery in collaboration with Socio Story, provided food for the poor migration workers travelling with the cooperation of AP police department and distributed several home quarantine medical kits to Covid patients in collaboration with Indian Red Cross and TANA.
Janardhan's quest in Telugu Association of North America (TANA) started as a volunteer in TANA when he was actively involved in the flagship program 'TEAM SQUARE'. He later served as a Regional Coordinator for the Capital region from 2015 to 2017 and utilized that opportunity to conduct various community service activities. Janardhan had also served in the TANA committees. As a TANA representative, Janardhan was a part of a lot of projects and events. A few of them include Back-Pack programs for the underprivileged kids in USA as well as India, Bone Marrow Drives- Be the MATCH Registry, TANA 5K Runs etc. He has also organized TANA programs in India including TANA Services Day, Manavoori kodam and other events.
He has now been elected as member of TANA Board of Directors in recently conducted elections and will be in the position until July 2025. "It's an honor to get elected as BOD member for a prestigious organization like TANA and it is an added responsibility. It also helps reaching out to more people and there is more opportunity to help," he has stated.
Janardhan wishes to do more and motivate more people, particularly the young generation in giving back to the community. "As I continue to navigate through life I wish to continue to keep doing as much as I can to motivate people to see the value in being and doing good because I believe that the joy of living is in the joy of giving," concluded the good Samaritan.