Clownselors
Oct. 9, 2019, 5:57 p.m.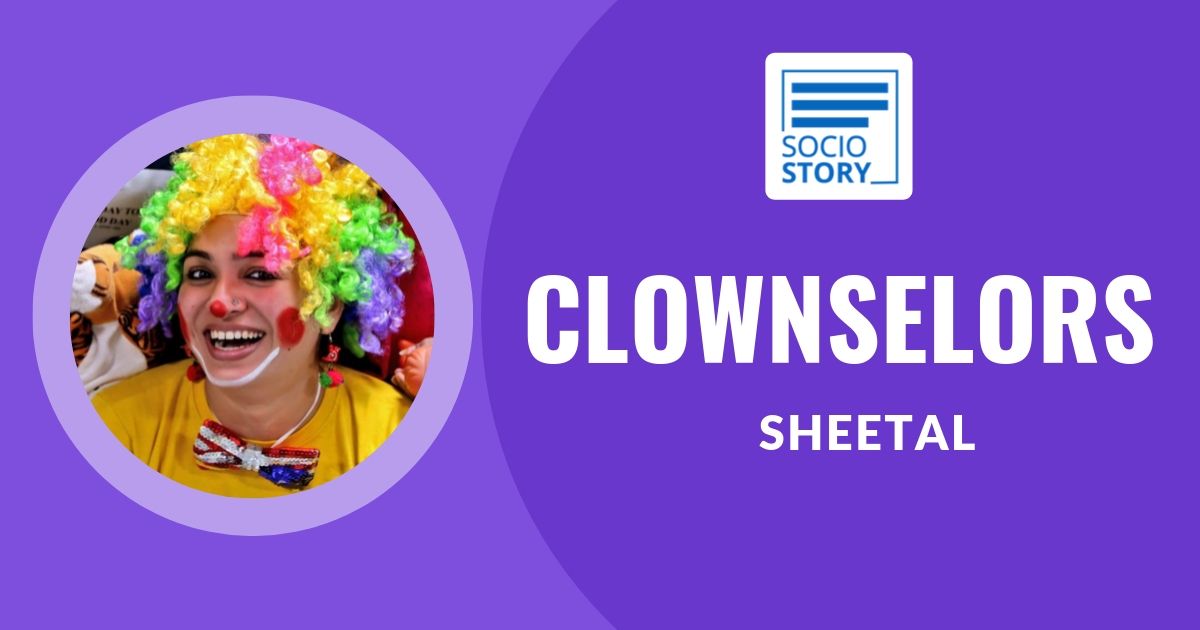 Sheetal always aspired to do something meaningful with her life. She graduated from Delhi University with an M.Phil. degree and landed a job with the Government of India. She was doing OK, but did she want to do just OK? probably not.
Usually, people live the lives they did not choose, stay in jobs they dislike, hoping that if they do it long enough, they will like it. But few people, just cannot stand being in a place they do not belong. Sheetal was one of those, she resigned from her job as she did not see herself fitting in. She felt the need to do something else, something that has a sense of purpose. She just did not know what it was yet.
In January 2016 she found herself at a retreat in Ahmedabad where she came across a person who introduced herself as a clown in a hospital in Vadodara. This was the first time she heard about 'clowning' in the hospitals. After hearing this, she became obsessed with the idea and dug more. She found that medical clowning is a well-known therapy in the west where regular people volunteer to dress up as a clown and entertain patients, which helps them with pain and stress of hospitalization. She looked for medical clowns in Delhi as she wanted to be a part of this noble cause but could find no one. Her friend at Vadodara, whom she met at the retreat, suggested her to start this on her own. The thought overwhelmed Sheetal, her safety mechanism kicked in, in her words she writes; "Nah, I won't be able to do it. How can I start something like this? I am not a very social person and somewhat shy too. I have no previous experience in theatre. I have never taken an initiative like that before, not even at a small level, how can I just start something on my own, that too in the capital city of India?".
And then once the noise settled, she heard the subtle voice of her spirit. "Why not?"
She writes in her blog, "It was a feeling I had never experienced before. It was like life was throwing a challenge at me. I told myself, "I was so keen all this while and now when there's an opportunity, then why this reluctance to grab it? If I am passionate about it, I should work towards it."
She acted, it was a bold step to move out of her comfort zone and do something she has not done before. She went on to Facebook and wrote a post about what she is looking forward to doing and to her surprise. She got 15 volunteers who will be a part of this. The next step was to get the permission for performing in hospitals, her brother helped her set up a meeting with the concerned authorities and eventually, she got the permission to perform at Chacha Nehru Bal Chikitsalaya. On 09th July 2016, Sheetal along with her six volunteers gave her first performance and…
Clownselors was born.
A Self-funded voluntary group engaged in medical clowning, using humor to expedite the healing process at the children's hospital under the Delhi government. They are still doing the rounds of Chacha Nehru Bal Chikitsalaya, the place where Sheetal gave her first performance, every Saturday and have also started sessions at old age homes, mental asylums and orphanages. They also organize Free Hugs Campaigns to spread smiles and positivity. They have been appreciated by various national and international magazines, news channels, radio talks, hospital authorities and the Health Ministry alike.
The problem Clownselors is solving
There are many benefits of hospital clowning 'Clown doctors' create an enabling and supportive environment through interactive play and humor that facilitates children's adaptation to the hospital setting and improves their acceptance of medical procedures and staff.
It is imperative to take care of holistic wellbeing rather than focusing only on physical health. One most important aspect of wellbeing that is often overlooked in hospitals is 'mental health' and medical clowning fills this gap by existing in the care centers.
Clowning is not only helpful for children but their parents, who are under tremendous stress and pain, it gives a ray of hope to them too. The medical clowns also benefit the community milieu by lightening the mood of healthcare providers and staff.
Words of appreciation
'We are extremely positive about the impact of the work of Clownselors. We were amazed and delighted to see children who had been non- communicative and non–reactive were reacting and smiling for the first time in weeks'.
-Dr Anup Mohta, Director, Chacha Nehru Bal Chikitsalaya.
'Children look forward to meeting the clowns, and for a moment, they forget their illness. The clown visits bring a great deal of positive energy, a great deal of joy and impressions, irrespective of the ages of the children.'
– Dr Mamta, Chacha Nehru Bal Chikitsalaya.
The road ahead…
Currently, Sheetal is a guest faculty for the Sociology department in Amity University, Noida. She is also planning to do her Ph.D. in the field of Medical Clowning. Sheetal hopes to increase her volunteer base so she can increase her impact. If this is something that inspires you or if you would like to volunteer, you can connect with Clownselors on their Facebook page https://www.facebook.com/clownselors/You can also read Sheetal's blog on http://kathaastu.com/Experiences/the_gift_of_smiles
Important : If you are making an impact in the world, Please send us your story at : manoj@sociostory.in and we will try to cover you.