Conquering mountains as well as empowering humanity, Ratnesh Pandey inspires people to reach new heights.
Nov. 12, 2020, 2:32 p.m.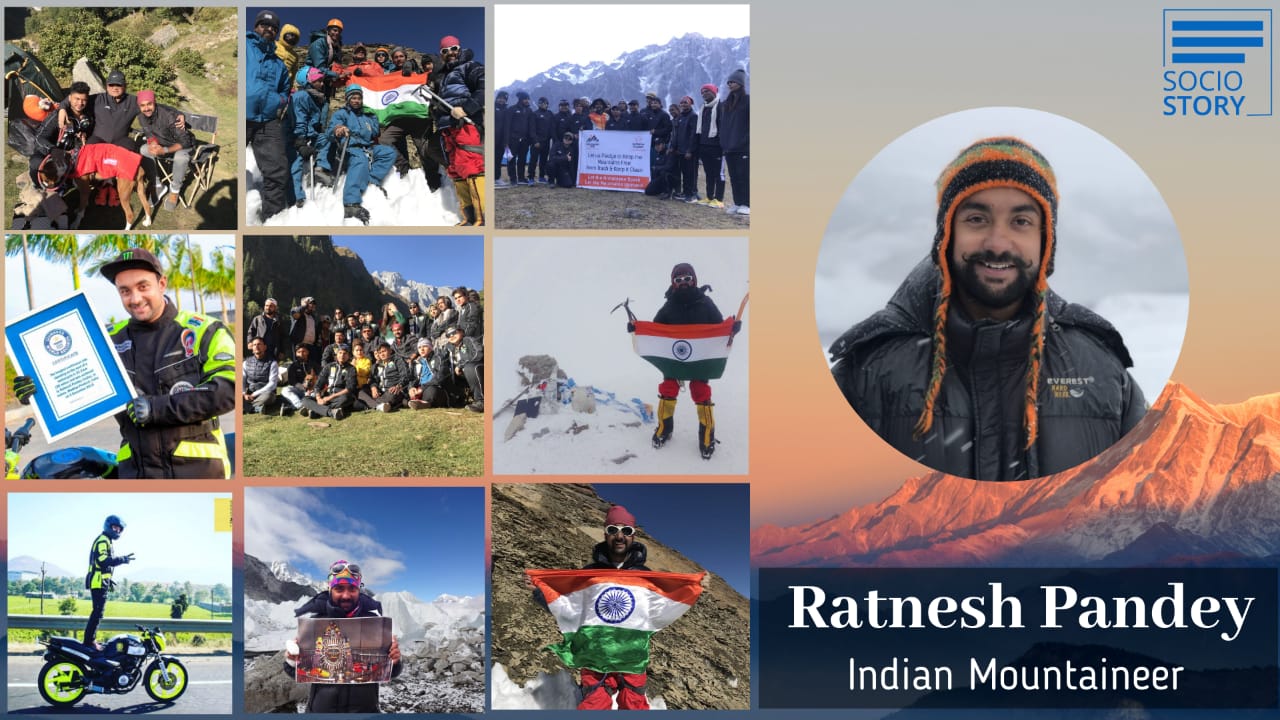 By:Reshma Jain
"Keep your eyes on the stars and your feet on the ground", goes a saying. This reminded me of the tall mountains and somehow, I could relate it with the sport of mountaineering. And then I imagined a mountaineer scaling up the peak with all his grit and determination, waving the national flag and singing the national anthem amid the treacherous weather conditions. Indeed, a proud moment! I thought.
If there is one person whom I could quickly relate to, it was Ratnesh Pandey who set a world record by reciting the Indian national anthem at the highest peak of Mount Everest.
So, Socio story brings to you the story of Madhya Pradesh's Ratnesh Pandey who is an avid and ardent mountaineer.
Pandey derives inspiration from Mahadev. A few years ago, on Maha Shivratri, Pandey along with his friend visited the Mahakaleshwar temple in Ujjain. It was during that visit when the duo decided to scale the other peaks. But, a thought suddenly striked Pandey and he decided to reach the highest place, Mount Everest, which is considered as Lord Shiva's heavenly abode. The journey of mountaineering thus began.
It was a breath-taking experience, shares 35-year-old Pandey. "It was on May 21, 2016 when I was at the top of Mount Everest and reciting our national anthem- Jan Gan Man. The best feeling ever. It was a proud moment because I was at the top of Everest and I was able to express my love and gratitude for India," expressed Pandey adding that as a child, he could never ever dream to conquer Everest.
Sharing one of his experiences, the young mountaineer, said, "While climbing Everest in 2015, I got stuck at 21,000 ft due to an earthquake in Nepal. As many as 21 people lost their lives at Everest and life was at stake. That was one of the most frightening moments but gave me an important life lesson. It gave me the courage to handle odd situations in life. I also rescued two of my fellow climbers from Everest and saved their lives," stated Pandey who has climbed Europe's highest mountain Elbrus twice in six days and has represented India in the Ice climbing world cup, Italy.
Apart from mountaineering and other adventure activities, Pandey also ensures to do his bit for the welfare of the society. He had set up the Ratnesh Pandey Foundation last year for promoting education, awareness campaigns for empowering humanity and equality, working for transgender rights, etc.
Pandey initiated an NGO named 'Aavaahan' in 2010 for empowering humanity through promoting martyrs, education promotion and working against female foeticide and global warming. With core objectives of nationalism, exhibitions about people in uniformed services and revolutionary heroes are organised. "We started printing t-shirts of Indian revolutionary heroes and army men. We also distribute leaflets in colleges, schools and market places with information about these legends to spread awareness among people on their glorious past and their struggles. With a special campaign, 'Dil Jodo Abhiyan', we are working towards communal harmony in the society," said Pandey who has also climbed Iran's highest mountain Damavand & Sabalan via technical icefall route.
Sharing his experience with the Kargil heroes, Pandey said, "I call it a pilgrimage. It's a special pilgrimage for me to connect with families who lost their loved ones while serving our great nation."
On being asked about the recent transgender expedition- Project Josh which was world's first transgender team expedition, Pandey, said, "We trained 25 transgenders in collaboration with Laxmi Narayan Tripathi and Aryan Pasha from National Transgender commission. The trans team successfully conquered Mount Friendship (17,353 ft) in the Himalayas & created history. This was one of the finest expeditions of my life as well as one of the most memorable and beautiful experience with the transgender community."
Pandey further added that it is very important to break the stereotypes and social stigma around the transgender community. "It's very important to treat every human equal irrespective of their gender, caste, creed, colour. We should have a more empathetic approach towards other people. We tried to set an example by breaking the barriers and creating a bridge for better understanding," said Pandey.
A TEDx speaker at one of the most prominent central India universities, Pandey said that life is a challenge and we need to fight and conquer it because life is all about 'Survival of the Fittest'.
"To empower the disempowered is my objective in life. I believe that 'big achievements require big sacrifices'," concluded Pandey who holds a title in Guinness World Record for motorbike stunt riding.