Contribute to Society while you meet your Fitness goals through Impact App
July 23, 2020, 5:44 p.m.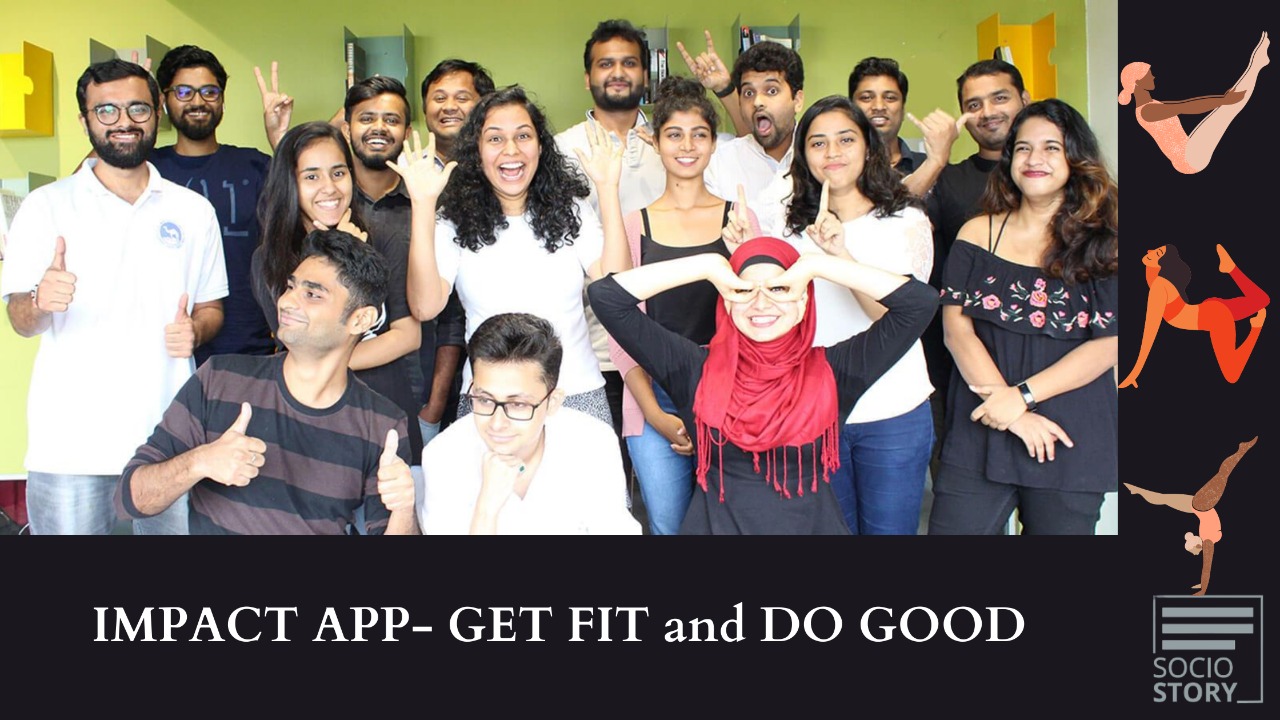 By:Reshma Jain
What better idea than 'Getting Fit' and 'Doing Good'? Imagine for every kilometre you walk, jog or run; you raise funds for a cause. Interesting, isn't it? We bring you the story of 'Fitness philanthropy app- IMPACT' which has been instrumental in bringing a change in the lives of thousands of people. The unique point is- While you do the fitness part, the CSR initiatives pay for it. Hence, the money does not come from the pocket of the user. So, what are you thinking about? On Your Mark, Get Set Go!
Well, the pandemic has taught us many lessons and physical fitness is one among them to strengthen one's immunity. So, what better way to meet your fitness goals and at the same time raise money for charity. A team of engineers had come up with this idea a few years ago which led to the launch of Impact app. All you need to do is, download and sign up with Impact and choose the number of kilometres that you are willing to walk each day. And then, begins your contribution. You can choose the charity you want to support on your profile page: education, hunger eradication, farmer training, water purification in villages, medical aid in rural areas, or a school for underprivileged children.
So how does it work? Impact app simply converts your steps to charity. With every km you cover, Impact's corporate partners donate Rs 5-10 to the NGO you choose. The charity amount comes from the CSR budget or their corporate partners. Another interesting point to note that along with the pedometer, you also get a workout timer that helps you track the lengths of your workouts, as well as a calorie counter that tells you how much you have burned through the day.
The founders of Impact; Nikhil Khandelwal (30), Ishan Nadkarni (30) and Kanak Agarwal (28) share the details of the fitness cum social impact app. "NGOs approach us to be on our platform. We run them through a screening process where we check their relevant documents and reports on ground work and ensure it works for a genuine cause. We also ask them about their ongoing project or future ones for which they need funds. We then reach out to CSR heads of corporates, know their interest fields and pitch them to the NGOs which are doing good work. After that, they pledge to donate a certain amount to the NGO, once the goal of the campaign is met on Impact app. After the pledge we make the cause live on Impact app, sharing details about the NGO work and project and how the funds will be utilised."
"Our changemakers then walk/run/jog to reach the goal and release the fund to the NGOs. Once the goal is achieved, our corporate partners transfer money directly to the NGOs," added Nikhil who along with his friend Ishan from Noida wanted to do something on the social side for a long time.
Covid-19 warrior S Ravi Kanth Reddy, Senior Manager, CSV, Fluentgrid Ltd who has completed 100 days streak (without missing a single day), just recently on impact App said, "Impact App inspired me everyday to not miss my walk. Not only did I raise funds for various causes by walking, but also motivated my friends and family to compete in a healthy way by being a part of various groups which the app offers. It is a very good idea to help the society while keeping yourself fit," added Ravi who has raised Rs 15,306 individually and more than Rs 35,000 through his groups.
Since its inception, Impact app has been seeing constant organic growth. They now have 620K downloads, 220K monthly active changemakers, and around 75K daily active changemakers. From the past 6 months, the Impact app which was started with the idea of 'Take action for a cause' has shown a good growth. What basically started to do things which are healthy and getting motivated by helping someone while doing it, has now reached across the country to Get Fit and Do Good.
"We have donated more than 45 Crore Rupees and with each second we are donating more than 20 Rs. So, by the time you've read this, we've donated 3-5K Rupees depending on your reading speed," sighs Nikhil while signing off.