Converting unused land to fruit forest, meet Manoj IB- the man behind 'Fruitful Future' concept
Jan. 18, 2022, 5:42 p.m.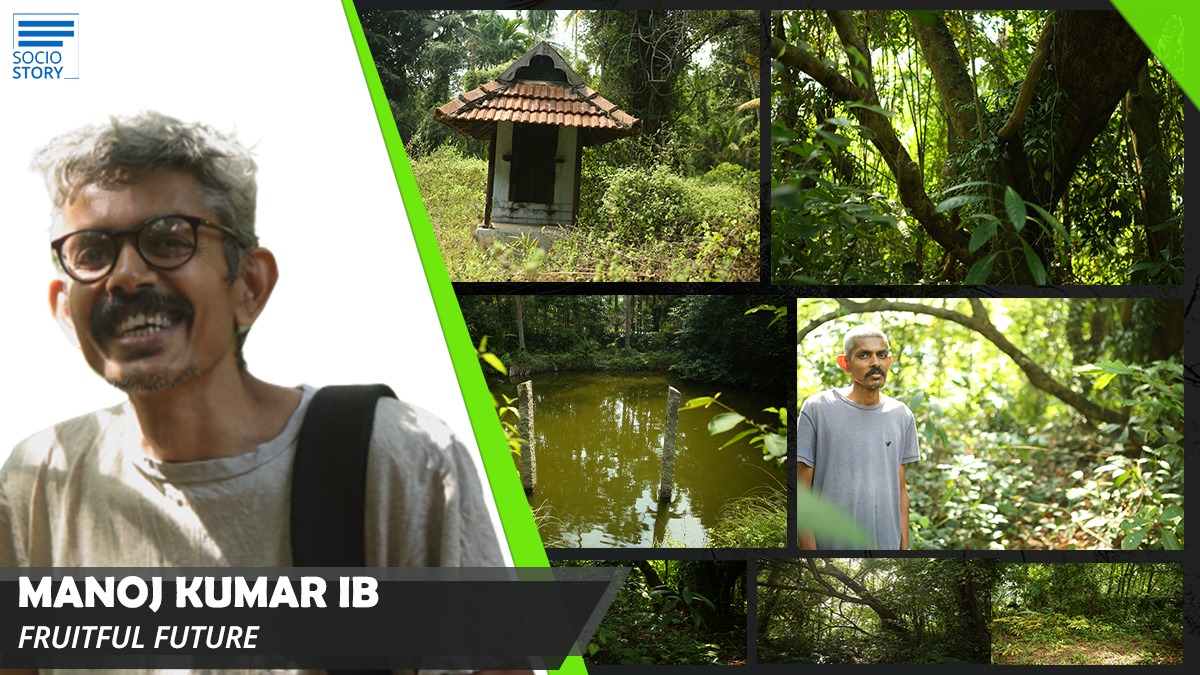 By:Reshma Jain
In what he calls a 'celebration of life' where every life form is respected and considered as a sacred grove, Manoj Kumar IB, a naturalist by heart, has been instrumental in creating dense fruit forests around his home. However, he paused, and said, "This is not for the benefit of me or my family but for my mother Earth where I wish every form of life lives in harmony with nature". It sounded interesting and I wanted to know more on what led this engineer by profession into environmental conservation.
In a conversation with Socio Story, Manoj who hails from Edavanakad in Kerala, said, "One of my meetings with Prof. John C. Jacob, a pioneer of the environmental movement in Kerala, changed my life for good. Jacob was heading the Zoology Department at Payyanur College when he started a Zoology club that would form the genesis of campus-based nature conservation activities. The club also became involved in protesting threats to the environment. Additionally, Jacob led the movement against the Silent Valley project in South Kerala. During one of my visits when Jacob was publishing a magazine on nature, natural farming, etc, I realised that it's time to prove that 'Actions speak louder than words'. So, in the year 1997, the journey thus began."
With interests in Natural farming, Permaculture, nature cure and insight meditation (vipassana), 50-year-old Manoj who has attended green skill development programs, said, "My objective was creating a fruit forest/food forest. In the total area (1.5 acres) of our plot around my home, I started on 10 cents of land. The first step was mulching where the open surface of the ground was covered by a layer of some external material. I used brown leaves, organic materials from coconut trees which are usually burnt, waste from our kitchen and the banana stems post harvesting. Then I began to collect seeds of trees which comprised Jackfruit, Mango, Jamun, Java Apple, Tamarind, Nutmeg, Pomelo, Lemon, Indian-almond, Sugar apple, etc and placed all the seeds in the mulch. The seeds germinated into seedlings and saplings and it naturally grew into a forest. I never remove weeds and trees which are unproductive. Also, I do not use any kind of pesticides."
"It was beautiful to see the plot come live with fruit-bearing trees, green vegetables and medicinal plants. Lush green ambient atmosphere with Birds, butterflies, spiders, frogs, snakes, odonates, cicadas, chameleons, skinks, caterpillars, fireflies, asian palm civets, mongoose, etc, feasting on them is indeed a celebration of life. With two ponds and two wells, there is an abundance of fresh water on an island surrounded by saline water. The peace and tranquillity cannot be expressed in words, it is an experience and feeling," expressed Manoj adding that convincing his father was one of the biggest challenges.
From creating fruit forests, sacred groves, herbal gardens, butterfly parks, bamboo groves in schools and colleges, Manoj has been conducting field trips to Mangrove research centre for students. He shared that he would visit each school and college in Kerala to encourage them to preserve indigenous seeds and to create butterfly parks, fruit forests, herbal gardens, etc. He also said that he would be creating a sea wall using native trees, plants and mangroves to protect coastal beaches. Creating seed banks and plant nurseries in schools is also a part of Manoj's mission.
Sharing his message for the younger generation, Manoj, an advocate of minimal human interference, said, "I wish children spend some time in nature. They need to be observant of other beings of nature which teach us on how-to live-in harmony and peacefully on this planet. Taking children from the classroom to be closer to mother nature is the need of the hour."