Conveying the meaning of life, trans woman Devendra S Manglamukhi dances her way to glory
Nov. 20, 2020, 6:16 p.m.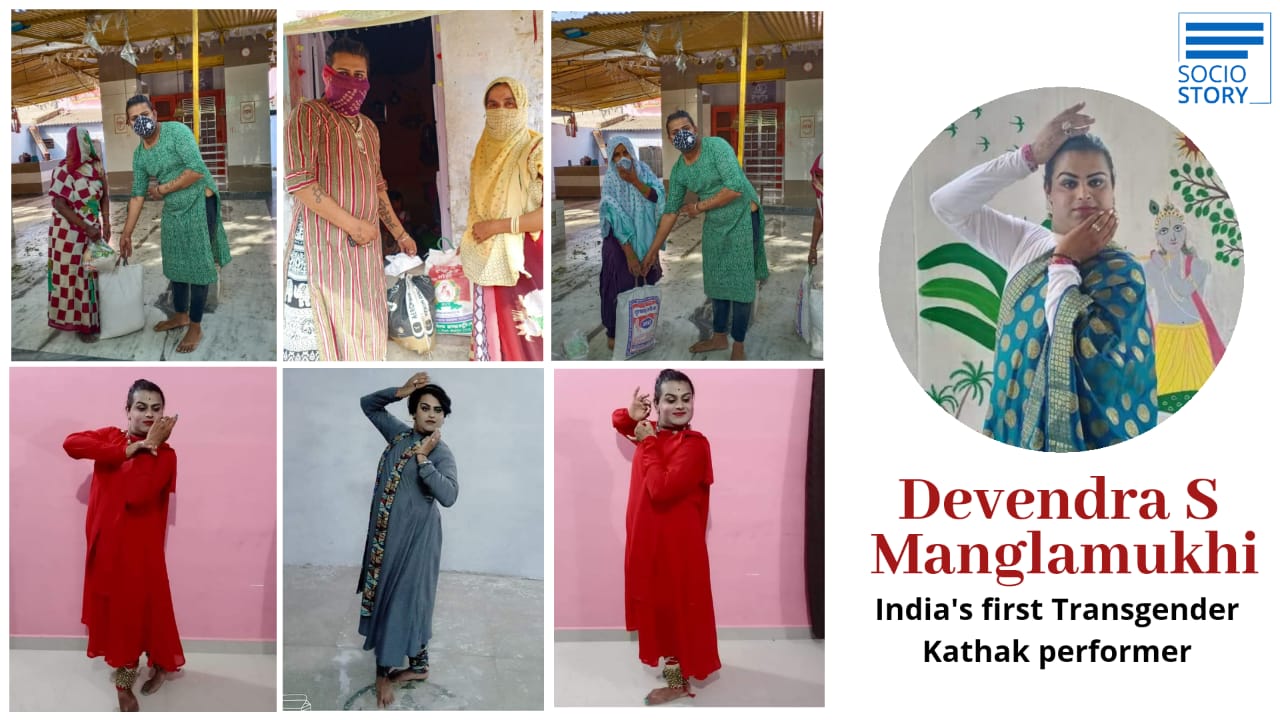 By:Reshma Jain
She was born as a 'male'. From a very young age, she did not identify with the gender assigned at birth. She felt trapped in a male body. She had qualities traditionally ascribed to women and loved doing everything a girl 'normally' does. Unfortunately, her family taunted her and her parents felt ashamed of giving birth to such a child. While friends bullied her, the society awarded her with countless titles. What next?
She was raped, not once, but several times by her cousins. She was attacked, abused, harassed, bullied and was considered a taboo. Life was more of misery, hardships and adversities. Not being able to cope with the stigma attached to the transgender community, she attempted suicide. However, destiny had different plans for her and she says that God gave her a new lease of life to prove the world that 'Gender, is after all, just gender.'
Well, we are speaking about 29-year-old Devendra S Manglamukhi, India's first transgender kathak performer and teacher who has been a member of Rajasthan Transgender welfare board. From bullying, harassments, difficulties to a successful and renowned performer who made India proud, Socio Story brings to you the story of grit and determination of Manglamukhi who fought all the odds to earn herself a name and place in this society which had disregarded her.
When I first spoke to Manglamukhi over a phone call, I was mesmerised by her sweet voice. And then, I was amazed by her words: "Life is so beautiful and meaningful if you make it," she said after introducing herself. I felt a positive vibe and I wanted to know more about her journey.
At the tender age of six, Manglamukhi embraced femininity by wearing frocks and make-up. She loved painting, dancing, singing, art work, etc. Amidst a lot of harassments and bullying from her family, she grew up. With no support from family and society, Manglamukhi was left to fend for herself from the age of 14. Not knowing what to do, Manglamukhi, like other transgenders became a sex worker and started begging for money on trains. Three years passed by and life was miserable. The death of her father was a reason she found to unite with her family. Expecting that the family would accept her the way she is, she tried to get adjusted by being a part of the family. Unfortunately, it did not work out as she was neither accepted nor loved.
Manglamukhi was a brilliant student in her school and was active in all the extra-curricular activities. Having a penchant for dance, Manglamukhi completed her graduation and went ahead to chase her dreams. She went to Lucknow to learn Kathak in one of the renowned Kathak kendras. Although she performed very well, the other dancers bullied her. There was a lot of discrimination but Manglamukhi did not let this deter her passion. However, she could not continue her course as she was asked to leave the institution as they do not teach 'Hijras'. Heights of discrimination!
An incident that Manglamukhi shared was shocking. Someone had poured tarpaulin oil on the floor so that she slips and falls. "I slipped and broke my leg. It took a lot of time to recover. But it was a life lesson I learnt and it gave me more strength to continue dancing. After having learnt Kathak for an year in Lucknow, I came back and learnt the nuances of Kathak all by myself," stated Manglamukhi who later bagged a National award by the Ministry of Culture in collaboration with Sanskar Bharti.
She went on to share her horrifying experiences as a child and a teenager. "My family was going for a wedding and I was stopped by my cousin. He lured me to a room by promising to give me a cadbury chocolate. He raped, abused and blackmailed me. I cried, shouted but to no avail. Instead, when I informed my family, they said that I was at fault. 'Who told you to dress up and behave like a girl? Are you not attracting their attention?', they asked. 'Wear shirts, pants and nothing of this sort shall happen', said my family members. I was speechless and this incident led to sleepless nights. There was nobody whom I could share or express my emotions," shared Manglamuki adding that her cousins misbehaved with her several times.
Manglamukhi spent a few more years outside her home and was a part of many other activities by collaborating with NGOs. She also worked in the corporate sector for a few years but soon realised that her life lies in Kathak.
"Life is not a bed of roses. Hence, I have chosen to be an artist and convey the meaning of life through art. I want to inspire the others in my community through Indian classical dance and do well in my stream of classical dance. I want inclusion in the society through Indian classical dance and music. I want equality, respect, acceptance, love and nothing more," expresses Manglamukhi with her sweet voice.
Being India's first transgender artist, Manglamukhi has performed in prestigious festivals in India and abroad. A few of them include Taj Mahotsav-Agra, Modhera Uttrardh Samaroh- Gujarat, Kalidas Samaroh-Ujjain, Leh-Ladakh festival, Mysuru Dussehra festival, Jagannath Rath yatra Samaroh and many more.
A human rights activist from Dholpur, Rajasthan, Manglamukhi says that there are several myths associated with the LGBTQ community. "They are born with different gender and are impure. They are physically challenged. They are meant only for begging, sex working, clapping and dancing. They are sex workers and are money seekers, etc," shared Manglamukhi adding that the need of the hour is to bust these myths and prove the world wrong.
"One impact I would like to see is in the mindset of people to consider us as a human first and not to judge based on gender. All are equal and there should be no discrimination or stigma based on gender. We should also be included in the mainstream and should be given equal opportunities," said Manglamukhi who is teaching free classical Kathak dance to transgender students.
In an effort to provide a platform and make people from the LGBTQ community independent, Manglamukhi's future plan is to open a dance school exclusively for the community. "From vocal music, instrumental music to drama, I want to open this school dedicated to art and culture," concluded Manglamukhi who has been arranging and distributing ration to the LGBTQ community during the lockdown.
Important : If you are making an impact in the world, Please send us your story at : manoj@sociostory.in and we will try to cover you.