Counselling and intervening people to quit tobacco, Dr Rohan Bartake is making efforts to save lives of people
Nov. 15, 2021, 6:50 p.m.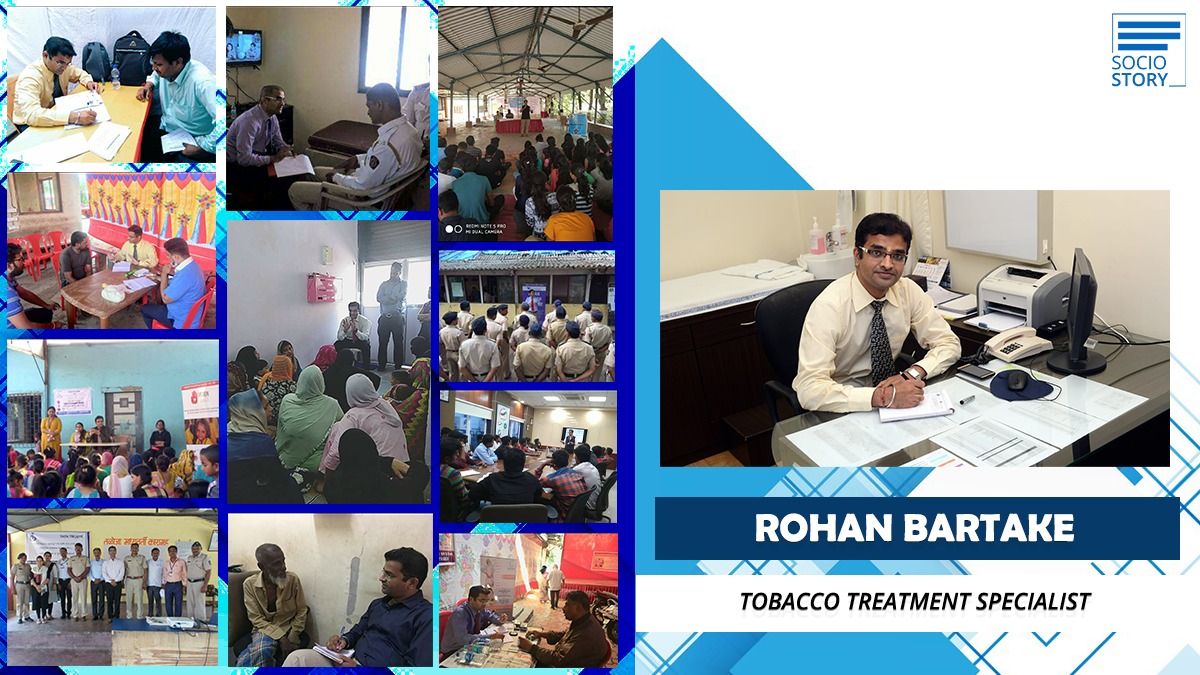 By:Reshma Jain
The National Cancer Awareness Day was observed recently in the country on November 7. A lot of deliberations also took place on tobacco smoking which often leads to dreadful cancers. Although we have dedicated oncologists and hospitals for treating people with cancer, there is equally a need for counsellors, psychologists and specialists to help people come out of addiction. In view of the same, Socio Story presents the story of a 'Tobacco Treatment Specialist' named Dr Rohan N Bartake from Mumbai. Dr Rohan who is among a few full-time Tobacco treatment specialists in India holds a bachelor's degree in Homeopathy from C M Patel Homeopathic Medical college in Mumbai and also MBA in Social Entrepreneurship from NMIMS in Mumbai.
Dr Rohan who has more than 15 years of experience in the medical field is currently working as Medical officer (awareness) in the Indian Cancer Society. He has counselled more than 5,000 patients in the last 5 years and has conducted hundreds of awareness sessions. The World health organisation has given a standard protocol to deal with the tobacco addicts. The major steps of intervention are the "5A's"- Ask, Advise, Assess, Assist and Arrange.
Sharing his experience as a Tobacco treatment specialist and dealing with addicts, Dr Rohan, said, "Tobacco de-addiction is a simple yet a very neglected program in India. 'Saying no to tobacco consumption' is one of the most preventable causes of death. I identify tobacco consumers and motivate them to quit. I categorize tobacco consumers depending on their type of tobacco addiction, whether it's physical, psychological or behavioural addiction. I also identify the stage of change of the tobacco consumer, like pre contemplation stage, contemplation stage, preparation stage, action stage and maintenance or relapse stage. I decide my treatment strategies after identifying these two things."
Dr Rohan conducts awareness sessions for two sets of groups; one for preventing people from getting into tobacco habits and second for helping those people who are already consuming tobacco to quit. He claims to have conducted more than 500 awareness sessions across India. "I have conducted sessions in schools, colleges, NGO's, communities, corporates and also for jail inmates. I have counselled more than 5,000 tobacco consumers with a success rate of 57 to 67 % ," shared Rohan adding that he has conducted tobacco de-addiction camps in 16 traffic police stations in Navi Mumbai in collaboration with D Y Patil Physiotherapy college.
Dr Rohan who is a recipient of the Rotary International Vocational Excellence award for his work in the Tobacco de-addiction field, said that counselling is an important part of the de-addiction process. He also offers hand- hold procedures for addicts with regular follow-up for at least 6 months post quitting of tobacco products.
Dr Rohan has a vast experience of working in different hospitals of Mumbai like Godrej Memorial hospital, Asian Heart Institute, Prince Aly Khan Hospital and Asian Cancer Institute. In the past, he had worked on an international collaboration project headed by Senior Oncologist Dr Sultan Pradhan from Prince Aly Khan Hospital and Dr Nancy, who is pioneer of Tobacco Cessation Clinic, in Massachusetts General Hospital (MGH), Boston US.
Dr Rohan has also worked as a trainer for level one and level two Tobacco treatment certificate courses by international organisation 'Global Bridges'. He has trained Doctors, Dentists, Medical College Students, Nurses & Healthcare workers. This young specialist was also invited by the Governor of Nagaland to conduct Tobacco de-addiction in a remote district of Nagaland. Dr Rohan's future plan is to spread anti-tobacco awareness and oral cancer awareness across the country and save families.
Tobacco today kills around half of all smokers. Globally, tobacco causes six million deaths per year. Tobacco smoking can lead to lung cancer, and other dreaded illnesses. A few facts as per reports are:
42.4% of adult men, 14.2% of adult women and 28.6% of all adults currently either smoke tobacco and or use smokeless tobacco. (GATS 2016-17).
19.9 crore adults in rural and 6.8 crore adult in urban areas consume tobacco
Every fifth adult uses smokeless tobacco (khaini, zarda, pan masala) and every tenth adult smokes tobacco in the form of bidi or cigarette.
3.2 crore adults use both forms of tobacco. (GATS 2016-17)
India accounts for 74 percent of the world's smokeless tobacco deaths (US study).
Tobacco lobby does aggressive marketing campaigns to attract the youth, similarly anti-tobacco campaigns should be done very aggressively. The World Health Organisation (WHO) has introduced the MPOWER package of six proven policies:
Monitor tobacco use and prevention policies,
Protect people from tobacco smoke,
Offer help to quit tobacco use,
Warn about the dangers of tobacco,
Enforce bans on tobacco advertising, promotion and sponsorship, and
Raise taxes on tobacco
Important : If you are making an impact in the world, Please send us your story at : manoj@sociostory.in and we will try to cover you.