"Count your blessings", says Tanya Daga, India's one-legged wonder girl who scripted history by pedalling from Kashmir to Kanyakumari
March 7, 2021, 5:41 p.m.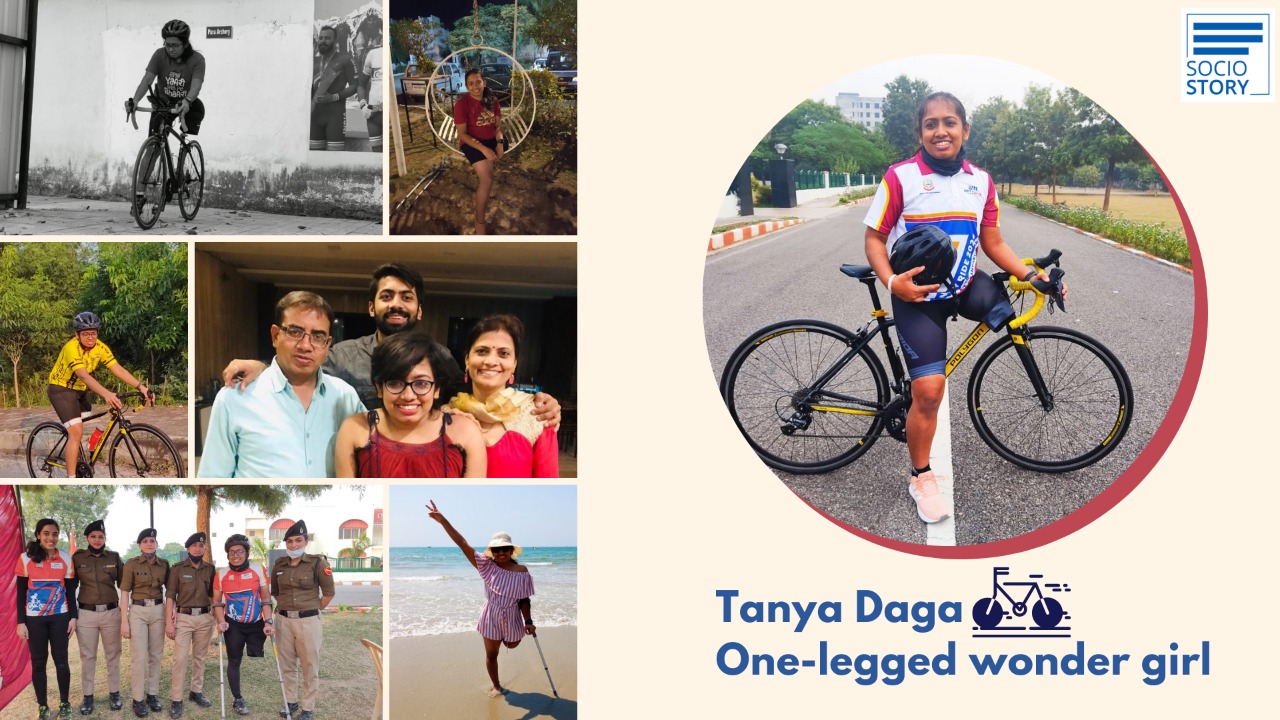 By:Reshma Jain
When Tanya Daga met with an accident in 2018 in Dehradun, little did she know that her life would be at stake. Daga lost her left leg and was bedridden for more than six months. But this wonder girl took up the most challenging sport to prove that life is meant to be a challenge as this is what makes you grow. As a part of the women's day special series by Socio Story, we bring to you the story of Daga which will leave all of you awestruck.
Hailing from Madhya Pradesh, Daga is a perfect example who has won over adversities and has emerged triumphant. This year, the theme of IWD is 'Choose to Challenge' and who can be a better example than this one-legged girl who scripted history by pedalling from Kashmir to Kanyakumari, a distance of 2,800 kms in 43 days. India's only female para cyclist, Daga took up this expedition called 'Infinity Ride K2K 2020' to spread awareness about para sports.
In a conversation with Socio Story, Daga said, "I thank God for having given me a new lease of life as my chances of survival post-accident were very low. Doctors lost hope as I was on the ventilator for 7 days. However, an emergency lifesaving procedure- CPR (Cardiopulmonary Resuscitation) was performed and my life was saved. However, my health started to deteriorate (Hb levels-2 g/dl) and that is when the doctors recommended I go for a leg amputation to save my life. With no other option left, I lost my leg and the pain I underwent is something I cannot describe. I was physically and mentally disturbed. However, my family and the almighty gave me the power to battle the difficulties and to always think positive."
After a few months, Daga who underwent 9 surgeries started recovering gradually. However, relatives and other people who visited her had great sympathy but left a message that she would be helpless and be a burden on the family for the rest of her life. This disturbed Daga a lot and that is when she took up the challenge to do something which people think is impossible. Without giving a second thought, Daga started to practise cycling and prepared herself for the expedition that was scheduled to be organised by Aditya Mehta Foundation.
The expedition started on November 19, 2020 and when Daga was in the middle of the expedition, she heard about the demise of her father. Heartbroken and shattered, Daga went back to attend her father's funeral and returned to complete the expedition. "My father was my source of strength and motivation. However, I returned back to the expedition after a few days at the same point where I stopped as it was my father's dream that I complete the mission. I wanted to live his dream and wanted to prove his message that losing a part of the body does not deter you from achieving your target in life," shared a strong-willed Tanya who is now pursuing her diploma in Sports Psychology.
Having overcome physical challenges and to have battled personal loss, this brave girl has left no stone unturned. "Since it was a road accident, it was very difficult and challenging for me to get out from the fear of roads. Also, my injuries and wounds were deep and it hurt while I pedalled. However, I believed in 'No Pain, No Gain' and took the challenge forward and I am proud to have completed it," added 26-year-old Daga.
Sharing that being dependent on others for every small thing hurts them every time, Daga expressed, "A lot of times we feel neglected due to lack of accessibility. If public spaces, offices, schools, colleges, etc are made accessible, then it will not make us feel side-lined and neglected. We are independent, confident and capable. But there is a long way to go to make accessibility. The society should expand their vision in accepting that it is not disability but it is a special ability that helps us in moving ahead in life," stated Tanya who wishes to empower girls to take active part in sports.
Important : If you are making an impact in the world, Please send us your story at : manoj@sociostory.in and we will try to cover you.