COVID Heroes: Mothers of special kids turn on Creativity
Aug. 31, 2021, 9:40 p.m.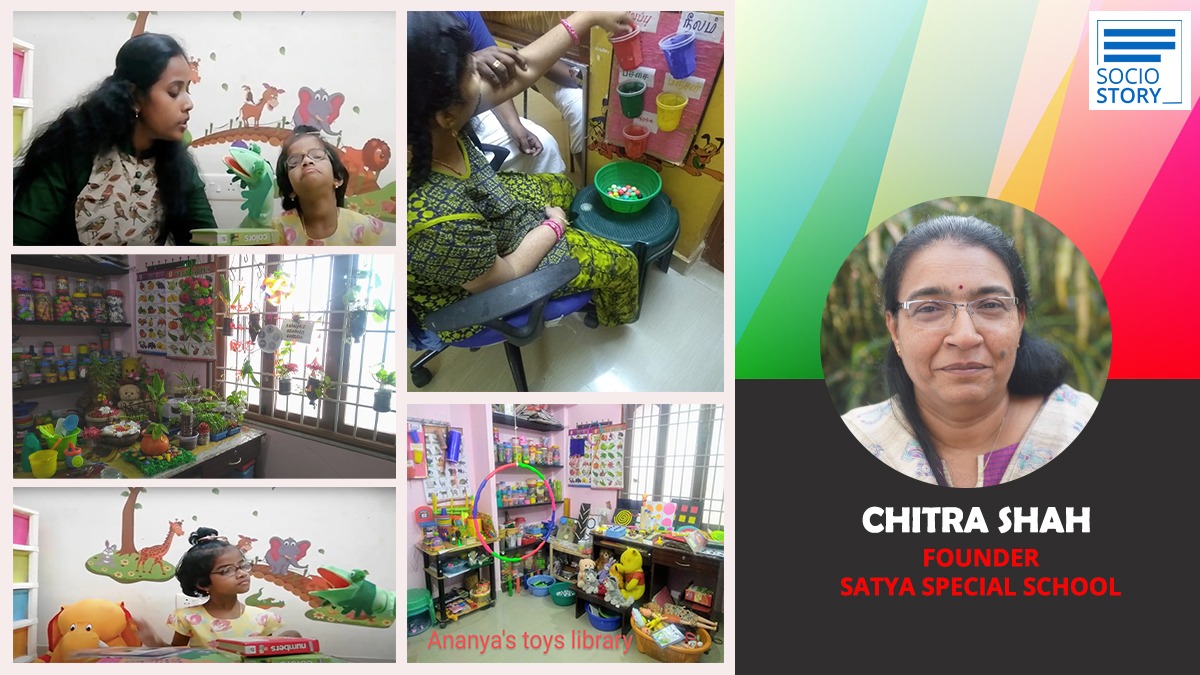 By:Reshma Jain
When the lockdown started, no one knew how long it would last. For all parents, it was a huge adjustment; for parents of Children with Special Needs (CWSN), it was even more difficult, as gains in therapy are often lost without reinforcement.
For mothers of Satya Special School, however, it was an opportunity to put their creativity to good use. Mothers started their own storytelling sessions and YouTube channels, created unique and innovative teaching and learning materials from things that are easily available at home, and helped support each other through the pandemic.
For the founder, Chitra Shah, this was not surprising. "We have always envisaged the role of mothers as co-therapists, and have worked as a team for their child's development," she said. In fact, a major component of the NGO's work has always been capacity building of the mothers of CWSN.
Satya Special School is a Puducherry-based organization working towards the inclusion of People with Disabilities, especially those with Intellectual and Developmental Disabilities (IDDs) since 2003. Over the years, it has evolved from a school taking care of twenty children with IDDs and Autism, to a centre that spans nine locations and several projects including an early intervention centre at JIPMER, centres for Autism and multiple disabilities, an inclusive school, four rural centres, a vocational training unit, and several research and publication projects, including advocacy for the rights of the disabled.
The activities of Satya Special School currently reach more than 1,500 families directly. For example, Ananya's mother, N Geetha, created learning materials even before the lockdown. When the lockdown was announced, she shared her methods and materials with a group of parents through a WhatsApp group created by Satya Special School to enable free flow of information. She had also created a booklet with 365 activities (one a day), to help with a child's development.
She has recently also created a sensory garden for her child, and has posted the details for other mothers to take inspiration from. Some of the other innovations are substitutes for therapy equipment, which mothers post their experiences on: instead of therapy balls to maintain balance and posture, a stack of pillows, and instead of a balance board, a vaanali (kadhai).
These experiences from veteran mothers also help boost the confidence of mothers who are new to special education. "Many new mothers are comfortable opening up to other mothers, and are learning a lot through the process," said Shah.
The WhatsApp groups are critical in rural areas, where access to information and awareness of disabilities are very low. At Satya Special School, the presence of physiotherapists and staff enable the group to stay on the right track. When parents try out new therapy substitutes, for example, the physiotherapist is able to correct the posture in case it is incorrect.
This community of empowered parents are the way forward, for ensuring inclusion and equitable opportunities for people with disabilities.
As for the parents, for many of them, the smile on a child's face is enough. Ananthalakshmi Bharath, whose story sessions on the parents' WhatsApp launched a YouTube channel, says that the best feedback for her sessions has been the smile on a child's face. "Any reaction from a special child is precious because you know it is real," she says.
As India faces a third wave and cracks in the relief system widen, empowered groups such as those of Satya Special School's mothers can be a model to help communities whose traditional systems of support are unavailable.
Satya Special School started in 2003 as a rehabilitation centre offering free services to 20 children with special needs, and now has 1,029 children under its umbrella. Satya now has 10 centres including three village centres and Mobile Therapy across 44 villages, and over 100 staff. Over the period of 18 years, we have reached out to over 3,000 children. Each child is assessed according to their individual and psychological capabilities and training is provided based on their needs. The school has specialized trained staff engaged in various programs in education, early intervention, therapy, livelihoods, and advocacy, ultimately aiming for the inclusion of children with disabilities.
Certified GuideStar Platinum, Satya has received numerous accolades for its work, including the Model of Excellence Award for Early Childhood Care by the University of Oregon, US; the 2018 World Cerebral Palsy Day Award, and was featured as a model NGO in the Dasra- Bank of America report on disability.
Important : If you are making an impact in the world, Please send us your story at : manoj@sociostory.in and we will try to cover you.