#CovidHeroes: Meet this "people's person" who wishes to stand for 'justice for the tribals'
June 3, 2020, 9:58 a.m.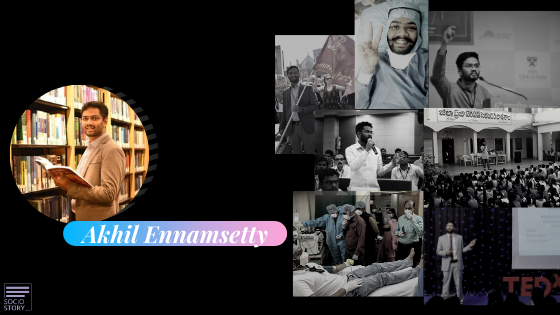 By Reshma Jain:
At a time when young graduates dream of making their career graph and look at their prospective career growth, Akhil Ennamsetty from Warangal in Telangana thought otherwise. Because for Akhil who is 24 years old, doing a desk job and merely earning for himself did not interest him. Because he realised that corporate rat race will not have substantial impact on the society. And then he decided to select a path less chosen.
But before we get into the story, Akhil needs to be applauded as he had battled Covid-19 like a warrior. He has set an example by instilling a ray of hope among all the Covid survivors. Akhil is the first survivor from the Telugu states to donate his plasma for the convalescent plasma therapy. Around 500 ml of his plasma was collected and it was transfused successfully to three critically ill- patients. Bravo! there is one successful recovery already using his plasma. He has also given consent for the second donation, as he learnt that there is a scarcity of donors in the state. Also, Akhil along with his friend Stephen Anurag Prathipathi runs an online service portal to counsel people in distress due to Covid-19.
Getting back to the story, Akhil was asked the reason as to why he refused lucrative jobs in the corporate world. Akhil said,"I was brought up in a socialistic environment and I have seen agitations and social movements closely. That is how I had taken an active part in student union activism. All of this motivated me to be a 'people's person'. In whichever field I am, I wanted to create an impact on the lives of the people, especially the working class."
The young lawyer who is pursuing Human Rights LLM at the University of Edinburgh has now got an opportunity from the Clinton Foundation in the US to pitch in a commitment and get mentoring support as well as financial aid to establish one of it's kind 'Centre for Rights Activism' based at Warangal. It would be set up by an NGO started by Akhil himself with an objective to cater to the legal needs of the tribals.
"The idea behind this project is to identify certain tribal villages and hamlets in the northern Telangana region and set-up permanent support centres where we can train the local youth in paralegal services. Through this, we wanted to achieve legal literacy so that they will be able to question and resist the atrocities and injustice they are subjected to otherwise," shares Akhil who is also a National Union of Students (UK) elected delegate. The centre would be run by young lawyers with a vision to achieve holistic legal literacy and upliftment of marginalised tribal masses.
Akhil chooses Warangal because it is the closest city to a lot of tribal villages in the Dandakaranya alongside river Godavari. People from border districts of Chhattisgarh and Maharashtra also come to Warangal for various basic needs. "I have seen them closely since my childhood. That's how I have developed a strong connect with them," he adds.
When Akhil was asked on how did he develop a keen interest in working on human rights activism, Akhil said that during his college days, he headed the community legal care centre (Legal Aid Cell) of his law school. Through that he used to take part in prison legal aid project and used to regularly visit the Pune's Yerawada central prison, which is one of the country's largest prisons. He saw the criminal justice system and its victims closely all through this time and that is when he realised his penchant for human rights activism.
When Akhil was questioned on his future plans, he said, "I am still in the early stage of my career, hence difficult to decide my future plans. But what I know is, in whichever profession I would be in, whether as a lawyer or an academician or a bureaucrat or even a politician, I will stay close and accessible to people. Being a voice that will always stand by them and question for them," signs off Akhil.
A few interesting facts about Akhil:
At the age of 15, he made his debut in the 98th Indian Science Congress by demonstrating his scientific models to the then Prime Minister of India, Dr Manmohan Singh.
He also became the youngest member of the prestigious Indian Science Congress Association. With his innovation of 'Low Cost Smoke Reduction Cap' and 'Mobile Wind Power Generation System', he got an opportunity to work under the able leadership of the former President of India, Dr APJ Abdul Kalam at National Innovation Foundation, Ahmedabad.
For his path breaking ideas in nuclear and space technology, he was applauded by the esteemed International Space Science Institute, Switzerland.
Akhil won the UK's National Union of Students election from Edinburgh with the highest majority and secured more than half of the total polled votes. He's the first and the only Indian to achieve this feat.
Important : If you are making an impact in the world, Please send us your story at : manoj@sociostory.in and we will try to cover you.