Crafting lives and reviving legacy, a group of youngsters are now working to bring life to the old artforms
Aug. 19, 2021, 8:53 p.m.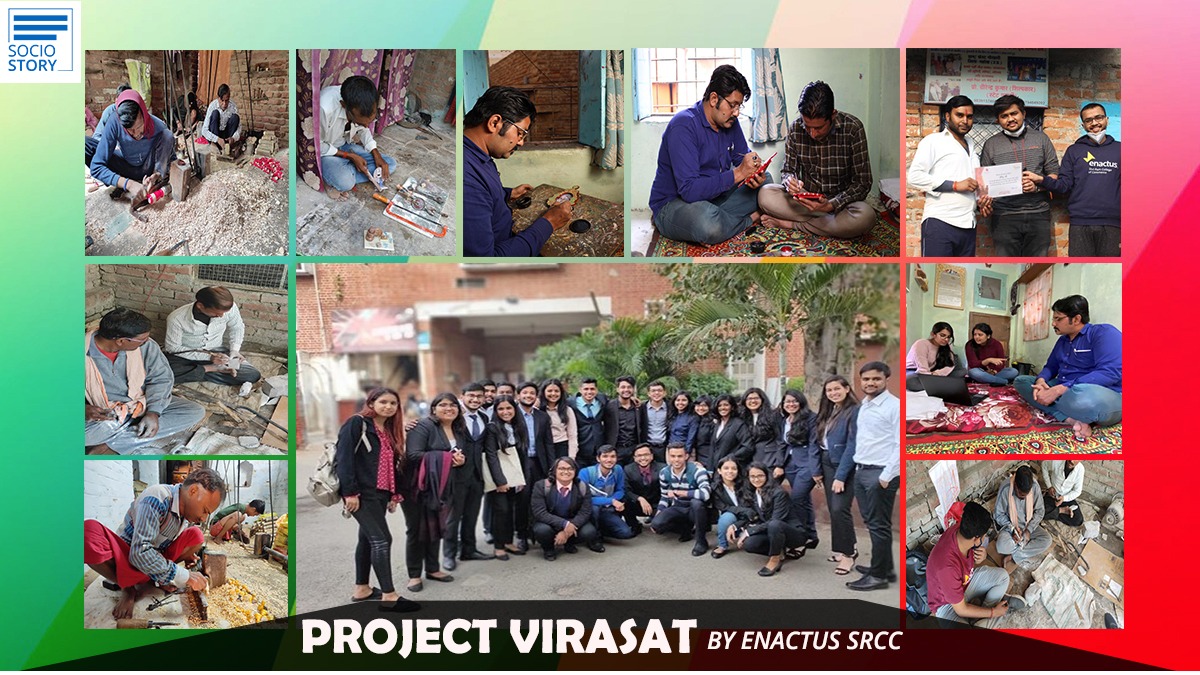 By:Reshma Jain
With industrialization, modernization, and mechanization, many craft forms have become extinct or are on the verge of dying. With a vision to revive the languishing craft forms of India, projects have been initiated by a few organisations. The craft sector has always been the pioneer in displaying India's deep tradition, the vast geography and rich history in a true sense.
Project Virasat, under Enactus, is an umbrella for craft cluster development with a vision to revive the languishing craft forms of India. Project Virasat aims to uplift these craft forms in all possible aspects to maintain the dignity of the artisans, creating opportunities not only for them but also for their future generations that can safely carry on the craft form, thus crafting lives, reviving legacy. Enactus is an international non-profit student-run organization and Enactus SRCC (Shri Ram College of Commerce) is one such chapter.
Enactus SRCC is a student-run not-for-profit organisation, which was established in 2007. A team of 50 members, they take up community outreach projects to transform lives of people in need and shape a better world, using the power of entrepreneurial action. Some of their
projects have been acclaimed at the national level for their potential to improve lives. Projects in the crafts sector have been executed from the past three years in different places.
The two craft forms that the team is presently working on are Gaurahari and Usta art. The stone-work artisans of Gaurahari village in Uttar Pradesh's Mahoba district practice this craft, wherein they make a wide range of handicrafts intricately carved out of a rare, uniquely textured stone called 'Gaura Pathhar'. Gaurahari stonework has been officially recognised as a traditional craft by the Government of Uttar Pradesh seeing the detailed nature of the work and the passion that artisans possess for their craft. However, lack of demand avenues and closure of Gaura stone mines have led the artisans of Gaura village to obscurity.
The term Usta is derived from the Persian word Ustad, a master in a particular art. Usta art is a broad term used to represent the combination of many different techniques. In current times,the most popular form seen is Sunehri Munawwar Nakkashi work, which means 24 Carat gold emboss work performed on walls, ceilings, wood, and marble. Despite the beauty of this art form, the artisans find it extremely difficult to get demand for their work, due to lack of awareness, because of which the number of artisans has reduced drastically from over 200 in the past decade, to a mere 10 currently.
Aditya Agarwal, Advisory board partner, Enactus SRCC, said, "When we ventured into the craft sector for exploring new projects, we learnt that there was a need for intervention to fix a few problems existing in the sector. There was a lack of unity among artisans, the contemporary market was not being explored and the artisans were exploited by middlemen."
Adding that the first project was executed with the Thathera community in Amritsar, Aditya Agarwal, Co-partner and CEO of P-TAL, said, "We focused on conducting comprehensive surveys, unification of artisans design, development and training, establishment of market linkages, empowerment of artisans and replication of the model with other artforms."
Taruni Singhal, Director of project Virasat, said, "Our continuous endeavour is the revival of Indian handicrafts and to expand the reach of our artisans. Taking one step forward, we have launched Project Virasat's very own website. We strive towards the upliftment and providing true value to Indian handicrafts and our artisans."
After concerted efforts, Virasat Craft Conclave- India's biggest first-ever virtual craft conclave, was successfully concluded last month. It aims to bring out and discuss the grass-root problems faced by Indian artisans, with personalities from various projects sharing their insights, providing young people with the vision to create a true impact in the craft sector, along with a fine combination of cultural performances.
The event included panel discussions with eminent personalities from various organisations associated with the craft sector such as Jaipur Rugs, Khamir, Zwende, Kadam Haat, Dastkari Haat Samiti, Okhai, Rangsutra, FabIndia, and TATA Trust along with live workshops conducted by national-awardee artisans.
A few facts on the crafts sector:
30% Artisans have left this sector due to Lack of Demand
2% contribution to the Global Handicraft Market
42% Artisans are engaged in Unorganised and Informal Sector