Creating magical melodies through her voice, Varijashree Venugopal's musical journey will leave you amazed
Aug. 8, 2021, 6:46 p.m.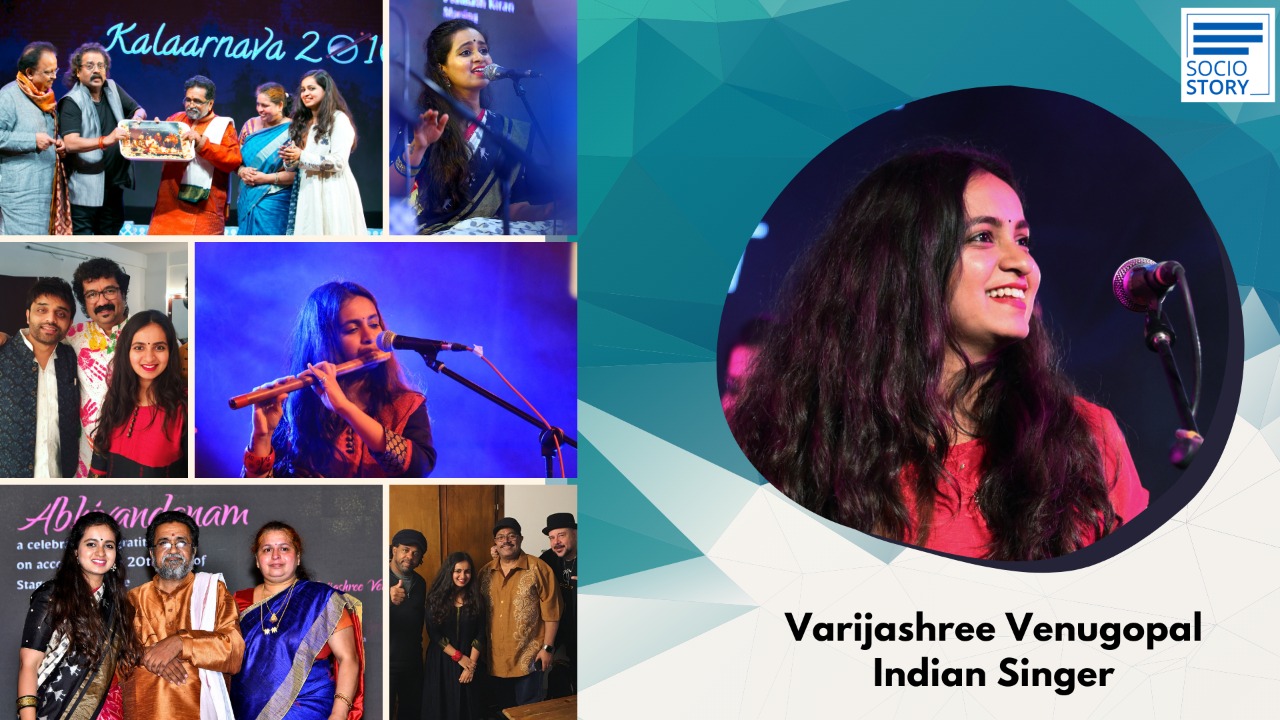 By:Reshma Jain
While she made her Carnatic vocal debut at the age of 7 at the prestigious Gayana Samaja in Bangalore; her parents were very anxious about how it would turn out, as she was very young and didn't know the magnitude of it all. The concert went well with a turnout of about 2,000 people in the audience, including a few of the most eminent musicians and journalists in town, friends, family, and well-wishers. But all that mattered to her was the ice cream she was promised with, which she ate post the concert. Indeed, priorities of a 7-year-old!
Little did she know that music would become her career and she would be successful in it. Hailing from a family where music is a family legacy, she was born a singer and music was the first language she was taught to communicate in. While music happened to her naturally and organically, this talented young woman has a lot more to share on her musical journey.
In her opening remarks, she shared that music is that one language that has no barriers. It is the language of the heart. It is pure, it is universal. Music is a very strong medium to spread peace, love, joy, and impactful messages to the society. Socio Story presents the story of an Indian singer, flautist, song-writer and composer Varijashree Venugopal hailing from Bangalore.
Stating that she comes from a family of musicians, Venugopal said, "My father H S Venugopal is a senior flautist and Guru. My mother T V Rama is a singer. My maternal and paternal grandparents have been music enthusiasts for a long time and have played a role in me developing passion for music. My parents are my initial Gurus."
Venugopal who has pursued her degree in music further shared, "I was initiated into music at a very young age. I started singing when I was about 18 months old and started performing at the age of 4. I had the opportunity of training under Gurus H Geetha and Salem Sundaresan in Carnatic vocal music and my father H S Venugopal in Carnatic Flute."
Music plays a very important role in spreading social messages, opines the young and talented singer. She was glad to have had a few opportunities to be a part of music that spreads positive social messages. For example, collaborations with Ricky Kej creating awareness on the environment, collaboration with her Italian friend and singer Claudia Aru, creating awareness on domestic violence, etc,.
"A few years ago, I had the fortune of making an original track named 'Javali & Shayari' along with composer Praveen D Rao and dancer Nirupama Rajendra, which spreads awareness on Dementia," added Venugopal by saying that she wishes to be part of or make more music which creates a social impact.
Venugopal has been on a journey of making her own music and creating her own sound which is a culmination of the Indian classical roots that she has been training in, and the influences of various genres of music that she has been listening to and trying to imbibe from. Her music is mostly based out of Indian classical melodies coloured with the inspiration of few of the most amazing and rich music styles of music, be it Jazz, African, Cuban, or Brazilian, the styles that keep her creative fires burning.
Sharing one of her memorable experiences, Venugopal said that she visited Colombo recently, as part of Ricky Kej's concert. The last time she performed there was for a fundraiser concert for an orphanage/old age home, 20 years ago which was organised by Sri Ramakrishna Mission and Sharada Samithi, Colombo. While she reminisced, Venugopal said, "Around 20 years later, during my recent visit, I had the most heart-warming experience visiting the orphanage that they built after the fund raiser. I got to meet the children there, who even sang a song for me that I had sung at the performance there when I was about 9 or 10 years old. I was overwhelmed with a feeling of gratitude for having been blessed with this experience of a lifetime."
Speaking further on her future plans, Venugopal said, "One of my plans include indulgence in cross - cultural musical collaborations and projects that enable me to learn continuously and to share the rich heritage of Indian Classical Music with musicians and music enthusiasts from across the world. I'm in search of new sounds, new colours, and new experiences."
"You never know what the human voice is capable of - the possibilities are endless. It always surprises us. The best form of practice is to sing all that you hear. Try to emulate. Push your barriers. It is an enlightening experience treating your voice like an instrument. Most importantly, make sure you get your foundation strong. Train in any classical form of music, which will help with technique, grammar, repertoire, and improvisation. Especially Indian Classical Music, as it is one of the oldest forms that is rich in heritage, culture, and material," said the 30-year-old multi-talented singer.
"Indian classical music has been relevant in the past, is relevant now in the present, and is relevant in the future. In fact, this is the whole crux of what music is being made in India, across any field/genre. It is the gift that our forefathers have left for us, that we are reaping today and building on," concluded Venugopal who was also a part of Ricky Kej and Stewart Copeland's latest release 'Divine Tides'.