Cycling prodigy Rian Kumar pedals his way to set a world record
Sept. 21, 2021, 5:34 p.m.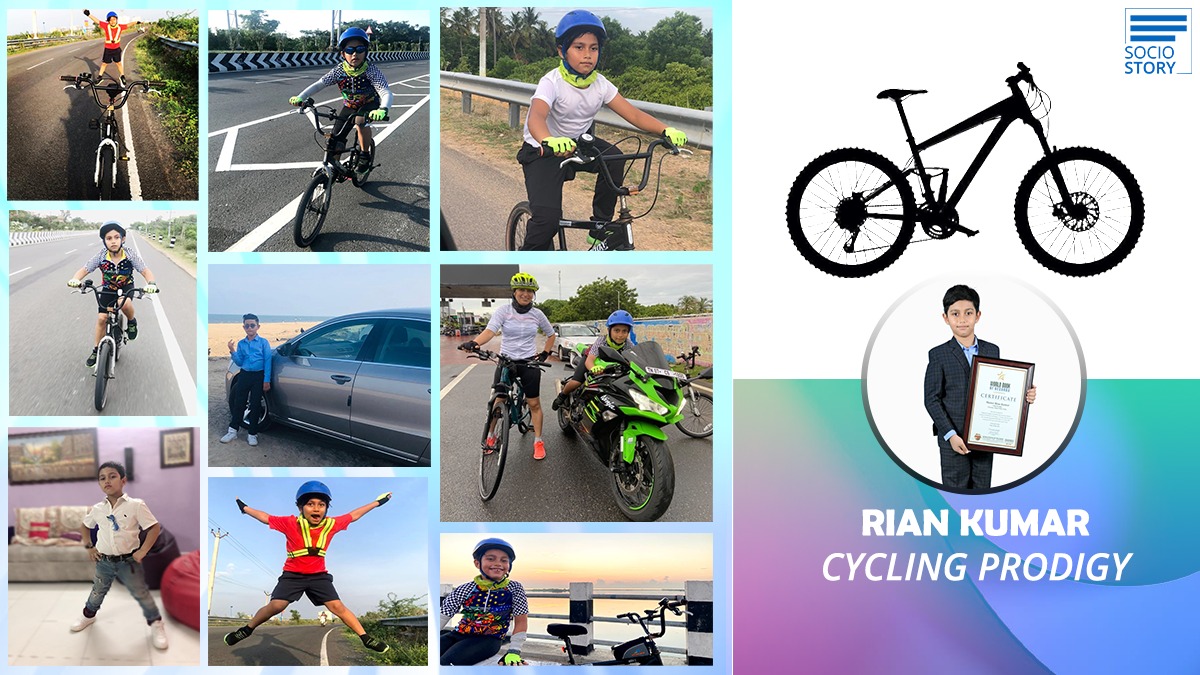 By:Reshma Jain
Deriving inspiration from his grandmother and mother, Rian Kumar, a child prodigy, has pedalled along to set a new world record. Rian who is 6.5-years-old is one of the youngest achievers and has left people amazed by his skills. Rian has set a new world record by being the fastest and the youngest one to cover a distance of 108.09 kms non-stop ride at an unprecedented speed of 20.8 km/hr in a record time of 05 hours and 17 minutes.
What is more commendable is that he achieved this rare feat on a 16-inch MTB (Mountain Bike) kid's cycle without any professional training. His stamina and speed are commendable and his dedication stitched with perseverance has been recorded by the World Book of Records (WBR), London. WBR recognised his passion, which is a rare feat at his age and awarded him with their prestigious certificate. His achievement was recognised and felicitated by the Governor of Tamil Nadu Banwarilal Purohit and was appreciated for his efforts and achievements at such a young age.
Speaking to Socio Story, Cdr Gauri Mishra, Mother of Rian and a defence veteran based in Chennai, said, "He has been riding along the OMR and ECR route, where he is famous as 'Rian the Lion' amongst all cycling enthusiasts. Rian has inspired many people of all age groups to step out, stay fit and healthy. During the pandemic, wherein all schools were closed and people remained locked at homes, it was a challenge to remain fit and healthy. People/ children have spent most of their time on-screen and have become prone to lifestyle diseases. In such times, Rian has set an example that age, size, physical state doesn't matter to stay fit. All one needs is dedication."
"Cycling has picked up by leaps and bounds during the pandemic and it's one sport that can be pursued with social distancing," said Cdr Gauri by adding that Rian follows a strict practice and healthy diet regime. He has now completed 8 century rides and a total of 2,800 kms in the past 4 months.
Rian, who wants to join the national team for cycling and participate in the Tour de France, said, "My grandmother was a national level cyclist and my mother has also been active in cycling. Cycling is my passion and I really love riding my bike. My motivation is my mom who has taught me this sport and I want to make her proud one day."
Reminiscing his initial days of practise, Rian said, "When I started cycling, it was challenging for me to wake up early in the morning to go for a ride. The challenge now is to wake up my mother and take her for a ride. I love exploring the city and making new friends."
To maintain his stamina, Rian eats a lot of fruits/vegetables along with a balanced diet. He also trains on the static bike in his garage to keep up his stamina. Speaking about the safety measures, Rian, who wants to participate in national and international competitions, said, "I am always in full cycling gear. I wear my helmet, my elbow and knee guard and my cycling goggles. Safety is very important and I always double-check my cycle before starting the ride."
Important : If you are making an impact in the world, Please send us your story at : manoj@sociostory.in and we will try to cover you.