Daughter of a truck driver, Anju Verma shares her journey from being a victim of child abuse to a child rights activist
Dec. 7, 2020, 7:05 p.m.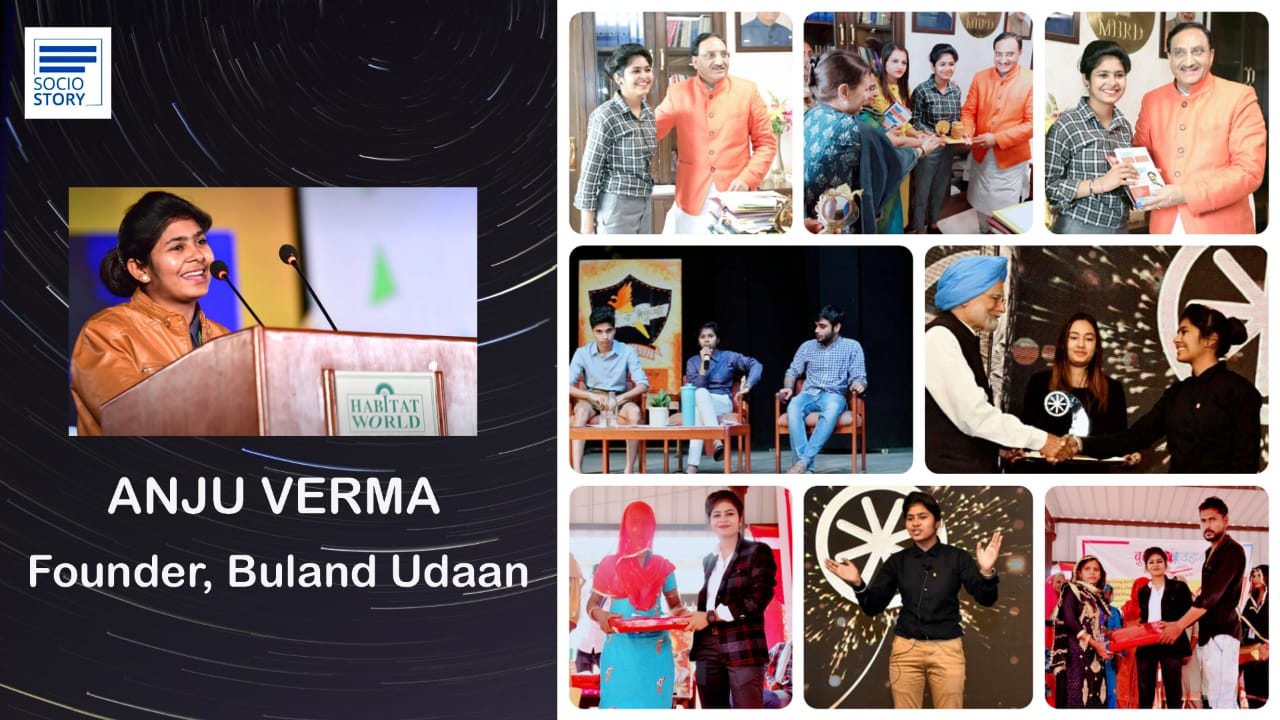 By:Reshma Jain
A thought: 'the hands which were meant for holding pens and books were washing dishes and serving plates,' triggered Anju's mind when she was as young as a 10-year-old kid. This thought not only disturbed her but also deliberated her to fight back. Today, as an 18-year-old young girl, Anju Verma is working actively towards child empowerment through her NGO 'Buland Udaan'.
Daughter of a truck driver and a homemaker, the journey of Verma who is based in Fatehabad, Haryana, sets an example on how a single thought can make a big difference. When Verma was in grade five, she visited her relative's place during her vacation. She was asked to do all the household chores and was asked to cater to the unreasoned demands of the family members. "Although I could not explain my feelings, I knew that I was mistreated. After completing all the household chores, I would go to bed after everyone fell asleep. I was the first one to wake up in the morning to start off my day. I was also a victim of child abuse and little did I know that these 20 difficult days of my stay would lead to a mission," shared Verma who worked as a child rights champion in 'Save the Children' organisation in 2015-16.
On being asked about the formation of her NGO and the purpose it serves, Verma said, "The name comprises two words- 'Buland' meaning bold and courageous, and 'Udaan' meaning flight and elevation. With the mission being 'Child-Friendly India (Eradicating child labour, child marriage, female foeticide and child abuse)', Buland Udaan was formed in 2017 for empowering children."
Under child empowerment, the team started undertaking projects concerning child labour, illiteracy, child marriage, female foeticide and child abuse. The team used to meet every Sunday for formal meetings, collaborating with other like-minded people and this was supplemented by taking into consideration a list of people they would need to visit. Regular communication was the key to the plan's smooth implementation.
"Buland Udaan stands united, as an organisation against the prevailing crimes against children, and wishes to eradicate these. Every child has the right to have a splendid childhood, but the abysmal essence of inequalities has decayed this gift. We wish to allow all the children to comprehend the importance of education and demand their right to education," said Verma adding that the most memorable day was when she was able to persuade and send a 16-year-old girl to a school for the first time.
Eradicating female foeticide and educating the masses about menstrual hygiene under women empowerment is another part of Buland Udaan. They have currently conducted an online research with 1000+ participants, released a short film and a special podcast dedicated to menstrual stigma.
Current Programs:
Menstrual Hygiene- The organisation has recently inaugurated a new branch regarding menstrual hygiene, directed by Gurnoor Suri. This would include educating women about menstruation, eradicating the prevailing stereotypes as well as elucidating the requirement of maintaining hygiene during menstrual cycle.
Ek Lavya Ek Nayi Soch- A new plan regarding inviting reputed teachers to their social media pages, bringing them live and making their audience interact with them. Headed by Saurabh Mishra, this focuses on emphasising on the importance of teachers as the torch bearers in our lives.
Speaking on the future plans, Verma said, "The first five-year plan focuses on achieving our mission in three states of our nation- Rajasthan, Haryana and Punjab. We wish to make these three states completely free of child labour, child marriage, and child abuse and want to make every woman take pride in discussing about menstruation."
Achievements:
The team has enrolled over 700+ children in facility packed schools. These children either belonged to an economically unstable family, or were forced to stay at home for mental and social factors like inequality. These children were surveyed by the NGO professionals, and were put into schools that best suited them.
The team has stopped over 65+ child marriages. Child marriages are the root cause behind teenage pregnancies, early depressive motherhood, sexual disorders etc. The NGO has been convincing families that child marriage is a legal offence and attracts legal punishment, as well as has severe mental and physical consequences.
The team has successfully prevented a few cases of female foeticide. They aim to overcome these cases by educating the masses.
The team has rightfully helped over 15 sexual harassment victims get justice.
The team has also provided food to more than 700 families for a period of two months during the lockdown.
According to the 2011 census data, 10.13 million child labourers between 5-14 years in India, whereas there are 22.87 million working children in India between 15-18 years. According to a report published by the international body, UNICEF, 34% of young girls below the age of 18, are married to boys, older or of the same age. The international body, UNICEF too released a report which stated that more than 12 million children in India, are out of school.
Important : If you are making an impact in the world, Please send us your story at : manoj@sociostory.in and we will try to cover you.